It is an ideal family project to create a sunflower playhouse or garden tipi (teepee) that your kids will fill with tea parties, quiet moments of book reading and feats of derring-do as they keep dragons and pirates from entering their garden sanctuaries.

To create a sunflower playhouse or bean tipi, select a spot with eight hours or more of sun, and clear the area down to dirt. Four feet by six feet is a good minimum size for your sunflower cottage, and four feet across for a bean tipi. When you create the walls, be sure to leave room for a doorway.

Cover the floor with enough mulch to make a soft place to sit. My favorite mulch is cocoa shell hulls, which smell like chocolate. This will keep down weeds and make a comfortable place to create adventures or daydream.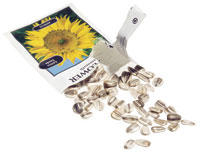 Sunflower Playhouse
You can buy small plants or start with seeds, which are very cheap and available in a wider variety than the six packs of plants your nursery offers. Sunflower seeds are only 2 dollars or less for a pack with enough seeds for your bower. For the main walls choose a giant sunflower variety like Mammoth Russian, Cyclops or Paul Bunyan, which reach 10 to 12 feet in height.

To fill in between the towering giants it is fun for your kids to go to the plant nursery with you and pick out the seeds they like best. Some sunflower favorites for children, like Sunny Smile and Teddy Bear, are full-grown at less than two feet tall. For six-foot tall plants, consider Italian White, Evening Sun in a packet with a mix of warm colors or Claret hybrid with deep magenta flowers. As long as you are planting sunflowers, look for room in your garden where you can plant some extras for cutting cheerful bouquets.

Plant the seeds as early in the year as possible. San Diego's climate allows planting in June or July for months of play in your outdoor hideouts. Tall sunflowers will reach their full height in 50 to 80 days, and kids can start playing in their bower when the sunflowers are waist high, in a few weeks.

For more tips, visit www.rogersgardens.com/Sunflowerplayhouse.asp

Green Bean Tipi
A bean tipi requires three to 10 of the tallest bamboo stakes or wooden poles that you can buy, each about 10 to 15 feet tall. Local plant nurseries sell heavy-duty 10-foot tall bamboo stakes for less than 5 dollars each. Insert the stakes a few inches into the soil to hold them steady, and tie the stakes together at the top to form the triangular tipi shape.

Select your favorite annual vine seeds, or small starter plants. I recommend Scarlet Runner beans, which produce bright red flowers and edible beans. Other choices are the flowering annual vines including Morning Glories, Nasturtiums, Sweet Peas, Saucer Vine, Orange Clock Vine and Black-eyed Susan Vine. In our climate, some of these vines are generally considered annuals, and will stick around to become perennials. All of these varieties grow well from seeds. Plant a mixture of the seeds at the base of each stake, following directions on the packet. Bean seeds are usually planted one inch deep.

The Saucer Vine or Cup and Saucer Vine grows up to 25 feet, and its flowers start out greenish and turn to violet or rose purple, and there is also a white flowered variety. Morning Glories come in a wide variety of colors, including the most popular Heavenly Blue variety, and the heritage old-fashioned Grandpa Ott, with flowers of deep purple blue. Sweet Peas are colorful and fragrant, make pretty bouquets, and grow up to 10 feet tall. To encourage sprouting, remember to soak the hard-as-pebbles Sweet Pea seeds a few hours before planting.

The Orange Clock Vine has bright orange flowers and reaches six feet tall. Nasturtiums come in orange, yellow and red shades, reach up to 10 feet, and the flowers are edible and taste like radishes. Nasturtium blossoms add a gourmet touch to your salad.

Visit www.kiddiegardens.com/bean_teepee.html for step-by-step instructions with photos.

With your family's very own secret Sunflower Bower or Bean Tipi, you will know where your children and their friends are: having adventures in their garden.

Terra Hangen loves to garden with her family in California, while her cats nap nearby. Terra is co-author of the book "Scrapbook of Christmas Firsts: Stories to Warm Your Heart and Tips to Simplify Your Holiday."
---------