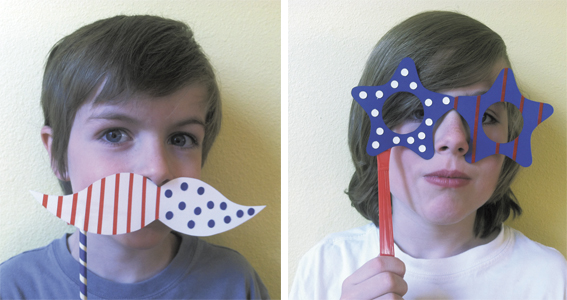 Make Fourth of July photos even more festive by sporting these funny accessories!
You'll Need:
Red, white and blue cardstock
Straw, plastic utensil or chopstick
Thin craft tape (optional)
Hole punch
White glue or glue pen
Pencil
Scissors
Here's How:
1.
Print out the mustache and eyeglass patterns and cut them out with scissors.
2.
Use a pencil to trace around the patterns onto the back of red, white or blue cardstock.
3.
Use scissors to cut the shapes out of the cardstock.
4.
Next, decorate the shapes by making stripes with thin craft tape and dots punched from cardstock, glued on with a tiny drop of glue. (Paper, stickers or markers can be used, too.)
5.
To make the handles, use glue or tape to attach a straw, utensil or chopstick on the back of each shape.
6.
Try making more matching photo props like hats, lips, bow ties and eyebrows for extra fun Independence Day photos.
More ideas:
• Use cute printed paper instead of plain paper for an even quicker project.
• Decorate the props with sequins, glitter or jewels.
• Decorate the handles with thin tape or ribbon.
• Set up a "photo booth" at your party or picnic with a fun backdrop and some costume clothing.
• This is a great activity for family reunions; guests can decorate their own props and then pose alone or in groups.
• Make a scrapbook and add all the fun photos for a family keepsake.
• Make the shapes in other colors for different holidays, showers or sporting events.


---------------------
Pamela Maxwell is an artist, author and mother of two quickly growing boys. Her craft and scrapbooking projects have appeared in numerous books and magazines. Photo by Pamela Maxwell.
Published: June 2013