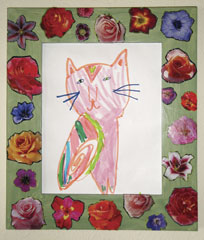 Surprise Mom this May with a frame adorned in beautiful flowers!
Supplies:
1 flat unfinished frame
1 color of craft paint
Flower catalogs and/or
home magazines
Découpage medium
(Mod Podge) or white glue
Scissors
Glue stick
Flat paintbrush
••••••••••••••••••••••••••••••••••••••••••••••••••••

Here's How:
1.) Cover the work area with newspapers, remove the glass from the
frame (if any) and paint the frame with craft paint.
2.) Allow it to dry and add a second coat, if desired.
3.) Search catalogs and magazines for pretty flower photos. Cut around the flowers, leaving some of the green
showing.
4.) Use a glue stick to adhere the flowers to magazine pictures of green backgrounds, like grass or trees.
5.) Arrange on top of the frame until they are spaced nicely. One at a time, turn the flowers over onto the
newspaper and use a flat brush to coat the back with découpage medium.
6.) Immediately stick and smooth each flower into place on the frame.
7.) Use the brush to paint a top coat of the medium over the entire frame.
8.) Allow the frame to dry completely, replace the glass and then fill it with a nice photo or drawing for Mom!
••••••••••••••••••••••••••••••••••••••••••••••••••••••
More ideas:
• Avoid the step of painting an unfinished frame by découpaging a finished one instead.
• Paint the frame one color, allow it to dry, paint a different color over it, allow it to dry and then sand slightly with sandpaper for a multicolor effect.
• For a more natural look, don't paint the frame at all.If découpage medium is unavailable, white glue thinned with a little water works too, but it tends to wrinkle the pictures.This project looks great with a mirror in the frame, instead of a picture.
• Sprinkle a little glitter into the wet top coat.
• After drying, glue on rhinestones or other small embellishments to further decorate the frame.
• Instead of flowers, use pictures of fruit, vegetables or any favorite subject of Mom's. Choose colors that match Mom's décor.
• Draw pictures to cut out and use for this project instead of magazine clippings.
• Use clipped photographs of Mom's favorite family and friends. Images cut from scrapbooking paper or giftwrap work well too.
• An adult can pre-cut the pictures for very young artists, or little ones can use stickers instead.
• Use holiday-themed images to make frames for other occasions.

---------------
Pamela Frye Hauer is an artist, author and mother of two busy little boys.