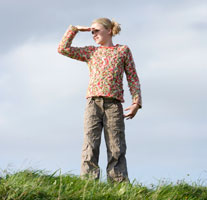 What to do when your child goes missing
Last summer, my husband took our two daughters, ages 12 and 9, to the local water park on a busy weekend. He had allowed them to run ahead, telling them to meet back at our "usual spot." There was one problem—our usual spot wasn't available. My husband looked elsewhere for a space. Meanwhile, our girls returned, only to find another family there.
My oldest daughter panicked and cried. My youngest stayed calm and said, "Let's just go tell the lifeguard." The lifeguard immediately called security, who made an announcement throughout the park. My husband and girls were quickly reunited.
That day, we learned an important lesson about how a child can be "lost" in an instant. My husband and I realized we needed to better instruct our daughters about what to do if they are lost.
What should you do when a child goes missing?

Missing Children Facts
An estimated 1.3 million children go missing each year and of these, only 797,500 are reported to law enforcement. Statistics show that most child abductions are family abductions. These experiences are still dangerous for the child, however, because she is usually taken out of revenge, not love.
Non-family abductions are every parent's worry. While this type of abduction is less common, it can be more dangerous (AMBER Ready, Inc.):
• More than 58,000 children are missing annually due to non-family abductions (the child usually is familiar with the abductor).
• 100-200 children are the victims of a stereotypical kidnapping (the child slightly knows or does not know the abductor).
• 60-150 children are murdered during such kidnappings.
• Most of the time, the first contact between the victim and killer is within a quarter mile of the victim's home.
• There is often a two-hour delay in making a missing child report. Don't wait! Contact police immediately.

For more information about this topic, view our articles and resources below:
Missing Children Online Resource Guide
Q&A with Private Investigator David Almeida
Preventing Abduction: An Action Plan for Parents
----------------
Ronni Rowland is a mother of two and freelance writer.