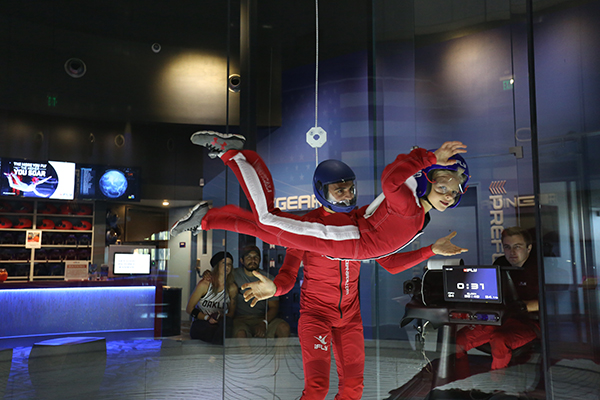 Soar to New Heights at iFly Oceanside!
Experience the thrill of indoor skydiving at iFly Oceanside, North County's newest attraction delivering the dream of freefall flight to kids and adults ages 3-103. Each "flight" includes a training class with a certified instructor. During training, attendees learn proper body position and hand signals that instructors use while in the air. After the briefing, enter the wind tunnel where the instructor is by your side for the duration of the indoor skydiving experience.
In addition to regular flight training, iFly's STEM field trips give students the opportunity to learn about aerodynamics and the science of flight in the state-of-the-art vertical wind tunnel. Trained STEM educators guide students through an interactive presentation and grade-appropriate lab activities.
iFLY specializes in custom events for groups of any size, and offers catering and unique event space to take your experience to new heights. Celebrate birthdays and important milestones, and don't miss All Abilities Night for kids and adults with special needs.
Reservations are highly recommended (on website). Get ready to be blown away!
iFly Oceanside
3178 Vista Way, Oceanside
760-606-4359
www.iflyworld.com/oceanside