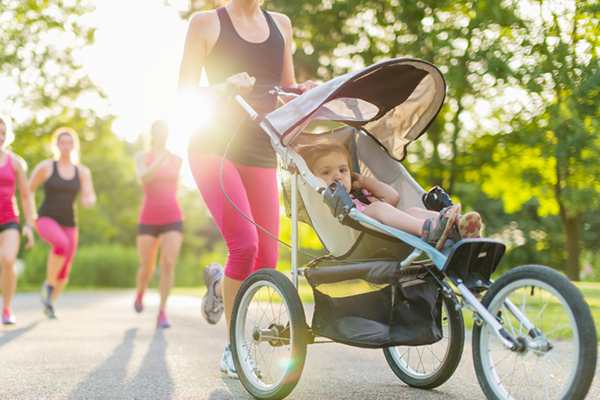 Ready to sweat with your little sidekick? Meet like-minded parents, achieve fitness goals and bond with your new bundle at these group classes in San Diego. Postpartum moms should ask a doctor when it's safe to resume exercise—usually six to eight weeks after baby arrives.

1. GroovaRoo Dance. Wear baby in a soft carrier while you move to popular music. This low-impact aerobic workout creates community for new parents while emphasizing safety and comfort for baby. Try the All Levels class for fun, easy dance routines. Intermediate and advanced classes groove at a faster pace. Workshops throughout San Diego County. www.groovaroo.com

2. Fit4Mom is the nation's largest baby-and-me fitness franchise. With 115 classes per week at 40 locations countywide, there's a program for every parent (dads and grandparents welcome, too). Popular classes include:
3. Stroller Strides. Get ready to get sore with 60-minute full-body workouts. Indoor or outdoor classes incorporate fitness bands, cardio, toning and stretching. Songs and activities keep babies engaged. Older kids are welcome as long as they stay secure in the stroller.
4. Stroller Barre. Similar to Stroller Strides, but with a focus on strength, length and posture, this class combines ballet, barre, yoga, and Pilates techniques.
Also available: Fit4Baby prenatal classes and Running Club. Try your first class for free. www.sandiego.fit4mom.com

5. Hapa Yoga. This family-friendly studio offers a variety of classes for parents. Best bets include:
6. Mommy and Me Yoga. This gentle yoga class focuses on postpartum healing for women. Regain muscle strength while you bond with your child. Mothers with pre-crawling babies are welcome.
7. Baby @ The Barre. Practice cardio, balance and weight training at the ballet barre to tone legs, arms and core. Babies ages one or younger are worn in a carrier and safely integrated into the routine.
8. Hapa also offers Music and Movement (ages 6-18 months), Happy Tots (ages 1-4 years), and Kids Yoga (ages 4+). A childcare room is available during regular adult classes. Located in Mission Valley and Eastlake. www.hapayoga.com

9. Crybaby Fitness. Baby moves from carrier to stroller to yoga mat over the course of this 60-minute outdoor training session. Instructor Emily combines strength, cardio and core exercises for a comprehensive workout. Silly choreography keeps baby smiling between circuits. Classes meet Wednesdays at 3 p.m., Thursdays at 11 a.m. at Doyle Community Park, 8175 Regents Rd. First class is free. Email This email address is being protected from spambots. You need JavaScript enabled to view it. for more information or visit www.facebook.com/crybabyfitness.
---
Anne Malinoski is a freelance writer and mother of two boys. Her ultimate fitness goal is to achieve a pull-up and reward herself with pie.
Published January 2017