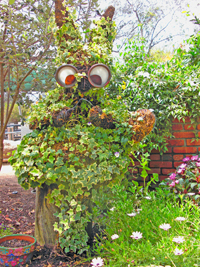 Nature Exploration
San Diego Botanic Garden
The San Diego Botanic Garden (formerly Quail Botanical Garden) is a family-friendly hidden gem in Encinitas that contains many winding flower-filled paths and two children's gardens.
While it is a lovely place to come for a stroll with babies, be sure to bring a sturdy stroller or jogger because you will definitely get a workout hiking up and down the garden's hilly trails.
The Seeds of Wonder Children's Garden is the perfect place for toddlers to explore. There are basins of soapy water with wands galore for blowing bubbles. Plastic dinosaurs hidden in the sand await curious, digging hands. Children can do a bit of gardening by transplanting tiny succulents from one container to a take-home plastic pot, filling it up with a bit of dirt and then spraying the treasure with a sprinkle of water. Any train-loving child's favorite part is the miniature train that chugs through the garden.
The Hamilton Children's Garden, the larger of the two kids' areas at San Diego Botanic Garden, requires a bit of a hike from the main parking lot and seems to have been created with older children in mind. Still, toddlers enjoy making music in the Garden Rhythms section with instruments formed from things found in nature like wood, water and stone. The Pencil Arbor and Bonsai Sketching area encourages budding artists to express their creativity. Teach little ones their ABCs in the Spell & Smell Garden, a spot filled with potted plants, each of which starts with a different letter of the alphabet.
Visit website for admission prices & parking information: www.sdbgarden.org.
Of course, things change. Before your family heads out on an adventure, verify dates, hours and current fees.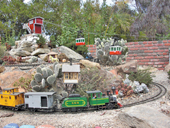 Animal Adventure
San Diego Zoo
As a six-year San Diego Zoo member and mother of two young children, I have logged many hours at our World-Famous Zoo. If you are heading to the Zoo with a baby or toddler, plan to go in the morning when the temperatures are cooler, the animals are active and the kids are not cranky!
Avoid the bus tour and animal shows until kids are a bit older since little ones don't have patience for sitting still for long periods of time, and babies may not be able to focus on animals from a long distance. Instead stick to exploring the Zoo on foot, seeking out exhibits that have close-up viewing or large animals on display, like elephants and giraffes.
Christina Simmons, public relations manager for the San Diego Zoo and mother of six children ranging from toddler to teens, suggests The Children's Zoo for young visitors. Simmons says the exhibits in this area were created with low viewing spaces to accommodate the vantage point of young children. Kids giggle with delight watching otters from an underground viewing area as the playful creatures zip through the water. About the Plexiglas-enclosed meerkat exhibit Simmons says, "Most of the time the meerkats are nose to nose with the kids. It's really cute because the animals are always coming over to check out the people."
The Petting Zoo provides a truly hands-on way to get to know its resident goats and sheep. Personnel often take ambassador animals for a stroll in the Children's Zoo. Be on the lookout for hedgehogs, porcupines, tortoises and more.
Visit website for admission prices & parking information: www.sdzoo.org.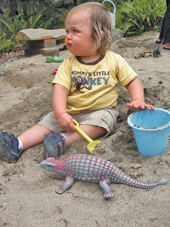 Tot-Friendly Beaches
If you are looking for something fun and affordable to do with a baby or toddler, look no further than San Diego's 70 miles of beaches! Which is best for San Diego's youngest beach goers? The answer is debatable but some beaches offer more family-friendly amenities and atmosphere than others.
Rachel Barone, a San Diego native and beach-loving mom, recommends Silver Strand State Beach, located in Coronado. She appreciates the plethora of well-stocked restrooms and outdoor showers as well as the plentiful lifeguard stations. The nearby parking lot makes for easy loading and un-loading of baby beach gear. She says, "There are also the fire pits, which are great for evening bonfires and s'mores!"
If you're looking for a beach further north, Kate Ditzler, a mom of a toddler and a newborn from Carmel Valley, loves Moonlight Beach in Encinitas for its family-friendly vibe and huge onsite playground. She said, "If my daughter gets tired of the beach, we can always go play at the park."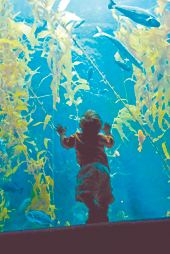 Indoor Activity
Birch Aquarium at Scripps
Birch Aquarium at Scripps in La Jolla provides plenty of indoor entertainment for families. Babies and toddlers alike will be enthralled by seeing fish and other ocean creatures up-close.
Kristin Evans, educational director at Birch Aquarium, recommends the Seahorse Corral for young visitors. She describes it as "a free play area where learners can hide and camouflage behind large corals, sea grasses and rocks. A giant mirror allows learners to see themselves 'disappear' into the colorful background. Or, they can pick up colorful puppets and match them to their favorite background."
When you need a little rest, head to the Kelp Forest Tank in the Hall of Fishes. This crowd pleaser spans an entire wall and is filled with leopard sharks and other fish, huge and small. Toddlers burn off energy climbing up and down the wall of carpeted bench steps while parents and babies gaze at the giant underwater display.
Visit website for admission prices & parking information: www.aquarium.ucsd.edu.
----------------------
Colleen Lanin is a freelance writer and author of the book, "The Travel Mamas' Guide" for anyone who wants to travel with children and stay sane!
» Want more places to go in San Diego? Our Out and About magazine has over 400 places, organized by neighborhood and region!
Published: March 2013