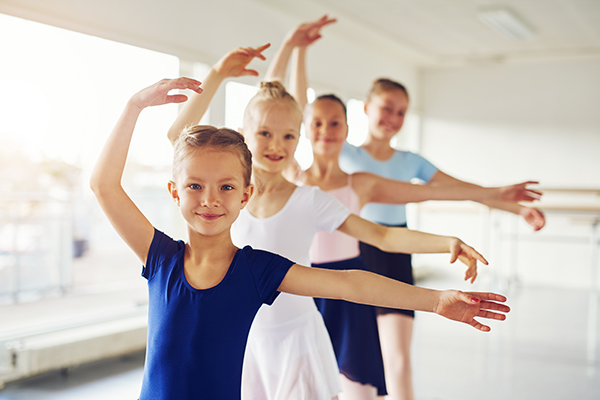 Browse through San Diego's Afterschool Activities Guide to find a variety of engaging classes and programs from ballet lessons to ice skating and everything in between. Contact advertisers directly to register, and be sure to say you saw their ad in Family Magazine. SN indicates companies that are trained to care for children with special needs.
Aqua Pros Swim School SN
Clairemont Mesa, 619-209-2990
www.aquapros.org
Swim all year round! Call for a free introductory swim lesson. Special needs programs available.
Bilingual Kids
Multiple locations, 619-366-3098
www.bilingualkids-sd.com
Foreign language enrichment programs offer afterschool classes and tutoring in Spanish and Mandarin. Music, games, literature and cultural activities. Offered at various schools across the county.
City Ballet
Pacific Beach, 858-274-6058
www.cityballet.org
City Ballet offers a full curriculum of ballet instruction for ages 3-18 from beginner through pre-professional levels.
Elite Gymnastics
El Cajon, 619-441-5900
www.elitegymnastics.com
Our mission is to provide high quality gymnastics instruction to students of all ages and abilities in a safe, supportive, challenging and fun environment! We offer gymnastics, tumbling, Parents' Nite Out, open gym, boys and girls competitive gymnastics, scout and charter school programs.
Little Artists
Countywide (5 locations), 619-462-1955
www.littleartists.com
Little Artists offers small class sizes, individualized instruction and affordable monthly tuition. Afterschool drawing and painting classes for kids ages 4-18. First class is free. No purchase necessary. Come join us for some afterschool fun. New location now open in Eastlake.
Little Fish Comic Book Studio
Ocean Beach, 619-356-1103
www.lilfish.us
Our Young Artist Comic Class introduces comic book art to young and emerging artists ages 8-12. Students enjoy lessons on drawing, character creation and demos from professionals. We also have classes for ages 13 to adults, Monday-Thursday. Learn how to write, draw, collaborate and create.
Little Language Ambassadors
San Marcos, 760-510-9639
www.littlelanguageambassadors.com/afterschool
Our Afterschool Program provides 100% Spanish immersion activities designed for elementary age kids. Group-based activities develop conversational skills and fluency. We also focus on developing excellent reading and writing skills. Students learn through games, songs and other fun and interactive activities. All classes taught by experienced, native-Spanish speaking teachers.
Pacific Coast Gymnastics
San Marcos, 760-489-4496
www.pacificcoastgymnastics.com
San Diego Ice Arena
Mira Mesa, 858-530-1825
www.sdice.com
Join SDIA for after school fun! We offer skating school classes and hockey classes for beginning skaters.
San Diego Junior Theatre SN
Balboa Park, 619-239-1311
www.juniortheatre.com/classes
We provide engaging, innovative, high-quality theater education and productions for children of all cultural heritages, ages, abilities and levels of interest.
Scripps Performing Arts Academy
Scripps Ranch, 858-586-7834
Carmel Valley, 858-509-2624
www.scrippsperformingarts.com
Scripps Performing Arts Academy is a professional training facility for ballet, theatre, dance and music that provides a creative environment and instills self-confidence, self-esteem and teamwork. We produce beautiful dance and musical theatre productions in lieu of dance competitions and year-end, lengthy recitals. Attend a complimentary class and experience the difference. Please request a copy of the financial difference between Scripps Performing Arts and a general recital based/competitive dance studio program.
Vernetta's Dance Studio
North Park, 619-260-1707
www.vernettadance.com
San Diego's leading dance studio for children. Performance opportunities, studio parties and more. Parents are invited to observe all classes. First lesson is free; enroll anytime.
---
Published: August 2019