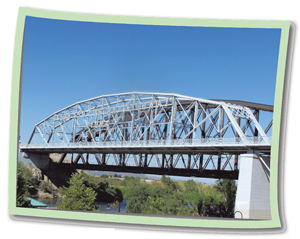 Over the River
and through the Dunes

Whenever I tell people that I've lived in Yuma, Arizona for 11 years after growing up in Alaska, they look at me in shock. Talk about trading one extreme for another. Yuma certainly is unpleasant in the summer but this town of nearly 100,000 people is a vibrant, growing community that I'm proud to call home. Once the heat breaks in early fall, November is the perfect time to visit for a long weekend.

Less than three hours east of San Diego, Yuma lies just over the Colorado River separating California and Arizona. The areas along the river have been revitalized over the past few years creating a several mile spread of parks and bike trails, hummingbird habitats and historic sites.

For a weekend trip to Yuma, stay at the Hilton Garden Inn Yuma in downtown, overlooking Gateway Park and the Colorado. The Ocean to Ocean Bridge, historically enabling cross-country travel, is nearby. The park includes a beach area and playground for little ones.

Walk a few blocks to Main Street to eat at Da Boyz Italian Cuisine, which features fantastic pizza and other Italian dishes. After many years of success on the outskirts of town, this new location is a beautiful dining experience that is still family friendly. I have a hard time eating anything new here since I became addicted to the barbecue chicken pizza topped with fresh cilantro. Try the family feast deal including a pizza, family order of pasta and bread sticks, for around $20.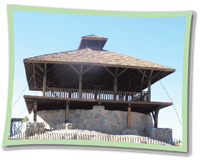 Since 1991, the Colorado River Crossing Balloon Festival has been held the weekend before Thanksgiving (November 19–21). The Saturday balloon launch starts early with gates opening at 6 a.m. and balloons going up at 7. Sunrise and giant colorful balloons—this is the perfect way to get your kids outside to start the day off right. The price for admission is just a food donation for the mission, and vendors are available onsite at West Wetlands Park selling food. Otherwise, grab a huge breakfast burrito at Arizona Donut. Frequently voted the best in town, what the restaurant lacks in ambience it makes up for in freshness. Grab a dozen donut holes to happily tide you over while your burrito is being made.

After enjoying the balloons and rising sun, stick around West Wetlands for a while. The Stewart Vincent Wolfe Creative Playground here is a perennial favorite; it was designed by thousands of local children and built in 2007 by community volunteers. Separate areas for little guys and older ones make it easier to keep track of the kids, and the giant castle slide can fit an adult if you are daring. There's a hummingbird habitat across the parking lot and a stocked pond for fishing.

A morning outside should get you hungry, so head over to Las Palapas Taco Grill for some easy, authentic Baja-style tacos. Get the fish tacos on corn tortillas or a carne asada quesadilla. Enjoy the smoky chipotle salsa but be prepared for a little burn. Eat outside under the woven grass huts the restaurant is named for or at tables inside.

A trip to Yuma wouldn't be complete without a visit to the infamous Territorial Prison. Home to both prisoners and later the public high school, seeing the tiny cells and imagining it during 120 degree summer days should be a deterrent for any misbehaving kids in the family. Last year Arizona cut funding to most state parks, including the prison, so it is now run with support from the City of Yuma. There's a Junior Ranger activity booklet available for kids to do, and you can see the cemetery where the many prisoners who didn't survive their stay are buried.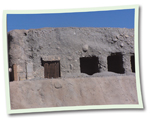 Head away from old Yuma into the citrus groves to explore a rather unusual farm featuring more than 100 camels. At the Sahaiti Camel Farm you can feed the camels if you are brave, but their slimy lips and drool have always been too much for me to overcome. There are other animals including our family favorites the four-horned sheep, ostriches and miniature donkeys.

Stop at the Peanut Patch for a snack and tour. A Yuma icon, started by homesteaders, the Peanut Patch is an old fashioned store on lush grounds, perfect for a relaxing wander. It's famous for its fudge or you can try some of the dates grown in the area. Of course, they specialize in peanuts and peanut products so if you have a nut sensitivity this isn't the place for you.

One of the favorite parts of the balloon festival comes Saturday night at the Ray Kroc Baseball Complex. Beginning at 5:30 p.m., come out to see the Desert Balloon Glow with lighted hot air balloons, music and fireworks. There's no better way to end a weekend adventure with the family than with fireworks. As you head home past the Imperial Sand Dunes and over the Laguna Mountains, remember your foray into the winter lettuce capital of the nation.




Sights to See in Yuma, Arizona

• Arizona Donut
1583 South Avenue B.
928-343-7474
Open 24 hours/7 days a week
• Colorado River Crossing Balloon Festival
www.caballeros.org/balloon_main.htm

• Da Boyz Italian Cuisine
284 S. Main St.
928-783-8383

• Hilton Garden Inn Yuma/Pivot Point
310 N. Madison Ave.
928-783-1500
www.hilton.com

• Las Palapas Taco Grill
490 W. 16th St.
928-329-7002
11 a.m.–11 p.m.
• The Peanut Patch
4322 E. County 13th St.
800-USA-PNUT
www.thepeanutpatch.com
November hours: Mon-Sat. 9 a.m.–5 p.m.

• Sahaiti Camel Farm
County 16th and Avenue 1E 928-627-7511
9 a.m.–5 p.m. Saturday, closed Sunday.
• Yuma Territorial Prison
1 Prison Hill Rd.
928-783-4771
www.pr.state.az.us/parks/YUTE/index.html
Admission:
Adults 14 and older: $5.
Children 7–13: $2.
Kids under 6: free.
Hours: 9 a.m.–5 p.m.


-----------------------
Eliana Osborn lives in Yuma, Arizona with her husband and two young sons. She enjoys spending time outside and going on fabulous adventures.