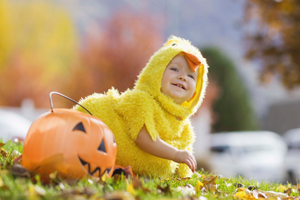 Remember how easy it was to do Halloween when you were a kid? Throw an old white sheet over your head, call yourself a ghost and head out for trick-or-treating. Well those do-it-yourself days are creeping back, as parents are just saying no to outrageously-priced specialty store kids' costumes and relying on their own ingenuity to outfit trick-or-treaters.

Arlana Kemplin says she and her husband, Jeff Manresa, balked at the prices in a Halloween specialty store when they started hunting costumes for their sons, Val and Iban, both 9.

"We're not going to buy a 50 dollar costume, when it's basically a piece of cloth," says Kemplin. "So we went into the closet and pulled out our old costumes."

She says adding some new accessories or make-up will put a new spin on last year's outfit, ultimately saving them a bundle and adding to the fun.

"My husband says that's what makes Halloween fun, being creative and coming up with your own costume," Kemplin says.
Robert Tabor, a costume designer and artist who has worked for companies such as Nickelodeon and Mattel, advises parents to find inspiration—and cheap materials—in their surroundings.

"There is so much available in your house that can be turned into something else, without making you spend a cent," he says.

Large appliance boxes, old pillowcases and Christmas decorations can be repurposed into something new with a little creativity, Tabor says.

"You can get 50 percent of what you need in your house. It's really kind of fun to look at things with a different eye, and it's all right there."

Parents who do want to tap into their inner costume designer to fashion outfits for their kids often have limited time and resources. Plenty of shortcuts can be found at craft stores such as Michael's, A.C. Moore Arts & Crafts and JoAnn's.

Liquid Stitch, a clear-drying fabric glue, is one solution. It binds fabrics together like sewing, but shortens the labor. It's also machine-washable, non-toxic and non-flammable.

Another product, Stitch Witchery, uses iron-on strips to adhere fabrics, and is fairly easy to use, Thomas says.

Foam or felt sheets can be bent into shapes and glued to make hats, or cut up to make appliqués for other costume pieces. Fabric paint, including a glow-in-the-dark variety, is a fun and easy way to dress up a fabric or sheet used as a costume base.

Kemplin says craft store items such as face paint, masquerade masks, feather boas, beads, feathers and ribbons can make inexpensive adornments to your own clothes.

A couple of years ago, Debbie Thomas, of Michael'sm created a "Fifties Girl" costume for her granddaughter. She made the skirt, then attached a poodle appliqué and sequined leash. Her granddaughter wore it with a white blouse and a handkerchief around her neck.

"A lot of parents don't have time or don't want to sew," says Thomas. "But there are new products out there to help them."
. . . . . . . . . . . . . . . . . . . . . . . . . . . . . . . . . . . . . . . . .



Cute and Easy Costumes for Kids
Emma Hardy
$19.95, Cico Books
Adorable kiddos display 35 costume ideas for beginning and advanced crafters. Step-by-step instructions and patterns included.

Budget-friendly Retro Costume Ideas


Crafts.kaboose.com/holidays/halloween/costumes
Tips for making your own costumes, including ladybugs, hula dancers, a firefighter, pig, frog and cat.


EverythingHalloween.com
Offers tips for keeping kids' costumes on a budget.

FamilyFun.com
Find super cute halloween costumes and crafts on this website.


MarthaStewart.com
Ideas for no-sew costumes, including how to use coffee filters to put ruffles on a fairy godmother costume. Cute baby costumes such as a roast turkey and pie.


Parenting.com
Offers great no-sew costume ideas for kids, including corn-on-the-cob, tomato and carrot outfits and strawberry, lobster or a pea pod costumes for babies.
Scarecrow: Get a burlap sack from the grocery store. Cut arm and neck holes. Pull it on over jeans and a plaid shirt, tie a rope at the waist, add a few wisps of straw and an old hat.
Spider: Use a black sweat suit as a base. Attach flexible tubing, such as electrical conduit or drainage pipe, to make legs. Add fake spider webs for more fun.
Parking ticket: Decorate large foam sheets like a giant ticket and wear sandwich-board style over the shoulders.
Ghost: Use a leftover wedding runner or old pillowcase. Cut out the eye holes, belt the waist with yarn. Shred the edges for a creepy look.
Princess: Buy an old frilly bridesmaid dress from a thrift store and pin up the skirt. Use a cheap crown or make a cone-shaped hat out of poster board and top with inexpensive netting. For a twist, use scary make-up to make an evil princess.
Pumpkin: Use a hunters' fluorescent orange vest. Great for visibility! Wear over a green shirt and pants. Paint your child's face orange.
Gypsy: Tie old scarves around the waist and head. Use a colorful skirt, gold costume jewelry, and bright lipstick.

. . . . . . . . .

. . . . . . . . .

. . . . . . . . .

. . . . . . . . .

. . . . . . .
updated: September 28, 2012