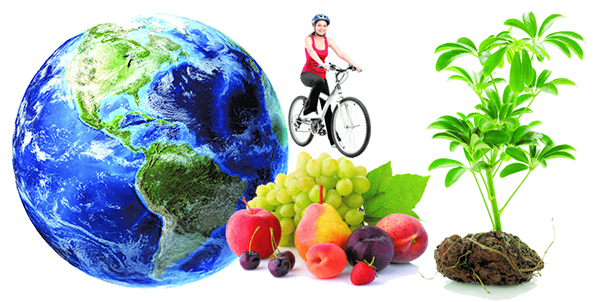 Earth Day is near, but don't wait until April 22 to celebrate. Now is the time to reflect on your family's commitment to the environment. Have fun as a family and encourage your children to be stewards of the Earth by springing into action with these ideas.

1. Create an Earth Day recycled village. Delve into the recycling bin for small boxes and cardboard cylinders. Using a stiff piece of cardboard as a base, let your child design a fantasy village with recycled materials. Glue objects together to create towers, arches and skyscrapers. When the village is dry, bring out poster paint and brushes to fuel another burst of creativity. Snap a photo, and when your child has moved on to other things, pitch it all back into the recycle bin.

2. Expand your palate. Visit a local produce stand or farmers market with your children and seek out unfamiliar produce. Choose a new fruit or vegetable to try each week.

3. Use alternative transportation. Walk, bike or use public transportation to reach a destination you would normally drive to.

4. Decorate reusable canvas tote bags. Kids can personalize their own bags using fabric markers and fabric paint. Use them all year long for shopping, library books and sleepovers, or give them as one-of-a-kind gifts.

5. Visit the San Diego Zoo, Birch Aquarium, Living Coast Discovery Center, SeaWorld or Sea Life Aquarium. During your visit, ask someone how their practices have changed over time with the increasing emphasis on scientific research and species conservation.

6. Plan, prepare and plant a garden. Set aside a portion of the garden for your children. Find tips about patio gardening with kids here.

7. Make earth cookies. Bake sugar cookies and decorate them with blue and green icing to represent Earth's continents and oceans. Look at a globe or map for inspiration before you begin.

8. Volunteer for a neighborhood or beach clean-up. Find opportunities at I Love a Clean San Diego.

9. Use only eco-friendly and reusable products all day. Help your children notice things they can reuse. Don't forget those cloth napkins!

10. Turn out the lights and have dinner by candlelight.

11. Clear the clutter. Search the house for items you no longer use and have the kids do the same. Finding a new home for these items keeps them out of a landfill. It saves manufacturing, transportation and packaging costs required when buying new items. Put unused items back into circulation by donating them to charity or holding a yard sale. Sell items online or leave them by the curb with a "free" sign for a few days.

12. Go hiking at a local park or nature reserve. Torrey Pines and Mission Trails Regional Park offer great hiking trails. Find more of San Diego's best hiking trails here.

13. Make a biodegradable bird feeder. Tie a long loop of yarn around a pinecone, coat the pinecone with peanut butter or lard, and then roll it in seeds, nuts or oats. Hang it from a tree and watch as the birds swoop by for a taste.

14. Plant a tree. Arbor Day is officially the last Friday of April, the same week as Earth Day. Celebrate both days by joining a group tree-planting project or by planting a tree on your own property.

As the saying goes, "Every day is Earth Day." So begin your family's stewardship adventure today.
---
Heather Lee Leap is a freelance writer and mother of three girls. She strives to use things up and wear things out before replacing them.
Published April 2015