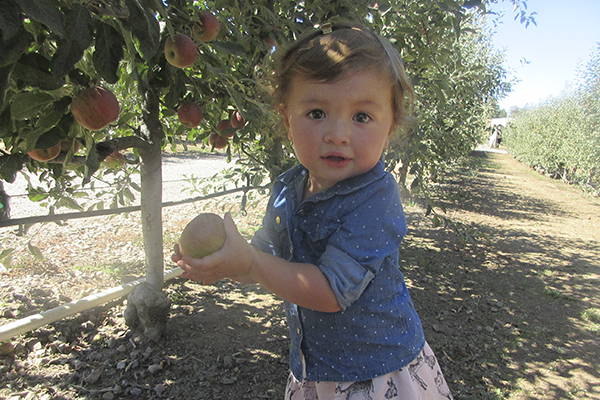 Kennedy (age 2) picks apples at Volcan Valley Apple Farm.
Fall in San Diego finds many families apple picking in nearby Julian. Known for delicious apple pies, Julian is home to many apple farms, allowing visitors to purchase or pick their own apples. Apple picking season typically begins in September (sometimes as early as the end of August) and continues through October or until the orchard runs out of apples for the year. Below are some apple orchards in Julian (about 40 miles northeast of San Diego). Contact each orchard directly for information about this year's apple crop.


Volcan Valley Apple Farm
1284 Julian Orchards Dr., Julian
760-302-4574
Pick you own apples starting August 15, 2016. Thurs.–Mon., 9 a.m.–5 p.m. Check for updates on their Facebook page.
Apples and Art
1052 Julian Orchards Dr., Julian
760-310-6368
www.applesandartorchards.com
Apples and Art orchard opens September 8, 2016, but is exclusively for groups. Reservations are limited, so plan to pick early!

Apple Starr Orchard
1020 Julian Orchards Dr., Julian
760-305-2169
www.apple-starr.com
Apple Starr is a certified organic apple and pear orchard that expects to open on weekends from 10 a.m–5 p.m. starting in August. Groups of 15 or more are welcome on Monday mornings before noon and on Friday afternoons after 1 pm. Call for details.
Peacefield Orchard
3803 Wynola Rd., Julian
855-936-2775
peacefieldorchard.org
100% naturally grown fruit that has no sort of pesticides or chemicals. Their apple varieties include Granny Smith, Gravenstein, Jonagold and more! Closed Monday-Friday but with a group of 10+ guests or if you meet a $50 minimum, they can arrange their grower to give you a tour of the facility, while you get to learn about the apple-picking process! Please call Apple Concierge at 855-Zen-Apply to schedule your private tour or for more information.
Not sure what to do with all those freshly picked apples? Find tasty recipes in our Apple Recipe Round-Up.

----------
Updated: September 2017