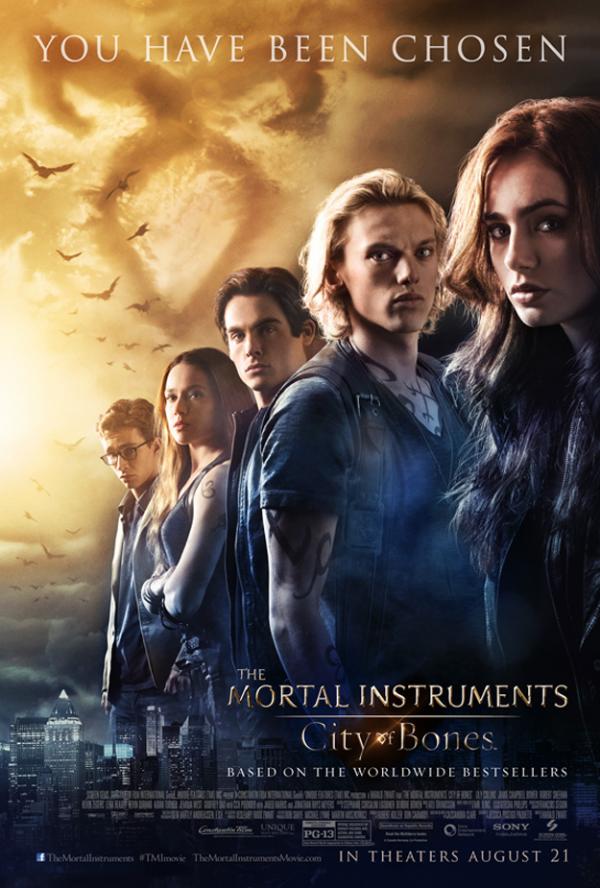 Rated PG-13
Running Time: 2 hour, 10 minutes
Starring Lily Collins, Jamie Campbell Bower, Robert Sheehan, Lena Headley, Jonathan Rhys-Meyers

Taken from the first of a series of YA novels, this film is long, confusing and tedious. Clary (Collins) a teenager finds herself obsessed with drawing a certain design over and over, and then finds she can see people other people can't. The people she can see are Shadowhunters, half-angel, half-human creatures who are protecting Earth from demons. With so many demons preferring Earth to Hell, the Shadowhunters have a fulltime job destroying them. And it's a tricky business because demons can appear to be regular people.
Clary's mother (Headley) has been keeping the fact that Clary isn't your usual teenager from her daughter. Her excuse? Waiting until the child is old enough to understand. Once Clary has this experience, all hell breaks loose. She races back home to discover her mother's been taken and a Rottweiler left to guard the place turns into a demon. Jace (Bower), guy she met at a club, saves her from the disgusting creature.
The plot then thickens and becomes so convoluted it took all my concentration to follow it. There's the institute, and a man and a girl and her brother. Jace is falling for Clary who returns his interest. Her friend, who considers himself her boyfriend, makes the third angle of this triangle. And then there's a missing chalice and a still-missing mom. Are you still with me?
There's a portal that takes you…I'm not sure where or how, but out of the institute, which is the only place in New York City safe from demons. Reminds me of "base" in a game of tag. I never thought demons would obey rules, but these demons do. Valentine, the real bad guy among bad guys, is seeking the chalice to become immortal, I think. Not sure whose blood he has to drink to become that way. By this time in the movie, I'm totally confused and don't remember why Valentine is so bad and rules so many demons.
There is subplot upon subplot, vampires who attack Shadowhunters and werewolves who attack vampires and demons who come together from black vaporous flying stuff. Visually I was bombarded by all sorts of violent creatures and I often had no clue why they were there or what they wanted.
If you've read the books, I imagine this movie would make more sense. For someone fresh from the streets who hasn't, it was a head-scratching mixture of violence, young love, fantasy and gobbledygook. The love part is sweet and innocent, nothing beyond one steamy kiss. There is plenty of violence, often with frightening or disgusting creatures. No bad language intrudes, though with so many British folks, I'm not sure if I would have recognized a curse word if I had heard one.
The Immortal Instruments: City of Bones, is over two hours and overstuffed with plot and characters. It should be fine for kids 13 and up, but is perhaps the stuff of nightmares for younger children.

{youtube}hc4CiTvQ-YE{/youtube}