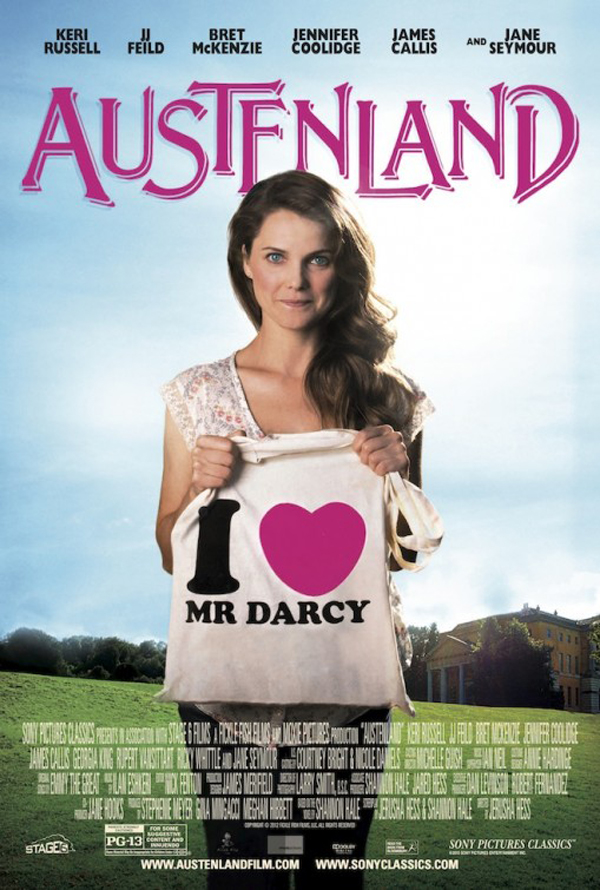 Rated PG-13
Running Time: 1 hour, 36 minutes
Starring Keri Russell, Jennifer Coolidge, JJ Field, Bret McKenzie, Jane Seymour

I'm a huge Jane Austen fan and a romance writer in my other life, so I couldn't wait to see this movie. I had no idea Austenland came out as a book first, but it's going on my to-be-read pile.
I adored this movie! It opens with Jane (Russell), a young New Yorker who is unlucky in love and completely obsessed by the BBC version of Pride and Prejudice. She had memorized the first three chapters by age 13. Everything in her room has a regency England flavor.
She's told about Austenland, a place that recreates the regency English life, right down to the tea, for visitors with cash to burn. Jane signs up to go, squandering her life savings on a once-in-a-lifetime experience. The brochure "guarantees a romance" for each guest, so Jane flies off to England.
At this point, you slip into regency life along with Jane, who has picked up a whack-o companion, Miss Charming (Coolidge). Ms. Coolidge is completely and totally hilarious as a lower-class woman who stumbled into this vacation not knowing a thing about regency England.
As we meet the other guests and some actors hired to play the parts of the men, we are sucked into the story. I can't continue without giving away the plot. There are many surprises along the way with one major one at the end. This film managed to weave the magic of regency English in with true romance of modern people while peppering in laughs, bits from the Austen novels and surprises to keep you entertained. If you want to stimulate reading of the classics in your children, this is the movie to see. There was a little violence by a drunken man against Jane, but it was quickly resolved by her. There's no bad language, some sexual suggestions and nice kissing. Don't miss this frothy delight. See it with your kids 11 and up.

{youtube}KbHr8YyjSlg{/youtube}