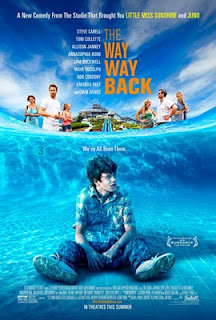 Rated PG-13
Running Time: 1 hours, 43 minutes
Starring Steve Carell, Toni Collette, Sam Rockwell, Allison Janney, Amanda Peet, Liam James

This is a coming-of-age story that doesn't include sex. Duncan (James) is an introverted 14-year-old still adjusting to his parents' divorce. He's shuffled along on a trip to the beach with his mom, Pam (Collette), her overbearing boyfriend, Trent (Carell) and his sulky teenage daughter.
On the way, Trent tells Duncan he's a three out of a scale of ten and advises him to get out there and meet teens. Pam is an ineffective parent under the thumb of the obnoxious Trent. She's not paying much attention to her son, choosing instead to hang solely with Trent's beach friends, a bunch of heavy drinkers and pot smokers.
Left on his own, Duncan makes a friend, Owen (Rockwell) the owner of Water Whizz, a local waterpark, far from the tony beach and upscale shore residents. Owen gives him a job.
The kids who frequent the waterpark and the staff that work there become Duncan's closest friends. He begins to emerge from his shell doing his job. The metamorphosis taking place spills over into his life at the beach house. He spies Trent kissing the wife of his best friend. Trent also disappears for a day, lying to Pam about where he was.
At a dinner party on the beach, the truth comes out. Trent was off for the day with another woman. Duncan stands up to the bullying Trent in a dramatic scene where the boy also calls out his mother. They leave the next day, but not without a funny and poignant goodbye scene with Owen.
This emotional, occasionally funny, story touches your heart. Everyone can identify with Duncan. The excess drinking, pot smoking and allusions to sex by the adults set examples some kids in the audience will recognize. I loved this movie. It doesn't pull punches but exposes everyone's weaknesses. Children going through a divorce may find it either comforting or upsetting. There is no violence, a little bad language, a short sexual scene and sexual innuendo. It's best for kids 13 and up. See it with them, you won't regret it.
{youtube}OwNo1i3jkCo{/youtube}