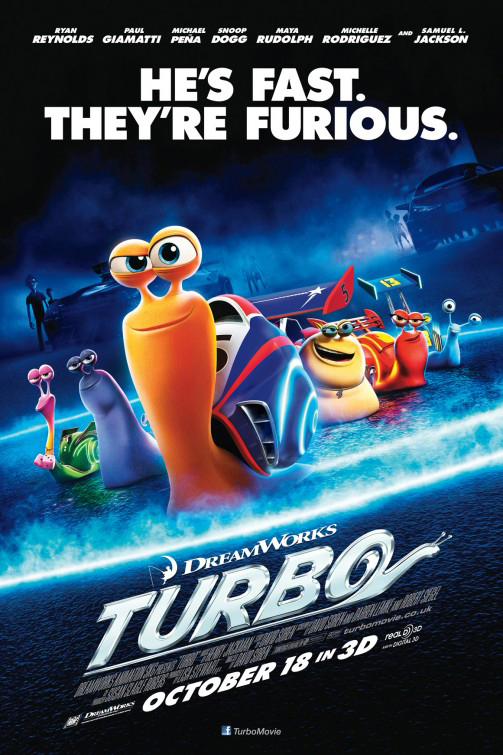 Rated PG
Running Time: 1 hour, 36 minutes
Animated with the voices of: Ryan Reynolds, Paul Giamatti, Michael Peña, Luiz Guzmán, Samuel L. Jackson

I was initially turned off by the premise of this movie, a snail gets turbo-powered and competes in the Indianapolis 500 against racecars. Really? A snail? Once I gave up total disbelief and got into the idea that snails give a hoot if they're slow and want desperately to be fast, I could enjoy the movie.
The rest of the movie was delightful. The set-up of the world of snails: eating tomatoes, moving at a snail's pace (promise to use that only once), and dodging the lawn mower was fun and educational. But watching Turbo (Reynolds) get sucked into a car engine by accident where the "turbo juice" for the car got into his system and made him super-charge, was fascinating.
Once Turbo finds his new power, there's no stopping him. He gets plucked off the ground by a nice Hispanic man, Tito (Peña) and entered into a snail race. Do people really have those? They do in this movie. Turbo shocks them all with his amazing speed, giving Tito the idea to use him to get publicity for the taco stand he owns with his brother, Angelo (Guzmán). Of course Angelo thinks Tito is crazy and Turbo's brother, Chet (Giamatti) thinks Turbo is crazy.
Tito goes on to overcome all obstacles and enter Turbo in the Indy 500. Silly, perhaps, but there's a great message about never giving up your dream. Does he win? I'm not going to spoil the movie. I admit that the warm, funny characters sucked me into the story. The Hispanic brothers working hard to make a living were unusual heroes –I liked that. The relationships between the brothers –snail or human—loyal to the nth degree, even if they didn't understand or agree with their sibling, was heart-warming.
There was a little violence but no blood, no sex and no bad language. Except for crows picking off snails to eat and fighting for a snail in addition to the violence associated with the race and the fierce level of competition, there was nothing to prohibit taking children as young as five. I liked Turbo despite my initial reservations. It was a sweet, funny, endearing story told well. See it with your kids.

{youtube}F-L5bzwdpVI{/youtube}