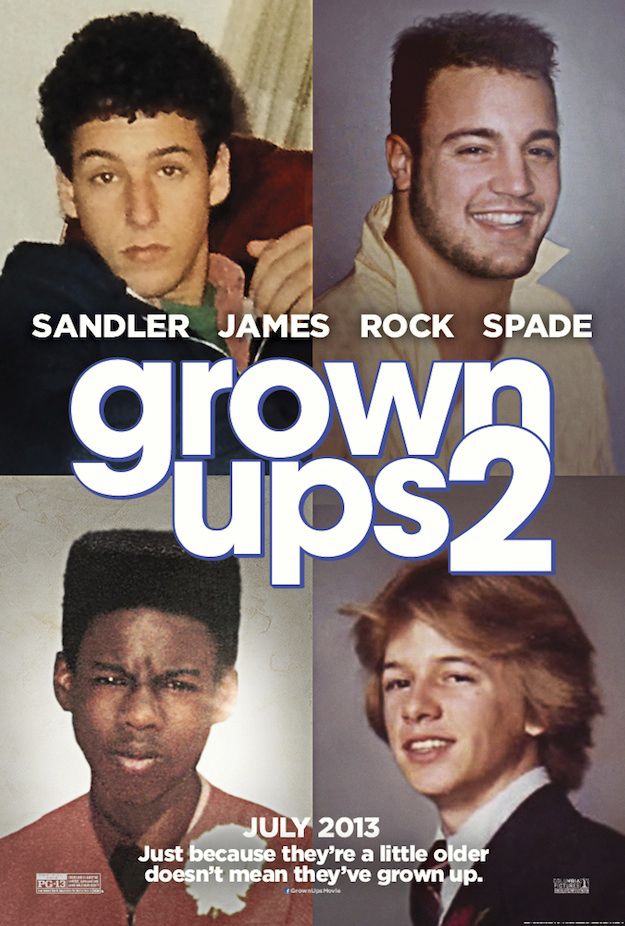 Rated PG-13
Running Time: 1 hour, 40 minutes
Starring: Adam Sandler, Chris Rock, Kevin James, David Spade, Salma Hayek Pinault, Maria Bello, Georgia Engel, "Stone Cold" Steve Austin, Shaquille O'Neal

There's nothing grown up about GROWN UPS 2. Throwing in every famous name you can find doesn't make a good movie. A well-written script with a plot, which this movie doesn't have, are necessary ingredients.
The men, all childhood friends, reconnected in the small town where they grew up. They are married with kids. That's where the plot ends and the shenanigans begin. The movie is a series of bad jokes or pranks played. It seems like a couple of goofy, immature men got together after a few beers and brain-stormed scenes they thought were funny. Someone recorded it and turned it into a movie. Unfortunately for the movie-goer, the scenes aren't funny or entertaining, but beyond silly and straight to boring.
I have nothing against jokes, gags, hijinks and such, but they should be funny, which none of these were. There is one unifying feature—gross bathroom antics, can't even call it humor. But this was juvenile, maybe at the level of middle school. During the breaks between bullying, bathroom humor and derogatory cracks about being married, the men spent the rest of the time ogling the ample cleavage of various women.
For example, the movie showed a sexy woman in a low-cut leotard dancing with the little girls in a ballet recital. One of the dads was filming, but not the kids dancing, the sexy lady instead. That's funny? It was pathetic.
The "reunion" of a father and the son he didn't know he had was even more pitiful. David Spade played the father with a son who towered over him in height and strength. And the whole joke was how threatening he was to his dad and everyone around him. How humorous is a giant 13-year-old kid with out-of-control rage? There are no good messages in this movie. It's simply a couple of worn-out comedians with no filter.
I could go on, but I don't want to make you yawn. This movie was so clichéd, so stupid, so inane, it has achieved the status of worst movie of the year, so far, and into the top ten worst movies of the decade. There is gross bathroom "humor", sexual innuendo, sexual jokes about body parts, brief partial male nudity (backsides), but no foul language. Anyone out of their mind enough to see this should be over 12. Parents, stay home. Mowing the lawn will be more entertaining than Grown Ups 2.
It's a shame, because I enjoyed the first movie in this series. I guess it was a fluke.

{youtube}YhOWtVElqfw{/youtube}