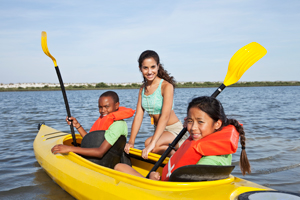 Summer is the perfect time for teens to gain valuable leadership and work experience by being a counselor in training (CIT) or junior camp counselor. There are many volunteer opportunities as a CIT, all of which teach responsibility and teamwork. Some teens use their summer camp counselor experience to fulfill community service requirements for school or extracurricular clubs, while having a rewarding summer themselves.

Is your teen ready for summer camp counselor training? If she is patient, responsible, reliable, enjoys kids, follows rules, demonstrates good judgement and wants to have fun, she may be just what one of these camp programs is looking for!
Forest Home Christian Camp
San Bernardino Mountains
Fun, caring and responsible teenage girls (ages 13-18) are needed as Child Care Assistants (CCAs) for Family Camp. CCAs take care of children in the evening and get to be campers during the day! CCAs experience worship, team-building activities, free time and more. Cost is $75 per week. Online applications are being accepted now. Pastor recommendation required. For information, email This email address is being protected from spambots. You need JavaScript enabled to view it. or contact Hannah Nelson at This email address is being protected from spambots. You need JavaScript enabled to view it. or 909-389-3467.

Living Coast Discovery Center
Teen volunteers (ages 16 & up) are needed year round to help with seasonal camps, birthday parties, outreach programs, to greet visitors and to teach them about native wildlife at the center. A minimum number of volunteer hours are required depending on the position. For information, contact the volunteer coordinator at 619-409-5905 or apply online at www.thelivingcoast.org/get-involved/volunteer.

Outpost Summer Camps
Canyonside Community Park, Rancho Peñasquitos 

Join Outpost Summer Camps Junior Counselor Leadership Program. The program is designed for students ages 15-18. JCs gain leadership, communication and other essential skills for the future. High school students assist in leading groups of kids in daily outdoor adventures, and must commit to at least one or more full sessions with a group (sessions are three weeks long). Students are accepted after a formal interview process, to be conducted throughout March and April. Training is in June.

Fleet Science Center
Balboa Park
Make a difference this summer! Impact the lives of younger children by being a summer camp counselor. Counselors are needed to assist educators in week-long camps. Responsible teens (ages 15 & up) who have experience with kids and are enthusiastic about science preferred. If under 18, two letters of reference and parent consent are required. Online application available on website. Two training sessions are required. Year-round volunteer opportunities also available.

San Diego Air & Space Museum 
Balboa Park
Teacher's Assistants (TAs) are needed for administrative help and to assist campers during week-long AeroSummer camps at the San Diego Air & Space Museum. Shifts are four hours long. Responsible, motivated teens ages 14 & up with a "B" average or better are encouraged to apply. Two letters of recommendation (one from a parent or legal guardian, one from a teacher or school official) are required. Contact "Rossco" Davis after for more information: This email address is being protected from spambots. You need JavaScript enabled to view it. or 619-234-8291 x120.

San Diego Natural History Museum
Balboa Park
The San Diego Natural History Museum is seeking high school students (16 & up) as volunteer camp aides. Camp aides participate in a variety of fun activities such as nature hikes, story time, crafts and science activities tailored for campers from pre-K to 8th grade. Summer camps run June through August. A two-week minimum commitment is required and three weeks is preferred (weeks need not be consecutive). Full-day and half-day schedules available. Mandatory volunteer orientation in June. Apply online by May 20. If you have questions, contact Mariana Bandera at This email address is being protected from spambots. You need JavaScript enabled to view it. or 619-255-0245.

Watersports Camp
Mission Bay Aquatic Center
The Counselor-In-Training (CIT) program at the Watersports camp will give students ages 14-17 a head start to learning skills that will serve them as they enter the workforce. CIT service looks great on resumes and college applications and is a great opportunity for teens to gain valuable work-like experience. CITs are an important part of our camp team and have a great time while learning responsibility, teamwork, and the satisfaction of a job well done. Watch our online orientation for New CIT's and visit the website for a full list of qualifications and training dates. Rate: $75-$125 per week of CIT service (depending on week) includes sailing training. Space is limited.
Is there a SoCal CIT program for teens missing from this list? Email This email address is being protected from spambots. You need JavaScript enabled to view it. and tell us about it. Put "CIT program for teens" in the subject line.
---

Lisa Gipson is the managing editor at San Diego Family Magazine. Her daughter, whose camp name is "Hoops", loves being a CIT.
Updated: April 2018