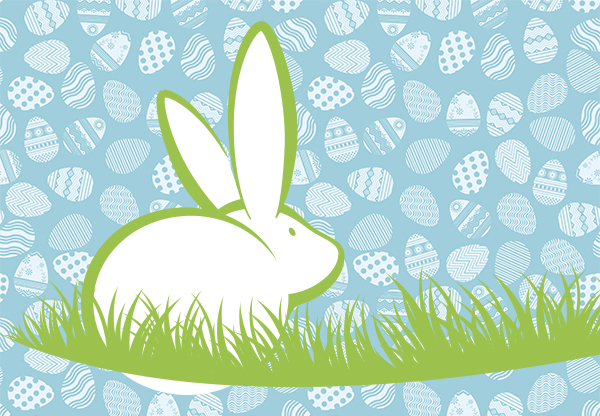 Find an egg-citing trail of Easter happenings including egg hunts, Easter Bunny sightings, crafts, brunches and worship services. We'll update this list with more Easter events as they become available, so be sure to bookmark this page!
saturday | March 17

Photos with the Easter Bunny at Seaport Village. Flash your best smile beside the Easter Bunny and enjoy free Easter treats. Pets welcome. Today, tomorrow, March 24-31; 11 am-4 pm (March 31, 11 am-3 pm). Photo packages ready in minutes. West Harbor Dr. & Pacific Hwy., downtown San Diego. www.seaportvillage.com.
thursday | March 22
Easter Kid's Craft & Cooking Class. Chef Leyla will teach children how to use natural ingredients to paint Easter eggs and prepare tasty Easter foods using seasonal vegetables, herbs and fruits. 3-5 pm. $35 per child. Café 21, 2736 Adams Ave., San Diego. http://cafe-21.com/event/easter-kids-craft-cooking-class.
saturday | March 24
Pacific Southwest Railway Museum's Bunny Train. Take a train ride with the Easter Bunny and be part of an egg hunt with prizes and treats. Today, tomorrow & March 31, 11 am, 1 & 3 pm. $5-$18. Trains depart from the Campo Depot. 750 Depot St. www.psrm.org.
Birch Aquarium at Scripps Presents Spring EGGstravaganza. Celebrate spring and the changes it brings as you explore animal eggs, make a shark egg craft, see the Scuba Bunny, join an 'underwater egg hunt' and more. Today, tomorrow, March 31 & April 1, 11 am-3 pm. Free with admission. 2300 Expedition Way, La Jolla. www.aquarium.ucsd.edu.
FREE Standley Park's Spring Egg Hunt. Plus face painting, arts and crafts, and egg dyeing. 10 am-noon; egg hunt at 10 am. 3585 Governor Dr., San Diego. 858-552-1652.
Pancake Breakfast & Egg Hunt Hosted by the Vista Optimist Club. Breakfast with games, pictures with the Easter Bunny and egg hunt (10 am) for ages 11 & under. 7:30-11 am. $5. 600 Optimist Way, Vista. 760-598-5907.
FREE Egg Hunt & Bunny Photos in Linda Vista. 10 am-noon. Linda Vista Recreation Center, 7064 Levant St. 858-573-1392.
Bunny Train at the Orange Empire Railway Museum. The Easter Bunny will hop through the train and greet each child with a special treat. Children can decorate baskets then follow a treasure map to find eggs and goodies. Today & tomorrow, 11 am-4 pm. $10-$15. 2201 South A St., Perris. www.oerm.org/event/bunny-train-2.
FREE Spring Egg Hunt at Adams Recreation Center. 1-3 pm. Bring a basket. 3491 Adams Ave., San Diego. 619-235-1149.
FREE Easter Surprises at Paseo del Rey Church. Children, toddlers through first grade students, enjoy an egg hunt, story time, a craft, games, snacks and face painting. 9:30-11:30 am. Children older than 6 are welcome to participate with their younger siblings. 900 Paseo del Rey, Chula Vista. 619-421-7733.
FREE Eggs & Goodies at Pacific Beach Recreation Center. Egg hunts plus delightful activities. 11 am-2 pm. 1405 Diamond St. For details, call 858-581-9927.
sunday | March 25
FREE Easter Egg Venture at Mira Mesa Presbyterian Church. Includes an egg hunt, the Easter Bunny, games, face painting, bounce houses, food and prizes. Noon-2 pm. 8081 Mira Mesa Blvd. www.mmpcusa.com/calendar/eggventure-egg-hunt.
Spring Eggstravaganza in Santee. Continuous egg hunts for ages 8 & under, pony rides, inflatables, face painting, carnival rides, bunny photos, food and more. 9 am-3 pm. Ride/activity tickets $1 each (cash only). Santee Lakes, Lake 5, 9310 Fanita Pkwy. www.cityofsanteeca.gov.
FREE Easter Treasure Hunt & Easter Bunny Photos. Children, ages 3-12, can pick up a treasure map at the registration area, and have it stamped at various restaurants to receive a treat bag. Noon-2 pm. Old California Restaurant Row, 1020 San Marcos Blvd., San Marcos. www.oldcalrestaurantrow.com.
friday | March 30
Easter Bunny Teas. Enjoy kid-friendly petit-fours and mini pastries paired with a traditional European afternoon tea. Meet the Easter Bunny, watch a magical performance and hunt for eggs on the Riviera Terrace. Today & tomorrow, 2:30-5 pm. $35-$50 plus tax, gratuity and ticketing fee. Make reservations online. The Westgate Hotel, 1055 Second Ave., downtown San Diego. www.westgatehotel.com.

saturday | March 31
Easter Egg Hunt at Children's Nature Retreat. There will be plenty of candy-filled eggs hidden around the Retreat for even the most inexperienced egg seeker. Be on the lookout for the "Special Retreat Egg!" Hunt begins at 10:30 am. Along with the hunt, there will be a keeper talk with a special appearance by their big 10-pound white bunny, Easter, at 11:30 am at the picnic area. Come hear the story of how Easter showed up at the Retreat and learn all about soft, furry friends. Free with admission. 5178 Japatul Spur, Alpine. www.childrensnatureretreat.org.

FREE Children's Spring Festival & Egg Hunt in Solana Beach. The egg hunt for grades 3 & under starts at 10:30 am, followed by games and refreshments from 10:45 am-noon. Please bring a basket. La Colonia Park, 715 Valley Ave. www.ci.solana-beach.ca.us.
EGGstravaganza Spring Festival in Carlsbad. Join an egg scramble where kids race to collect candy-filled eggs. There will be a noncompetitive field for young children and kids with special needs. Also, face painting, cookie decorating, crafts and fun zones. 10 am-1 pm. Activity cards/unlimited Fun Zone wristbands $5. Poinsettia Park, 6600 Hidden Valley Park. www.carlsbadca.gov/parksandrec.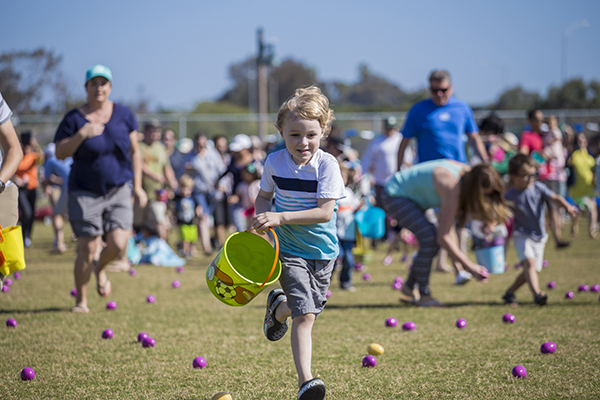 FREE Spring Egg Hunt in Encinitas with 20,000 eggs! New additions this year include two live shows (10:30 & 11:15 am) and free kids' activities. 10 am-noon. Encinitas Community Park, 425 Santa Fe Dr. www.cityofencinitas.org.
Pancake Breakfast & Egg Hunt in Fallbrook. A bunny visit, egg hunts by age group, contests and games. Breakfast, 8-10 am; egg hunt, 10-11 am. $5 for breakfast; egg hunt is free. Fallbrook Community Center, 341 Heald Lane. www.sdparks.org; 760-728-1671.
FREE City of Oceanside Easter Egg Hunt. Also featuring a magic show, a fire engine display and food vendors. 10 am-1 pm; egg hunt, 10 am. Mance Buchanon Park, 425 College Blvd. www.ci.oceanside.ca.us.
Spring Party with Bunny. Decorate your own bunny ears, visit a petting zoo, plant a spring flower, meet a gentle bunny and join a parade. 10 am-1 pm. $15 per child. San Diego Botanic Garden, 230 Quail Gardens Dr., Encinitas. www.sdbgarden.org/bunny.htm.
FREE Hunt for Eggs at Melba Bishop Park. 10 am. 5306 N. River Rd., Oceanside. www.ci.oceanside.ca.us.
La Jolla Egg Hunt. Plus crafts, photos with Peter Rabbit, goodie bags and more. 10 am-noon. Egg hunt is free; $5 for other activities. For ages 12 & under. La Jolla Recreation Center, 615 Prospect St. 858-552-1658.
FREE Eggs, Eggs, Eggs at Willie Henderson Sports Complex. Also, jumps, petting zoo and photo booth. 10 am-1 pm. 1035 S. 45th St., San Diego. 619-527-3407.
Breakfast with the Easter Bunny & Easter Eggstravaganza in Coronado. Breakfast with crafts, egg hunt, goodie bags and more. 9 am. $9-$11; pre-registration required. Don't miss egg hunts, Easter Bunny visits and a life-sized Candyland game from 1-3:30 pm. Egg hunts free. Coronado Community Center, 1845 Strand Way. 619-522-7342.
FREE Torrey Hills Egg Hunt. Also, crafts, jumps, face painting and music. 9-11 am. Torrey Hills Community Park, 4262 Calle Mejillones, San Diego. For egg hunt times, call 858-552-1687.
The Salvation Army Kroc Center's Easter Eggstravaganza. Come to the Kroc Center athletic field for egg hunts, Easter Bunny photos, games and candy. 10 am-1 pm. $1 per person. For ages 11 & under. 6845 University Ave., San Diego. www.sd.kroccenter.org.
FREE Carmel Valley Spring Egg Hunt plus crafts and prizes, jumps and bunny photos. 10-11:30 am; egg hunt starts at 10 am sharp. For ages 12 & under. Carmel Valley Community Park, 3777 Townsgate Dr. 858-552-1616.
FREE Easter Egg Hunt in Poway. Living Way Church hosts this year's event. Arts and crafts, Fun Zone, photos with Benny and Bonnie Bunny and more. 8 am-12:30 pm. Pancake breakfast $4. Poway Community Park, 13094 Civic Center Dr. www.poway.org.
FREE Spring Fling Maker's Bazaar at Flower Hill Promenade. Spend the day shopping San Diego's unique local fashion and food makers. Adults and kids alike can also celebrate Easter with balloon art and face painting, Easter Bunny and Garden Fairy photo ops, and a mini horse and calf petting zoo. 10 am-4 pm. 2720 Via De La Valle, Del Mar. www.flowerhill.com.
Breakfast with Peter Cottontail & Spring Egg Scramble. Have a delicious breakfast from 8-10 am, then kids can join the scramble at 10:15 am where they can find 30,000 eggs with prizes spread throughout the park. Scramble start times: 10:20 am (ages 2 & under); 10:40 am (ages 3-4); 11 am (ages 5-6); 11:20 am (ages 7-12). Come early for a free carnival with jumps, games and activities. www.san-marcos.net/departments/parks-recreation/seasonal-events.
sunday | April 1
Belmont Park's Easter Bash. Join an egg hunt on the beach (9 am-12:30 pm; register online; $5) with 12,000 treat-filled eggs, as well as the free park egg hunt at 1 pm. Enjoy brunch at Draft from 9 am-3 pm, and have a great time with the Easter Bunny at the food court area from 2-4 pm. 3146 Mission Blvd., San Diego. www.belmontpark.com/easter.
The Del's Easter Celebration. Champagne Easter Brunch in the Crown Room or ocean view Ballroom with live music. Hotel and brunch guests can also enjoy egg hunts on the Windsor Lawn (call 619-522-8815 for times and to register) and crafts ($5-$10) from 9:30 am-1:30 pm. Hotel del Coronado, 1500 Orange Ave. Visit www.hoteldel.com/easter for fees and reservations.
Easter Sunrise Service at Balboa Park. Inspiring Easter message delivered by Elder Fred Johnson from St. Stephen's Church of God, and music performed by the St. Stephen's Chancel Choir. 6:30 am. Free. Spreckels Organ Pavilion. 858-454-7324.
Sunrise Service at The Flower Fields presented by The Fields Church. 6:30-8 am. Free breakfast follows. Stay to enjoy The Flower Fields with discounted admission when you present your program from the Sunrise Service. 5704 Paseo Del Norte, Carlsbad. www.thefieldschurch.org.
Easter Dining Cruises by Hornblower Cruises & Events. Celebrate with unlimited champagne and sparkling cider, tempting brunch selections, the Easter Bunny and a narrated tour on the sundeck as the yacht cruises through San Diego's harbor. 11 am-1 pm & noon-2 pm. Easter dinner cruise also available from 6-9 pm. Visit website for fees and reservations. Hornblower Landing, Pier 1, 1800 N. Harbor Dr., downtown San Diego. www.hornblower.com.
Easter Champagne Brunch at The Westgate Hotel. Also, kids will be entertained by a face painter and meet the Easter Bunny. 10 am-3 pm. $35-$89 plus tax and gratuity. Make reservations online. 1055 Second Ave., downtown San Diego. www.westgatehotel.com.
Easter at Rancho Bernardo Inn. Brunch buffet with live music at Avant and Veranda Fireside Lounge & Restaurant from 11 am-3 pm, plus egg hunts and the Easter Bunny. For fees, egg hunt times and other details, visit website. 17550 Bernardo Oaks Dr., San Diego. www.ranchobernardoinn.com.
Brunch Buffet at TWENTY/20 Grill. Also includes live entertainment, photo booth and egg hunt. 11 am-2 pm. $30-$75; under 3 free. Reservations required. 5480 Grand Pacific Dr., Carlsbad. www.twenty20grill.com; 760-827-2500.
Easter Brunch at Grand Tradition. A holiday buffet plus an egg hunt on the lawn led by the Easter Bunny. 10 am. $10-$69. Call for reservations. 220 Grand Tradition Way, Fallbrook. www.grandtradition.com; 760-728-6466.
Family Funday & Easter Service at City View Church. Breakfast, petting zoo, carnival games, pony rides, Mr. & Mrs. Easter Bunny and Easter candy from 8:30-10:30 am. Free. At 10:30 am, kids can listen to the Resurrection story and join an egg hunt. Easter service at 10:30 am. 8404 Phyllis Place, San Diego. www.cityviewsd.com.
Chef Teri's Easter Brunch by the Coast at Chandler's. Plus Easter Bunny photos, egg hunt and crafts for kids. 10:30 am-2:30 pm. $19-$79; ages 4 & under free. Cape Rey, 1 Ponto Rd., Carlsbad. 
www.chandlerscarlsbad.com/easter.
Easter Jazz Brunch at The Abbey on Fifth Avenue. Bottomless champagne or sparkling cider, the Easter Bunny, brunch favorites and live jazz tunes by Republic of Music. 11 am-1 pm. Starting at $49 plus tax and service charge. Reservations required. 2825 Fifth Ave., San Diego. www.hornblower.com.
Birch Aquarium at Scripps Presents Spring EGGstravaganza. See March 24.
Published March 2018
--------