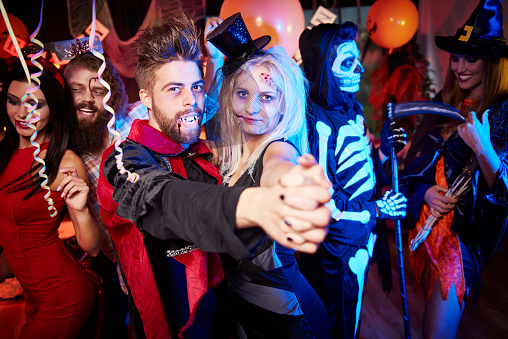 This Halloween, don't let the kids have all the fun - scare up your own good time with a Halloween party for grown up guys and ghouls.

Phantasmic Party Themes

Set the mood with a theme for your party, then carry it out with invitations, decorations, food and fun.
Upscale Gothic - Think stylish haunted mansion, dripping with vintage looking black and white decor. Create an eerily elegant centerpiece by spray painting interesting branches black and securing them in an old silver vase or pitcher so they look like a tree in a planter. Then hang cut-out ravens and owls from the branches.

Monster Mash - Go old-school by celebrating the old monster movies from days gone by. Have Dracula and werewolf movies playing on the TV, or project them onto a wall or a sheet in the back yard. Use fake cobwebs and mummy gauze to dress tables and chairs, and freeze plastic body parts into ice cubes for some truly chilling drinks.
A Haunted Twist - You can put a good fright into just about any fun theme. How about a haunted luau? Or a haunted hoedown, carnival or cruise? Start with the usual decor, then give it a good scare with fake blood, grossed-out goodies and weird little touches.
Frightful Fun - Have guests bring their own carved jack-o-lanterns to enter in a contest. They can be carved any way guests like, or you can specify that carvings should be related to your theme. Let everyone vote, then give the winners a fun prize.

Good Old-fashioned Costume Contests - In addition to Best Costume awards, give out prizes for Best Undead Bride or Most Likely to End Up in a Bad Horror Movie.
Devilishly Good Dining
Halloween Treats - Keep party food simple to make and easy to eat. Click Family Recipes for Halloween delights such as Great Balls of Fire, Devil's Dip, Dancing Bones Brownies which are alarmingly easy and will have your guests howling for more!
Cast a Good Spell - Help others in your community by hosting a food drive as part of your Halloween party. Invite guests to bring canned food, such as Underwood Meat Spreads, as well as non-perishable dry grocery items. Collect donations in a party-themed receptacle, then donate them to a local food bank. Find a food bank near you at www.FeedingAmerica.org.
Visit www.underwoodspreads.com for more tasty recipes!