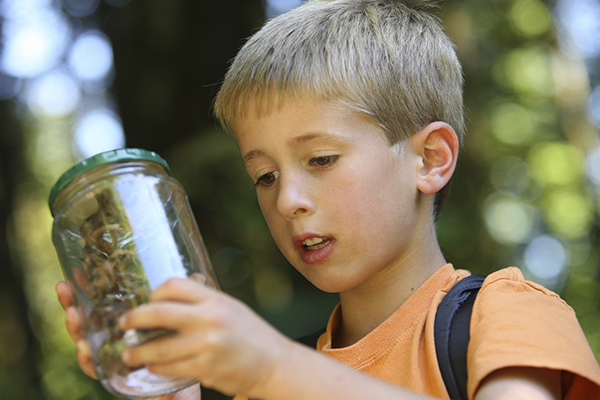 Does your child have a special need? Are they facing a challenging medical condition? Just not sure they'd fit in socially at summer camp? The enormous benefits of summer camp apply to everyone, so don't let your worries take control and instead check out these wonderful camps that provide extra care and support for children with special circumstances. Then break out the camp gear and prepare your child for an unforgettable experience.

Camp-A-Little
The ARC of San Diego
Cuyamaca Outdoor School
12561 Highway 79, Descanso
619-685-1178 ext 255
www.arc-sd.com/sslpage.aspx?pid=415
Ages 5 and up
A traditional residential summer camp for kids with developmental or intellectual disabilities. Activities cater to all abilities and include a talent show, campfire programs, nature appreciation and sports. Low staff to camper ratio and limited spaces available for 1:1 needs. Get on the mailing list today!

Camp Beyond the Scars
Burn Institute
Oakridge Camp
27224 California 78, Ramona
858-541-2277
www.burninstitute.org/camp-beyond-the-scars
Ages 5-17
Burn-injured children and teens are given the opportunity to enjoy traditional summer camp fun and build life-long bonds, while being given professional support for dealing with their unique physical and emotional challenges. This year's camp will emphasize the power of a positive attitude with special workshops and support groups. Counselors include off-duty firefighters, medical staff and adult burn survivors. The Burn Institute provides this camp free of charge to burn-injured children.

Camp Connect
Promises 2 Kids
858-427-1106
promises2kids.org/camp-connect/
Ages 5-18
Camp Connect, a partnership between Promises2Kids and the County of San Diego, brings together brothers and sisters who live apart in foster care and provides safe environments for siblings to reunite and bond. Featuring organized four-day/three-night summer camp in the mountains of Julian, along with bi-monthly day camps. Foster youth living apart from one or more of their siblings is eligible to attend. Dates and locations kept confidential.

Camp I Can
Autism Society of America
Toby Wells YMCA
Palomar Family YMCA
858-715-0678
www.autismsocietysandiego.org/Camp_I_CAN.html
Ages 6-17
Camp I Can is a day camp for children with autism offering activities like swimming and games, combined with daily field trips to places such as Legoland and Belmont Park! Staff to camper ratio is low to ensure maximum safety and participation. Each camper is evaluated individually and given appropriate supervision. No camper is turned away based upon need and financial assistance is available.

Camp Paivika
Ability First
600 Playground Dr., Cedarpines Park, CA
909-338-1102 ext. 5001
www.abilityfirst.org/programs/programs_camppaivika.aspx
Multiple weeklong sessions all summer long in the San Bernardino National Forest. Camp Paivika "hums with morning-to-evening fun." Serving kids with autism, ADHD, cerebral palsy, Down syndrome, epilepsy and other mild to severe physical and developmental disabilities. The camp's long history, thorough program, and a well-equipped health center truly provides for every campers needs. Visit their website to read testimonials, watch camp videos, and read up on the many benefits of summer camp for special needs children.

Camp Ohr Lanu at Camp Ramah
Ojai, CA
888-226-7726
Ages 4-14
Tikvah is designed for Jewish pre-teens and teens with learning, emotional and developmental disabilities. Tikvah campers are included in the general camper community but are given extra care through professional academic tutoring, pairing with a special buddy and greater counselor/camper ratio for individualized attention. Camp Ramah's special needs family camp is for Jewish children with special needs, their siblings and their caregivers. Staff includes special education teachers, behavior specialists and individual family counselors. Parents will appreciate the extra support from other understanding families. Accommodations include hotel-style rooms with private baths. Applications accepted on first come first serve basis.

Camp Wana Kura Day Camp
American Diabetes Association
9310 Fanita Parkway, Santee
619-234-9897
www.diabetes.org/in-my-community/diabetes-camp/camps/wana-kura.html
Ages 5-17
A day camp chock full of interactive fun for kids with diabetes. Enrollment is limited and financial assistance is available. Teens are welcome to participate in special training and volunteer for service credit hours.

Junior Wheelchair Sports Camp
San Diego Adaptive Sports Foundation
619-336-9571
www.adaptivesportsandrec.org/programs
Ages 4-18
This camp is a unique opportunity for children with a physical disability, to attend a five-day adaptive sports camp. Sports offered include basketball, tennis, archery, rugby, soccer, physical conditioning and more. Goals include being in an inclusive community of peers, making new friends and learning how to lead an active life.

SCAMP Camp
Southern California Asthma Management Program
YMCA Camp Marston, Julian
619-683-7517
www.lung.org/associations/states/california/programs/asthma-programs/scamp-camp.html
Ages 8-13
A week-long overnight traditional summer camp for kids with moderate to severe asthma. Providing asthma education and around-the-clock professional medical care so kids can enjoy fun activities like swimming, arts and crafts, archery and hiking!

Surf Camp
San Diego Chapter of Autism Society of America (SDASA)
Aqua Pros Swim School
South Mission Beach & La Jolla
www.aquapros.org/autismA.html
This annual surf camp for children with autism provides one-on-one surf instruction for each camper. Beach activities, sports and crafts are all part of the fun. You must be a member of SDASA to register.

Xcite Steps
858-764-2956
www.excitesteps.com/disability-services/disability-summer-programs/
Various locations
With many camp options to choose from you are sure to find a good fit for your child with cognitive disabilities, including social anxieties. Camp Steps is known for personalized attention and helping campers feel like they can be themselves. Their Natural Opportunity Model embraces individualized assessment, and planning for specific structure and goals. Home pick-up and drop-off is available.



Specialty workshops and classes
Not quite ready for the full camp experience? Ease you and your child into more independence by trying out these programs for special needs children offering workshop sessions and weekly classes.

Arms Wide Open
Rubios Performing Arts
237 E. Main St., El Cajon
619-579-6179
www.awosd.org
Free dance, music, fitness and theatre classes for children and adults with special needs. Students learn at their own pace in a positive atmosphere. Their hugely successful theater program features performances at the Lyceum Theatre!

Partners Therapeutic Horsemanship
15689 Mountain Valley Place, Lakeside
619-729-3853
www.partnershorses.com
Offering therapeutic riding lessons for all ages for people with a variety of special needs and disabilities. All lessons are geared towards the individual needs of the rider. Riding has the ability to improve posture, balance, mobility, self-esteem and cognitive skills. Special mounting ramp allows for wheelchair accessibility.

Positive Action Community Theatre (PACT)
Program held at Dance North County
535 Encinitas Blvd., Suite 101, Encinitas
760-815-8512
www.pacthouse.org
PACT teaches life skills to children, teens and adults with autism and other challenges through an inclusive performing arts program, including improvisational theatre. Each 8-week session ends with a performance. Year-round sessions offered.

Therapeutic Recreation Services
City of Chula Vista
www.chulavistaca.gov/city_services/community_services/recreation/therapeutic.asp

City of San Diego (County Wide)
www.sandiego.gov/park-and-recreation/activities/trs


--------------
Laura Pardo writes from the neighborhood of South Park
Published: April 2014