Summer Camps and Programs
Teens Wanted: Counselors in Training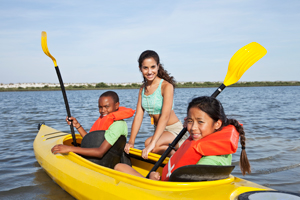 Summer is the perfect time for teens to gain valuable leadership and work experience by being a counselor in training (CIT) or junior camp counselor. There are many volunteer opportunities as a CIT, all of which teach responsibility and teamwork. Some teens use their summer camp counselor experience to fulfill community service requirements for school or extracurricular clubs, while having a rewarding summer themselves.

Is your teen ready for summer camp counselor training? If she is patient, responsible, reliable, enjoys kids, follows rules, demonstrates good judgement and wants to have fun, she may be just what one of these camp programs is looking for!


Chula Vista Nature Center
www.chulavistanaturecenter.org
Teen volunteers (ages 16 & up) are needed year round to help with summer camps & birthday parties, to greet visitors as they arrive and to teach them about birds & animals at the center. A minimum number of volunteer hours are required depending on the position. For more information, contact Tina Matthias at tina@cvnc.us or 619-409-5905.

Forest Home Christian Camp
San Bernardino Mountains
www.foresthome.org
Fun, caring and responsible teenage girls (ages 13-18) are needed as Child Care Assistants (CCAs) for Family Camp. CCAs take care of children in the evening and get to be campers during the day! CCAs experience worship, team-building activities, free time and more. Cost is $25 per week. Online applications are being accepted now. Pastor recommendation required.
Girl Scouts
Balboa Park
www.sdgirlscouts.org
Girls entering grades 7-12 are needed this summer! 7th & 8th graders are needed as Day Camp Aides (DCAs) to help campers with crafts, games, songs and to assist unit counselors. 9th-12th graders are needed as Counselors in Training (CITs). Under the support of adult staff, CITs provide general support for younger campers, mentor DCAs and plan & execute program activities. DCAs and CITs must complete application and training. There are training opportunities in March, April & May at the Girl Scout headquarters in Balboa Park and in North County. $7 per training class. Cost is $75-$134 per week depending on camp. Contact Sandy Sultz for more info: ssultz@girlscoutssdi.org or 619-610-0814.

Outpost Summer Camps
Canyonside Community Park, Rancho Peñasquitos
www.outpostsummercamps.com
Junior Counselors (ages 15 & up) are needed to help lead groups of kids in their daily outdoor adventures. JCs must commit to at least one 3-week session. Applications will be accepted beginning mid-February! Interviews will be conducted in March & April. Training is in June.

Reuben H. Fleet Science Center
Balboa Park
www.rhfleet.org
Summer Camp Counselors are needed to assist educators in week-long camps. Responsible teens (ages 15 & up) who have experience with kids and are enthusiastic about science preferred. 2-3 week commitment required. Online application available on website in March. Group interviews will be in April; two-day training is in May or June. Year-round volunteer opportunities also available.

San Diego Air & Space Museum
Balboa Park
www.sandiegoairandspace.org
Teacher's Assistants (TAs) are needed for administrative help and to assist campers during week-long AeroSummer camps. Shifts are four hours long. Responsible, motivated teens ages 14 & up with a "B" average or better are encouraged to apply. Two letters of recommendation are required. Training/orientation session will be in June. Contact Ross "Rossco" Davis after March 15 for more info: rdavis@sdasm.org or 619-234-8291 x 120.

San Diego Natural History Museum
Balboa Park
www.sdnhm.org
Summer Camp Aides are needed to assist with crafts, story time, field trips & more in a fun, summer camp setting. Teens ages 16 & up who enjoy working with kids (and have experience doing so) are encouraged to apply early as there are only 35 spots available. A two-week minimum, half-day commitment is required. Applications are being accepted online now. There will be a 3-hour orientation in early June. For more information, contact Janet Morris at 619-255-0245 or jmorris@sdnhm.org.

Watersports Camp
Mission Bay Aquatic Center
www.watersportscamp.com
Teens (ages 14 & up) are needed as Counselors-in-Training (CITs). Must have attended Watersports Camp at Mission Bay Aquatic Center in the past. Visit website for full list of qualifications and upcoming orientation dates in March. $125 CIT training fee includes sailing training. $50-$125 per week of CIT service.

Xcite Steps
Solana Beach
www.excitesteps.com
Xcite Steps has a Junior Counselor Summer Job Training Program for teens who experience mild cognitive disabilities such as Aspergers or high-functioning autism to receive first-time job training and experience. Typical teens (ages 16-20) are needed to assist teens with special needs in this program. Application deadline for volunteers is in May. Interviews will be held at Del Mar office. Visit website or call 858-703-7305 for more information.
-------------------------
Lisa Gipson is a contributing writer at San Diego Family Magazine. Her 15-year-old daughter, known at camp as Hoops, loves being a CIT.
Updated: January 2013