Ordinary People, Extraordinary Acts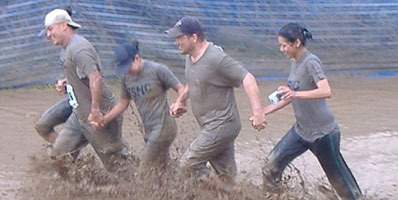 Heart-pounding, gut-wrenching and wholly invigorating—Camp Pendleton's annual Mud Run event has inspired thousands of Southern California residents to get down and dirty for a worthy cause. Participation is open to anyone with the kind of heart, hustle and desire required to advance to the finish line, with all sponsorships and proceeds going to benefit local families whose husbands and wives serve in the military armed forces.

With its grueling 10K course featuring "hills, tire obstacles, river crossings, two 5-foot walls with mud on both sides, a tunnel crawl, a slippery hill climb" and ultimately culminating in a final 30-foot mud pit, this is one obstacle course that promises an experience that is nothing short of life-altering.

Alisa Johnson, a successful businesswoman and agent with Tarbell Realtors of Murrieta, shares that the idea of pushing herself towards such a goal held great personal appeal. "In December of 2008, I knew that the New Year was about to start and I thought hard about what I wanted to do differently. For the first time I was taking my New Year's Resolution seriously. I wanted to do something besides hide in my office all day, every day. I wanted to do something that I had never done before, challenging and completely out of my comfort zone."

When a friend and colleague tossed out the idea of participating in the Camp Pendleton Mud Races, Johnson felt that this was precisely the challenge she was looking for. "My co-worker, Ana, came to me and was looking to put a team together for the Camp Pendleton Mud Run in June. I was intrigued. I signed up and immediately started training."

While the friends chose to run the race as part of a five-person team of wives and mothers, Johnson knew her individual preparations would have to be a serious match for teammates, as well as the opposition. This meant a rigorous and steadily increased routine of exercise that would build up her strength and endurance.

Johnson admits, "I had six months to get in shape. I worked with free weights. I walked and then jogged on my treadmill (which I bought just for this) and gradually started running outside. I created a course of my own, running through hills in my neighborhood. Every other week I would add on another half mile until I was able to run six. I also cranked up the incline on my treadmill to 12 and practiced pacing myself and breathing."

The Mud Run, part of the Camp Pendleton's Race series, has been hosted by Camp Pendleton Marine Corps Community Services for more than 10 years at the Marine Corps base in Oceanside. The race is a popular and historically well-attended event that is open to both military and civilian participants—no matter their abilities or occupations—with each competitor receiving a commemorative T-shirt, customized awards and the satisfaction of knowing that they have overcome an enormous challenge of the mind, body and spirit.

"Finishing, for me, meant that I got up at the crack of dawn and didn't chicken out. It meant that I worked out and ate the right food for six long months. It meant I did not start something, but then failed to finish. It meant I did not just talk about it, but I actually did it. It meant that I got out there in the world, and I did something new. It meant that I am more than just Alisa Johnson—workaholic," says Johnson. "Most importantly, it meant that while I was doing something for myself, I was also helping the families who have loved ones in the military that have served our country with honor. And that made the whole thing so worthwhile.

Kerri S. Mabee is a freelance writer and mother of three who wishes to one day have the kind of stamina and determination it takes to run such a race.