Restaurant Reviews
Frozen Treats to Beat the Heat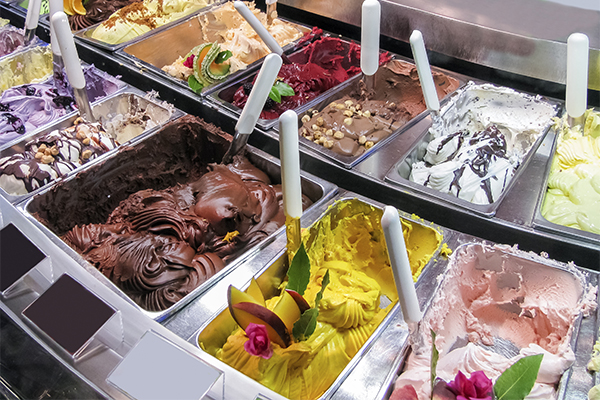 Sweet, sweet summertime. Is there anything better than walking into your favorite frozen eatery and scooping up creamy, delicious frozen yogurt or biting into a delectable ice cream sandwich? The answer is no. Summertime is the time to let your sweet tooth run wild. Here's a list of favorite spots in San Diego to grab a cool treat when the sun blazes.

Wahine Kai Shave Ice
10545 Scripps Poway Pkwy., Scripps Ranch
858-831-0903
Locals from Hawai'i rave that Wahine Kai is the best and closest thing to authentic Hawaiian shave ice with creations such as The Sandy Jewel and the Kona Luau. You can order one of their suggested combos or create your own. My favorite is a personal creation: Rainbow Sherbet, shave ice with raspberry and lemon-lime syrup, and sweetened condensed milk to top it off. You can even sit on the beach chairs they have outside the store and pretend you're on the beaches of O'ahu!

The Baked Bear
4516 Mission Blvd, Pacific Beach
100 Park Blvd., Petco Park
5950 Village Center Loop Rd., Carmel Valley
www.thebakedbear.com
Three words: ice cream sandwiches. OK, five: custom-made ice cream sandwiches. You can choose between three Baked Bear confections as your sandwich: freshly baked brownies, warm cookies or two delicious waffles. I adore chocolate, so I opted for cookies and cream ice cream between two double chocolate chip cookies. So divine! You can also go for a regular scoop of ice cream, a sundae or buy a dozen cookies! But who can resist an ice cream sandwich?

Pappalecco
1602 State St., Little Italy
3650 5th Ave., Hillcrest
3402 Kurtz St., Point Loma
www.pappalecco.com
Situated on a sunny corner in Little Italy, this Italian eatery and café offers freshly made pastries, espresso drinks, even breakfast, lunch and dinner! But what Pappalecco is really known for is their gelato. Rich with flavor, creamy and dense, this gelato definitely ranks as some of the best in San Diego. I sampled three flavors: lemon, espresso and Nutella gelato. All so delicious, but I chose two scoops of Nutella in a waffle cone. If you visit the Little Italy location on a Saturday morning, you can also stroll through the farmers market!

Mr. Frostie's
1470 Garnet Ave. Pacific Beach
858-274-9977
www.mrfrosties.com
This place always has a line once it starts to heat up, but the wait is worth it for Mr. Frostie's shakes, ice cream and sundaes. I waited for about 20 minutes before I ordered my hot fudge cake sundae, but it hit the spot after walking around Pacific Beach and Garnet Avenue all day! Mr. Frostie's is reasonably priced, with my sundae only costing about $4. Relax on the picnic tables they have next to their store and watch the sunset.

Rockie's Frozen Yogurt
7612 Linda Vista Rd., Linda Vista
(corner of Mesa College Dr. and Linda Vista Rd.)
858-268-0991
www.rockiesfrozenyogurt.com
Tucked in the corner of a strip mall across the street from Kearny High School is a treasure I wish I had known about years ago: Rockie's Frozen Yogurt. Not only do they serve huge portions of delicious frozen yogurt, Rockie's also offers a variety of coffee, tea and espresso drinks and not-soon-to-be-forgotten smoothies (Elvis Special: fresh bananas and peanut butter froyo) and shakes (Almond Roca Coffee shake, anyone?). With its reasonable prices and friendly atmosphere, it's no wonder that Rockie's has been a neighborhood favorite for many years.

Yogurt Mill
935 Broadway, El Cajon
619-579-1566
Next time you're in East County, be sure to stop by the Yogurt Mill. Fans frequent this popular froyo destination 2–3 times a week for its generous portions and good customer service. Located in a landmark building that looks like the Leaning Tower of Pisa, the Yogurt Mill has been a local favorite for more than 35 years. Popular flavors include Coconut, Oreo & Cream and Red Velvet. Stop by between 10 a.m.–2 p.m. to avoid the crowd, or make new friends while waiting in the line that forms after 3 p.m.

Rita's Italian Ice
Located in Escondido, Carlsbad, Oceanside, Encinitas, Chula Vista, College Grove and Rancho Peñasquitos
www.ritasice.com
This favorite is taking San Diego County by storm! Known for their signature classic Italian Ice (made with real fruit), they also feature delicious treats like frozen custard, gelati, "cream ice" (because it's "more creamy than icy"), sugar-free Italian ice, milkshakes, frozen lemonade and more. Summer just got a whole lot sweeter! Put a visit to Rita's on your summer sandbucket list if you don't have one in your neighborhood. Each store has its own website and Facebook page.


» Find Six San Diego Ice Cream Parlors that make their own ice cream for more frozen treats!
---------------
Annie Buell is a freelance writer starting her senior year at Point Loma Nazarene University. Her favorite ice cream is Ben and Jerry's Karamel Sutra. Follow Annie on Twitter at @anniekabannie.

Updated: June 2014