Restaurant Reviews
4 Fave Frozen Yogurt Shops
» Yogurt just not doing it for you? Check out Six San Diego Ice Cream Parlors That Make Their Own Ice Cream.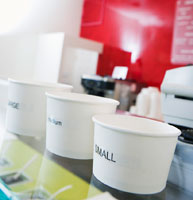 I scream, you scream, we all scream for "Fro Yo"? Frozen yogurt, that is. In light of the recent influx of "fro yo" shops, one doesn't have to scream very loud to find one—they are practically on every street corner.

So, what's all the fuss about? Mary Jane Najor, owner of Oasis Frozen Yogurt in San Marcos, offers this explanation, "Frozen yogurt is in high demand right now because this is a yogurt generation. It's a healthy alternative [to ice cream] that is fun. Even in this economy, people can come and spend $3 on frozen yogurt instead of going out for a full dinner. And it's not very difficult to open a frozen yogurt business." Najor was homeschooling her kids and teaching college before she opened her shop in October 2008.

The independently-owned frozen yogurt shops featured here are San Diego Family staff picks. They each have their own unique vibe that is worth checking out, even if they're not in your neighborhood. One thing they all have in common: most of their fro yo flavors are nonfat, which is great if you happen to be watching your waistline. But think twice before adding high-calorie toppings like candy, cereals, cookie crumbles, nuts and sauces; instead, opt for fresh fruit toppings for a cool, refreshing, guilt-free treat.

Nuyo Frozen Yogurt
555 Telegraph Canyon Road, 619-591-9837
2127 Olympic Parkway, 619-482-9964
www.nuyofrozenyogurt.com

Nuyo Frozen Yogurt has two locations in Chula Vista, the first of which opened on Telegraph Canyon Road in January 2008. The nicely decorated shops are exceptionally clean and environmentally conscious, offering recyclable containers and cornstarch spoons. Nuyo's friendly staff keeps the atmosphere lively by playing music videos on three flat-screen TVs. There is also a patio with outdoor seating.

Nuyo has 10 self-serve flavors daily, including customer favorites like Peach Tart and their exotic Taro/Ube frozen yogurt. They offer a whopping selection of 50 different toppings, including cereal, brownies, seasonal fresh fruit, caramel and white chocolate drizzle.


Oasis Frozen Yogurt
133 N. Twin Oaks Valley Road, San Marcos
(next to LA Fitness and Old Spaghetti Factory)
760-744-3441
www.oasisfrozenyogurt.com

Family-owned Oasis Frozen Yogurt cares so much about the quality and taste of its products that most flavors are made on the premises. The "green" (environmentally-friendly) store uses biodegradable and compostable products such as potato starch spoons and quart-size bowls made of begasse (from sugar cane).

Oasis has 10 self-serve flavors. Daily standbys include Vanilla Bean, Ghiradelli Chocolate, Peanut Butter and the hugely popular dairy-free Dole Pineapple. They always have at least one sugar-free flavor and one soy-based flavor to choose from. Among their 35 toppings are an abundance of fresh fruit, hot brownies and fudge. Their homemade waffle bowls are also a huge hit.

Oasis carries a product called Only 7, which contains only seven (all natural) ingredients and is eight calories per ounce. Only 7 is very flavorful and especially popular with those who frequent the gym.


Rockie's Frozen Yogurt
7612 Linda Vista Road, Linda Vista
(on corner of Mesa College Drive & Linda Vista Rd)
858-268-0991
www.rockiesfrozenyogurt.com

Tucked in the corner of a strip mall across the street from Kearny High School is a treasure I wish I had known about years ago: Rockie's Frozen Yogurt. Not only do they serve huge portions of delicious frozen yogurt, Rockie's also offers a variety of coffee and espresso drinks, a large selection of teas, as well as a special low-carb menu of yogurt and shakes. With its reasonable prices and friendly atmosphere, it's no wonder that Rockie's has been a neighborhood staple for 15 years.

They have 15 flavors daily, including Ghiradelli Mocha Chip, Strawberry Tart, Strawberry Shortcake and Reese's Peanut Butter Cup, two sugar-free options and one all-natural, lower lactose flavor. Customer favorites include the Strawberry-Banana Smoothie and Elvis Special (smoothie made with fresh bananas & peanut butter fro yo). Rockie's offers over 35 toppings, including cheesecake bites, chocolate-covered raisins, sno caps, mochi balls and sugar-free hot fudge. My kids have asked at least a dozen times when we'll be able to return to Rockie's. I already know what I'm getting on our next visit: the Almond Roca Coffee Shake!


Yogurt Mill
935 Broadway, El Cajon
619-579-1566
www.yogurtmill.net

If you don't find yourself in East County much, then you'll want to schedule a special trip to visit the Yogurt Mill. "Regulars" frequent this popular fro yo destination 2-3 times a week for its generous portions and good customer service. Located in a landmark building that looks like the Leaning Tower of Pisa, the Yogurt Mill celebrated its 32-year anniversary on July 1.

They offer 10 flavors daily, including five standbys and five rotating flavors, such as Tart Red Raspberry, Banana Cream Pie and Chocolate Milkshake. Six serving sizes range from an 8 oz cup to a giant 44-oz take-home container. The Yogurt Mill has 40 toppings to choose from (which I've been told are scattered on the bottom, middle and top of the yogurt). Stop by between 10 a.m. – 2 p.m. to avoid the crowd, or make new friends while waiting in the line that forms after 3 p.m.

---------------
Contributing writer Lisa Gipson is the mom of three fro-yo loving daughters and can often be convinced to make a late night run during the summer months!
Updated: June 2013