San Diego Family: Digital Issues
San Diego Family Magazine - March 17
March 2017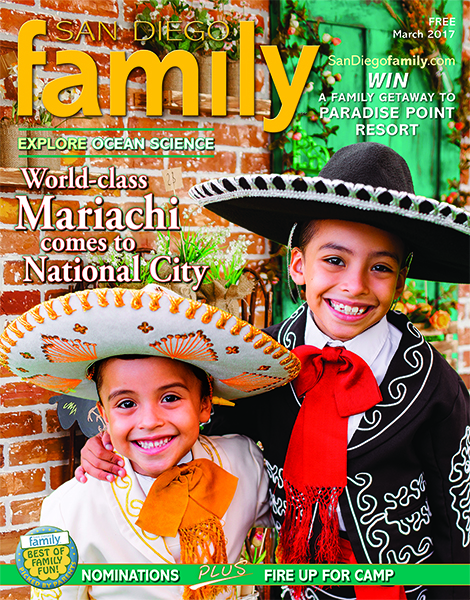 World Class Mariachi comes to National City
Choose a link to take you to this month's digital version of San Diego Family Magazine.
Short & Sweet
News | Notes | Tips

Business Spotlight
News from our advertisers
Best of Family Fun 2017
Time to nominate your family favorites!

Is Your Preschooler Ready for Day Camp?
Here are five signs

Fire Up for Camp
Awesome spring and summer camps for kids
Let Your Kids Get Messy
A clean freak's guide to sensory play

Edible Science
Science delivers perfect ice cream at Creamistry

Explore the Ocean Sciences
Fun, educational outings for families

7 Steps to More Helpful Children
How to encourage teamwork

Out & About: National City
Fun spots to eat and hang out with kids

St. Patrick's Day Fun
Leprechaun bait and pinch-proof bracelets

March Calendar of Family Events
Reader's Page
San Diego kids and their furry friends

Check out San Diego Family's Pinterest Boards for educational resources, holiday round-up (including crafts and recipes), party ideas, last-minute and DIY crafts, and more!
Find past digital issues of San Diego Family Magazine here >