FriarFit: How the Padres help San Diegans get fit
We all know the statistics. Over the last 30 years, childhood obesity rates have tripled. Today, 30 to 40 percent of children, and more than half of the adult population, is overweight or obese. While these staggering statistics and have caused many people to throw up their hands in defeat, the San Diego Padres baseball team has developed an innovative way to get kids and their families fit.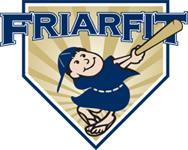 What is FriarFit?
"FriarFit was developed to help people with their health and fitness goals," says Sue Botos, director of the Padre Foundation. "We want FriarFit to be a resource that anyone can use."
On the FriarFit Website (www.friarfit.com), teachers can find lesson plans that include nutrition tips and different physical activities. Schools can participate in the FriarFit Challenge. This means teachers record their classes' weekly positive fitness and nutrition choices. The top classes will be eligible to earn FriarFit prizes.
For parents and families, there are healthy recipes like Chow Down Chili and Tutti-Frutti Smoothie, as well as fun exercises "led" by Padre players and coaches. Families can participate in the FriarFit Challenge and earn prizes.
FriarFit Food
The Padres and their concession contractor, SportService, have made healthy food and beverage options available at Petco Park.
"Our fans deserve to have options that fit their needs," says Richard Andersen, Padres executive vice president and general manager of Petco Park. "Everyone knows it's important to eat healthy, so we simply wanted to make sure that the opportunity to have a healthy and fun meal at the ballpark was possible."
Sue Fullington, general manager of SportService, couldn't agree more. "SportService, as a company and a partner of the Padres, has a vested interest in meeting the varied needs of all our fans."
With the support and guidance of the Padre Foundation and The California Endowment, the FriarFit partners came to the table to choose the appropriate food and beverage options. They brought in a registered dietitian to ensure the FriarFit options were in fact healthy. Nutrition standards for children in schools and the Dietary Guidelines for Americans provided recommended guidelines for calories, fat, sodium and sugar. Select food and beverage options are available at the FriarShack, a concessions stand that caters specifically to children. For adults, a FriarFit cart carries only FriarFit options (located in section 101 of Petco Park), yet these foods can be found throughout the ballpark—just look for the FriarFit logo.
Friar Fit Instant Recess
FriarFit Instant Recess is a 10-minute physical activity break that features nine "innings" and nine different baseball-related moves. FriarFit Instant Recess was created by. Toni Yancey, M.D., the co-director of University of California, Los Angeles School of Public Health, to encourage kids and adults to get more active or to take an energizing break from school or work.
Prior to every Sunday home game, the Pad Squad leads a FriarFit Instant Recess Break at Petco Park. The sessions begin at noon and are open to children and adults; fans must have a ticket for the game to participate. Don't be surprised if a featured guest shows up to lead the Instant Recess. You never know when the Friar might be distributing prizes to participants.
The Padres' FriarFit program is an example of how a group of committed and passionate people came together for the benefit of improving health. Through the FriarFit Challenge for schools and families, the new food offerings at the baseball stadium and Instant Recess, San Diegans are one step closer to improving their nutrition, physical activity, health, and ultimately realizing their fitness goals.
Michelle Murphy Zive is a registered dietitian and helped to identify FriarFit food and beverage options as healthy. She is the co-author of "How to Lose Your Baby
If you liked this article you may also like the following articles: