Make a Big TO DO Out of Summer!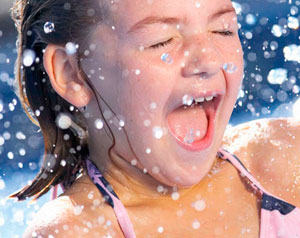 Plan things to do every day with your family this summer!

Even at thirty-something years of age, I still love summer vacation. It is so exhilarating, that season of long days of sunshine, cool splashes at the pool, the crack of the bat hitting a baseball, and, of course, daily doses of ice cream! However, an exceptional summer takes a little planning. Otherwise, September will come and you'll find that you and the kids have spent the last three months in front of the television set. Life is so much richer than that!

Instead, brainstorm all the things – the FUN things - that you and your family would like to do with your precious leisure time. Then, post the list on the fridge for easy reference and a reminder to get out and enjoy the season. Plan to have fun? Now, that's my kind of "to do" list!

So, why don't you gather the kids around the table, dish up some ice cream sundaes, and think and dream of all the creative ways you could spend your lazy summer days? Here are some great ideas to get you started.


1. Enjoy the pick of the season. Make farmers' market a regular weekly ritual and introduce your family to the pleasures of really fresh food. Vendors usually offer free samples, so don't hesitate to taste before you buy. Think of fresh berries, peaches, tomatoes, summer squash, and green beans. Some markets even sell farm fresh eggs, freshly-baked breads and meats. You'll have the makings of a fantastic dinner and enjoy the hustle and bustle of the market.
For even fresher fruit, go straight to the farm to pick berries, cherries, or peaches. Our family has great memories of olallieberry picking, complete with toddler faces smeared with berry juice. A fair amount of sampling happens in the field. Take sunhats, sun screen and a picnic and make a day of it. Check out www.pickyourown.org for a farm near you. If you've got a little spot of dirt in your backyard or even space for a few pots on the deck, grow your own fresh fruits and veggies. The kiddos will love to water and weed. Chances are they will actually eat the zucchini if they've grown it themselves.

2. Go swimming. Water seems to be an important factor in fun and relaxation. Check out the hours and conditions at your local pools, beaches, and lakes, and consider purchasing a season's pass. Make it part of your regular afternoon routine. Take some munchies and drinks, or some cash for the snack bar. Sit back, splash about, and catch some rays.
Don't forget to make swimming lessons a priority for the non-swimmers in your family. Review water safety with those who are more experienced. While you're at it, consider the possibility of Mom, Dad and older children enrolling in a CPR/First Aid class to make summer safer.

3. Create a homemade water park. You can have a splashing good time at home. Invest in a Slip 'n' Slide, a few wading pools, water guns, water balloons and a few hoses and you're good to go. Make sure you invite some friends and neighbors to join you. Provide lawn chairs and iced tea up on the deck for parents and let the kids have some wild, wet fun. Or better yet, don your goggles and join the kids. What memories you'll make getting wet together!

4. Get your daily – or at least weekly – dose of ice cream. Try all the different local spots for great sundaes and shakes. Check out the number of ice cream stores, both local and nationwide chains, near your home. You will be surprised at how many choices there are! Make a list of all the places to try and then give everyone in the family a score card to rate the different frosty establishments near you. Be a little out-of-the-ordinary and deliver awards to your favorite ice cream joints at the end of the summer. You can be sure to bring a smile to the face of at least one ice cream-scooping teen.
If the budget doesn't allow for going out every week, stock an at-home sundae bar. Ice cream sales are abundant at the grocer's throughout the summer, so take advantage of the good deals. Try different brands and flavors. There are plenty of low-fat options, too. Investigate different toppings. You can even try making your own! Anything cool and sweet is bound to hit the spot at the end of a hot day.

5. Take 'em out to the ballgame. Whether the players are major leaguers or a crowd of little league kids, enjoy a good game of baseball, the sport that epitomizes summertime. Check out www.minorleaguebaseball.com for the scoop on up-and-coming players. You don't need to have the majors nearby to enjoy really great ball. Pack up some peanuts and Cracker Jacks and head out to the field.

6. Hey Cool Aid Mom! Nothing is more refreshing on a hot summer day than sitting in the shade with a pitcher of something cool to drink, watching the beads of condensation roll down the side. Keep a good stock of cold drinks, including flavored waters, teas, juices, drink mixes, and sodas. Make sure the ice maker is in prime working order or pick up a few bags of ice at the store. Kids of all ages enjoy "bendy straws," so purchase a few packs of those as well. Make some memories by mixing up a batch of lemonade with this classic recipe:

4 lemons, washed and dried
3/4 cup sugar
4 cups water
Thinly slice the lemons and remove any seeds. Place in large pitcher or bowl. Pour sugar over lemon slices. Let stand 10 minutes. With potato masher or large spoon, smash the sugar into the lemon slices, squeezing out as much juice as possible. Stir in the water and mix thoroughly, pressing fruit to extract more juice. Serve over ice, with a few of the lemon slices as garnish.

7. Record the memories. Remember to take pictures of all the fun things you do as a family. If you own a digital camera, teach your kids how to use it responsibly. It's a great way to let them try their hand at photography, but without the expense of developing rolls of film that may be blurry or poorly centered. If you'd rather, disposable cameras are a handy option as well. The pics the kids take will offer a kid's eye view of the event, a fun perspective to look at.
Regardless, take lots of photos and, as a family, compile them into a scrapbook of the summer. Invest in scrapbook supplies and gather everyone around the table to cut, paste, and journal your memories of a fun summer together.

Whatever you put on your list, remember to savor the moments with your children. The days pass quickly. Enjoy the sunshine and fun times with the ones you love – make a big TO DO out of summer!

Jessica Fisher is a wife, mother, and freelance writer making her home near San Diego. She regularly blogs about family fun at www.lifeasmom.com.
If you like this article you may also like these articles: