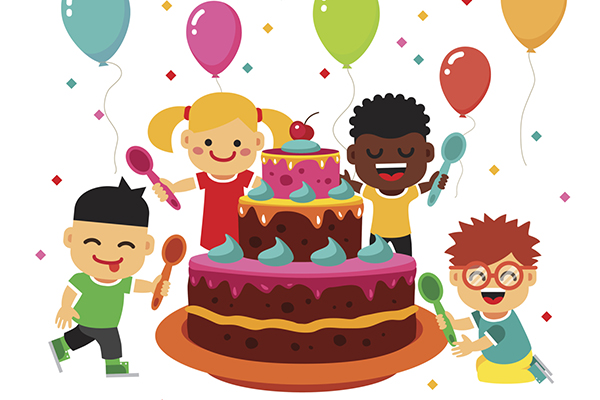 Planning a celebration? You'll find great ideas for mobile entertainment, festive party destinations and more in our annual guide.

Quicklinks: AWESOME ENTERTAINMENT THAT COMES TO YOU | FUN PLACES TO GO | BOUNCE HOUSES/JUMPIES | CATERING | LIMO SERVICE
AWESOME ENTERTAINMENT THAT COMES TO YOU

Gamez on Wheelz Mobile Game Truck
619-699-9158
www.GamezonWheelz.com

Julie's Party People
619-440-4387
www.myjuliespartypeople.com

Lizard Wizard
760-722-4446
www.LizardWizardofSanDiego.com


FUN PLACES TO GO

Aqua Pros Pool Parties
Clairemont, 619-209-2990
www.aquapros.org

Belmont Park
Mission Beach, 858-488-1549
www.Belmontpark.com

Birch Aquarium
La Jolla, 858-534-3474
www.aquarium.ucsd.edu

Boys & Girls Club of San Dieguito
Multiple locations, 858-720-2180
www.bgcsandieguito.org

Champion Gymnastics
Santee, 619-449-7717
www.cgcchamps.com

Circle T Ranch
Lakeside, 619-312-0544
www.TheCircleTRanch.com

Corvette Diner
Liberty Station, 619-542-1476
www.dinersdparties.com

Code Rev
Solana Beach/Del Mar, 310-450-4984
coderevkids.com/solanabeach

Elite Gymnastics
El Cajon, 619-441-5900
www.elitegymnastics.com

Fit Athletic Club
Carmel Mountain, 858-674-4480
www.fitathletickids.com

Floaties Pool Parties
Poway & Eastlake, 877-277-7946
www.floatiesswimschool.com

FUNBelievable Play
Lakeside, 619-456-2474
www.funbelievableplay.com

Great Wolf Resorts
Muliple locations; 888-960-9653
www.greatwolf.com

Helen Woodward Animal Center
Rancho Santa Fe, 858-756-4117 x318
www.animalcenter.org

The Hot Spot Pottery & Candlemaking
Liberty Station, 619-223-1339
www.thehotspotstudio.com

International Music Sessions
La Jolla, 631-405-0166
www.imusicsessions.org

Invent Now
San Diego,800-968-4332
campinvention.org

Kid Ventures
Eastlake, 619-651-8622
4S Ranch, 858-207-6088
Liberty Station, 619-573-9625
www.kidventuresplay.com

Kroc Center Parties
San Diego, 619-269-1498
www.kroccenter.org

Little Fish Comic Book Studio
Ocean Beach, 619-356-1103
www.littlefish.us

McDonald's
Multiple locations
www.sdmcdonalds.com

Media Arts Center
El Cajon, 619-230-1938
www.digitalgym.org

Mesa Rim Climbing & Fitness Center
San Diego, 858-201-4411
www.mesarim.com/adventurecamps

Mission Bay Aquatic Center
Mission Beach, 858-488-1000
www.mbaquaticcenter.com

The New Children's Museum
Downtown, 619-233-8792
www.thinkplaycreate.org

Noonan Family Swim School
Linda Vista, Del Mar, 4S Ranch, Carlsbad
858-451-0794; Murrieta, 951-813-9500
www.noonanfamilyswimschool.com

North County Gymnastics/Gyminni Kids
Rancho Bernardo - 858-451-0204
www.gyminnykids.com

North Coast Repertory Theatre
Solana Beach, 858-481-1055
www.northcoastrep.org/theatreschool

North County Tennis Academy
Vista, 760-583-6882
www.playncta.com

Pachis, an Art Studio for Kids
Liberty Station, 619-320-8057
www.mypachis.com

Pigtails & Crewcuts Parties
Del Mar, 858-481-5437
Liberty Station, 619-501-2375
Chula Vista, 619-656-5437
San Marcos, 760-798-9455
www.pigtailsandcrewcuts.com

Poway Gymnastics
Poway, 858-748-1716
www.powaygymnastics.com

Reuben H. Fleet Science Center
Balboa Park, 619-238-1233
www.rhfleet.org

Rockin' Jump
Mira Mesa, 858-956-8097
sandiego.rockinjump.com

Royal Academy of Perfoming Arts
San Diego, 858-259-7272
www.rapasd.com

San Diego Children's Discovery Museum
Escondido, 760-233-7755
www.sdcdm.org

San Diego Civic Youth Ballet
San Diego, 619-233-3060
www.sdcyb.org

San Diego Ice Arena
Mira Mesa, 858-530-1825
www.sdice.com

San Diego Junior Theatre
Balboa Park & La Jolla, 619-239-1311
www.JuniorTheatre.com

San Diego Model Railroad Museum
Balboa Park, 619-696-0199
www.sdmrm.org

San Diego Natural History Museum
Balboa Park, 877-946-7797
sdnat.org

San Diego Zoo
Balboa Park, 619-718-3000
www.sandiegozoo.org

San Diego Zoo Safari Park
Escondido, 619-718-3000
www.sdzsafaripark.org

Scripps Performing Arts Academy
San Diego, 858-509-2624
www.scrippsperformingarts.com

Solid Rock Gym
Poway, 858-748-9011
www.solidrockgym.com

Sweetwater Horse Farms
Bonita, 619-252-5544
www.sweetwaterhorses.com

Team Touche' Fencing Center
Sorrento Valley,858-622-9696
www.teamtouche.com

ThoughtSTEM
Countywide, 858-869-9430
www.thoughtstem.com/camps

USS Midway Museum Birthday Parties
Downtown, 619-544-9600
www.midway.org/files/birthday.pdf

We Rock the Spectrum Kid's Gym
Carmel Mountain, 858-798-5353
werockthespectrumsandiegocmr.com

BOUNCE HOUSES/JUMPIES

Always Bouncin'
800-888-8442
alwaysbouncin.com

House of Bounce
619-390-1316
www.houseofbounce.com

Sombrero Mexican Food & Catering
619-668-1059 or 888-773-2345
www.sombreromex.com

LIMO SERVICE

Top Dog Limo Bus
858-581-3644
www.topdoglimobus.com


----------
Published: May 2016

Want more party ideas? Be sure to follow us on Pinterest!