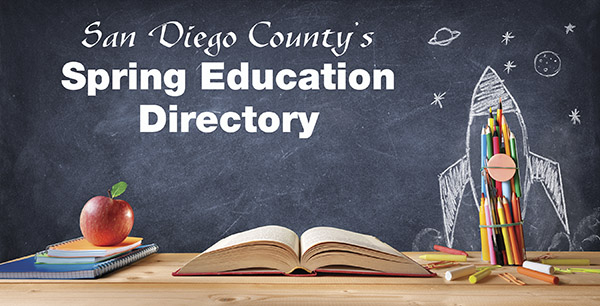 Choosing the right school is one of the most important decisions to make for your child. Our biannual directory features educational options from preschool through high school in a variety of learning environments—charter schools, private, public, homeschools and online learning. Contact the schools directly for more information and to schedule tours. Programs with the SN symbol are certified to care for children with special needs.
HOMESCHOOLS & ONLINE LEARNING
Altus Schools
858-678-2020
www.Altus4U.com
Kindergarten through 12th Grade
At Altus Schools, Kids Come First! From the new K-5 homeschool option at Audeo Charter School to self-paced, independent study options for grades 6–12, Altus Schools provide a flexible, personalized education plan for every student. Our teachers are committed to partnering with parents to provide a personalized and rigorous academic experience for each student. Our schools are about your success.
Compass Charter Schools
877-506-8631
www.compasscharters.org
TK through 12th Grade
Compass Charter Schools (CCS) is one of California's leading TK-12 grade, tuition-free, WASC-accredited charter schools. Families choose CCS for our innovative online and homeschool programs. Our online program utilizes a number of curriculum partners and tools which provide rigorous instruction. Our homeschool program provides various curriculum choices for parents who desire to be more involved in all aspects of their child's daily education. Compass is a smart choice for families seeking a flexible education.
Dimensions Collaborative Charter School
877-300-8299
www.mydehesa.org
Kindergarten through 12th Grade
DCS (Free, K-12, WASC accredited) has served families throughout San Diego County since 2001. We create customized learning plans based on our students' academic interests, goals and talents. Various resources are available to support student autonomy through independent, social and real-world environments.
San Diego Neighborhood Homeschools
Oceanside, National City, 760-295-1117
www.sdnh.org
TK through 12th Grade
Parents who choose homeschooling enjoy the advantages of spending quality time with their children, participating in the learning process, and guiding their child's education in a way that fits with their own personal style and beliefs. San Diego Neighborhood Homeschools offers a TK-12 charter homeschool program.
Soaring Minds
619-512-1946
www.soaringmindsedu.com
Ages 6+
At SME, we strive to give our homeschool students some of the best educational opportunities that San Diego has to offer. Our students enjoy a full program that includes classes and workshops involving science, art, theatre, martial arts, soccer, Spanish, math, Lego building, sewing, photography, swimming, and much more.
The Learning Choice Academy
844-GO-TO-TLC (844-468-6852)
www.learningchoice.org
TK through 12th Grade
Free charter homeschool. Students can participate in an onsite class option. We offer a Science, Technology, Engineering and Mathematics (STEM) program for grades 6-12. A credentialed teacher will work with your child to develop a personalized learning plan that includes curriculum and enrichment classes. Socialization opportunities are offered through monthly assemblies, field trips and special events.
NORTH COUNTY
Balboa School
Downtown Escondido, 760-294-4490
www.balboaschool.com
1st through 12th Grade
Balboa School is a private school offering college-preparatory education to students in North County. Balboa School provides a traditional education in small class sizes which promotes high academic standards, cultivates creativity and provides students with the skills necessary for college, career and civic life.
Community Montessori
Multiple locations, 760-743-7880
www.cmcharter.org
Kindergarten through 8th Grade
Community Montessori (Free, K-8) serving families throughout San Diego County since 2013, creates customized learning plans that incorporate key aspects of the Montessori philosophy. We offer multi-age groupings, uninterrupted blocks of work time, and guided choice of work activity. Our learning environment encourages independence, discovery, and a sense of order.
Del Mar Hills Nursery School
Del Mar, 858-755-8338
www.dmhns.com
Preschool through Kindergarten
Our program combines the philosophies of Froebel, Orff, Montessori and Reggio Emilia in an environment tailored to each child's interests and ideas. Each day is balanced with developmentally appropriate curriculum and multi-age exploration in our art studio, Froebel room and outdoor classroom. Daily Orff sessions introduce music and movement to students. Offering excellent programs since 1970.
ED to the Future
North County, 619-519-0499 SN
www.edtothefuture.com
Kindergarten thorugh 8th Grade
Ed to the Future provides specialized tutoring services for students with special needs requiring extra support in North County. We work with IEP students as well as non-identified students who have a learning disability and need extra support in the after school hours.
LePort Schools
Carlsbad, 760-230-4230
Preschool through 6th Grade
Encinitas, 760-545-4430
Solana Beach, 858-207-6474
www.leportschools.com
Infants through 4th Grade
Children thrive in our Montessori community, housed in a charming collection of home-like buildings surrounded by gardens and playing fields. Our AMI-trained teachers and a 12:1 student-teacher ratio allow us to tailor instruction to each unique child, to help him joyfully master advanced academics and strong social and personal skills.
Petits Amigos
Rancho Bernardo, 858-428-HOLA
www.petitsamigos.com
Ages 2.5 to 5 years
Combined Spanish Immersion and Gymnastics Preschool. Located inside of Gyminny Kids Gymnastics in Rancho Bernardo. We combine foreign language and gymnastics for a complete mind and body learning experience.
SOUL Charter
Solana Beach, 858-345-1888 SN
www.soulcharterschool.org
7th through 10th Grade
SOUL (School of Universal Learning) is a public charter school currently enrolling 7-10th grade. The curriculum includes a holistic program, project-based learning and a focus on entrepreneurship. SOUL provides an exceptional education that awakens individuals to know who they are, discover their passions and purpose and thrive holistically to achieve both mental and life mastery.
Super Spanish
San Marcos, 760-510-9639
www.superspanish.net
18 months to 5 years, TK & Afterschool Program (5-12 years)
Super Spanish offers a 100 percent Spanish immersion preschool and afterschool program. Our goal is to help your child become a confident, accomplished Spanish speaker who is well-prepared to enter Kindergarten and beyond. Our teachers are experienced, native Spanish speakers who provide a nurturing environment where learning is fun.
SOUTH BAY
Leonardo da Vinci Health Sciences Charter School
Chula Vista, 619-301-2075
davincicharter.org
Kindergarten through 6th Grade
LdVCS is an accredited independent public charter school. We provide a positive and nurturing student-centered learning environment. We teach the whole child providing a well-rounded education that extends beyond the basics. Our students learn and practice what it means to be healthy in a supportive project-based learning context.
Montessori American School
Multiple locations, 619-422-1220
www.montessoriamerican.com
Preschool through Kindergarten
Montessori American creates a nurturing and loving environment where your children can learn at their own pace while maximizing their potential. Students learn math, language, science and geography through hands-on activities. Enrichment classes in Spanish, art, art history, yoga, music. Selected "Best preschool & kindergarten of Chula Vista" 2008-2017.
EAST COUNTY
Montessori Discovery School
Santee, 619-449-1187
www.montessoridiscoveryschool.org
Ages 2 to 6 years
Open 7 am - 6 pm. We are dedicated to providing a joyous, challenging, safe preschool experience. Enrolling now for Summer and Fall.
SmartSteps Preschool
La Mesa & Fletcher Hills
619-668-5700 x6480
www.lmsvschools.org
We offer a nurturing, child-centered environment using play-based learning that will enhance development through exploration, discovery and guided learning. Curriculum is based on the California Preschool Learning Foundations. Instruction is organized thematically and developmental standards are addressed through planned learning activities that capitalize on "teachable moments."
SAN DIEGO METRO
A Brighter Future Preschool & Child
Development Center
Sorrento Valley, 858-794-9130
www.abrighterfuture.com
Infants to 5 years
You can go to work confident that your child is safe, happy, having fun and thriving. We provide high-quality childcare and our teachers treat children with dignity. We provide age-appropriate materials and curriculum to facilitate learning in a challenging, fun atmosphere. Our integrated approach nurtures all areas of a child's development. Easy access to highways 5 and 805.
America's Finest Charter School
City Heights, 619-694-4809 SN
www.americasfinestcharterschool.org
TK through 10th Grade
America's Finest Charter School strives to help each student achieve their American Dream. We have small classes, experienced teachers and caring staff. Our after school program is free. Students can participate in instrumental music, art, karate, soccer, drama, etc. Our high school prepares students for college and offers an engineering and an international studies curriculum. Please visit our Facebook page and see what a vibrant community we have!
Beth Montessori
La Jolla, 858-452-3030
www.bethmontessori.com
9 months to 6 years
We offer an integrated secular and Judaic curriculum based on the Montessori philosophy. Children are guided by certified professionals. Our self-directed learning fosters independence, responsibility, respect and a love of learning. Bilingual program with fluency in English and Spanish.
Canyon Rim Children's Center
Allied Gardens, 619-287-6767 SN
www.canyonrimcc.com
Ages 2 to 6 years
Our professional staff creates a safe and caring environment where the emphasis is on learning through play. We provide a full day, year-round enrichment program. Our learning philosophy is based on developmentally appropriate practices and is inspired by the early childhood schools in Reggio Emilia, Italy.
Children's Creative Performing Arts Academy
North Park, 619-584-2454
www.ccpaasd.com
Ages 2.5 through 12th Grade
We are dedicated to developing the whole person. Our teachers are qualified, credentialed and passionate. We have an open classroom environment. In the Children's House, Primary and Upper Elementary divisions, our underlying philosophy follows the child development sequence of learning.
Christ Church Day School
Coronado, 619-435-6393
www.ccds.org
Jr. Kindergarten through 6th Grade
For 60 years, Christ Church Day School has been guiding students to become academic and well-rounded young people with a solid foundation in both the classroom and in society. CCDS provides a rigorous curriculum as well as specialty classes including PE, music, art, spiritual nurture, and Spanish. Contact CCDS to enroll your student for next year!
City Tree Christian School
Downtown, 619-232-3794
www.citytree.org
Preschool through 8th Grade
City Tree integrates academic excellence with Christian values. Small class sizes, art, music, technology enrichment learning, band, drama, Spanish language instruction, athletics and educational trips are hallmarks of our outstanding program. We provide a safe, stimulating environment designed to meet our students' academic, spiritual, social, emotional, and physical needs.
Emmaus Today Christian Montessori
Linda Vista, 858-576-0132
www.emmaustoday.org
Preschool and Kindergarten
ETCM is a non-profit Montessori school that guides children (ages 2-6 years) to become independent thinkers who value and practice respect, kindness and service to others. We embrace diversity, honor student interests through individualized instruction and provide opportunities to serve the community. Open House is March 10th, 2018 10-11:30 AM.
Ideate High Academy
Downtown, 619-788-4668
www.id8high.com
Kindergarten through 12th Grade
Urban Discovery Academy (UDA) and its high school, Ideate High Academy, serve students in grades K-12 in downtown San Diego. UDA schools are innovative charter schools that utilize project-based learning and design-thinking to teach students to solve real, interdisciplinary challenges. Visit our website for enrollment information.
Imagination Station
Scripps Ranch, 858-586-7834
www.scrippsperformingarts.com
Ages 3.5-5 years
Imagination Station is a performing art centered, enrichment workshop for young girls. Our talented and gifted teachers integrate a curriculum of math, science, reading, music, dance, and imaginative play. Through the creative vehicle of musical theatre, this fun-filled workshop provides an educational balance that enriches each child's approach to learning.
Mission Bay Montessori Academy
University City, 858-457-5895
www.mbmacademy.com
Age 2 through 6th Grade
We pride ourselves on blending a traditional Montessori approach with a rigorous academic environment. From two years old through sixth grade, we match the child's interest and ability to learning materials. We educate the whole child, expanding their education to include specialty classes like science, music, computer, art, Spanish, Chinese, and PE.
Newbreak Playschool
Ocean Beach, 619-241-2910
www.newbreak.org/playschool/Preschool
Newbreak Playschool is centered around fun, creativity and faith. Children have a wonderful curiosity and naturally absorb the world around them. Newbreak Playschool is an inviting space for your child to safely explore, discover and grow. We offer the most flexible schedule to meet each family's unique needs.
Renaissance Village Academy
Scripps Ranch, 858-564-9622
www.rvaschool.org
Pre-K through 8th Grade
We meet the needs of gifted, highly motivated students in a caring environment. Our teaching format maintains high academic standards and adapts to the interests of our students. The student's needs, not age, determine placement in each subject. Our schedule is designed for the working parent; children complete work with experienced teachers.
San Diego RiteCare
Mission Valley, 619-291-2506
www.sdritecare.org
Ages 2-12
San Diego RiteCare Childhood Language Center offers individualized speech-language evaluations and therapy for children at no cost to families. Our services are provided by licensed, board-certified speech-language pathologists. Each child accepted into our program receives up to $7,000 in services and all treatment is offered to families free of charge.
Stella Maris Academy
La Jolla, 858-454-2461
www.stellamarisacademy.org
Transitional K-8th Grade
For 71 years, Stella Maris Academy has provided the finest in Catholic education. The dedicated staff works together to help students become critical thinkers and enthusiastic learners, who rise to the challenge to be all that they were created to be. We hope you will come by and see our school.
St. Therese Academy
Allied Gardens/Del Cerro, 619-583-6270
www.sta-sd.org
Preschool through 8th Grade
The administration and faculty of St. Therese Academy recognize the parents as the primary educators of their children and seek to assist them in this educational endeavor. We strive to create a Catholic, Christian community committed to high educational standards within the framework of Catholic principles.
Thrive Charter School SN
Multiple Locations, 619-839-9543
www.thriveps.org
Kindergarden through 12th Grade
Thrive is a group of free, nationally recognized K-12 public charter schools that prepare kids for college and careers in a diverse and joyful environment. Thrive achieves award-winning academic growth by focusing on a highly personalized learning model with quality faculty who care deeply about each student. Contact us today!
Published February 2018
-----