Summer Camps and Programs
The Woes and "Woo-Hoos!" of Tent Camping
Resources - Summer Camps and Programs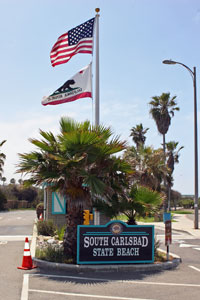 We recently went camping with three families that "camp" in their RVs about a dozen times a year. Even though we hadn't camped for four years and we don't own an RV, we were not intimidated. We agreed to go the "old-fashioned way"… in a tent. We had a few challenges, but had a grand time and can't wait to go again!

We had the privilege of two completely different camping locations each weekend: Hurkey Creek Park, which is in the beautiful mountains near Idyllwild and South Carlsbad State Beach. Both provided stunning backdrops and a serene environment.

Even before our first departure, we discovered that our perception of camping varied greatly from that of our friends. The shower, big-screen TV and stacked washer & dryer in Kevin and Margo's RV prompted my husband and I to say, "This isn't camping!" I finally understood why they go so often.

Our buddies had the conveniences of home at their fingertips: air conditioning (or heat), the ability to wash dishes in a sink, sleep in a bug-free environment and most importantly, a three–step walk from the bed to the toilet.

We had a couple luxuries of our own, such as the mesmerizing, comforting sound of crashing waves to lull us to sleep at Carlsbad beach. My husband and I also enjoyed midnight strolls to the bathroom, which included stargazing and a wonderful ocean breeze. Our RVing comrades could not make this same claim.

You can't go camping without roasting marshmallows over a campfire. Remember to bring graham crackers and Hershey bars so you can make s'mores. We were introduced to a new indulgence: s'mores made with peanut butter cups instead of chocolate bars—wow! These are delicious, but very sweet, so be sure to pace yourself (really, just one is plenty). To prevent middle-of-the-night sick tummies (especially if you have kids under 10) consider imposing a two s'mores maximum—one with chocolate, one without.

Since our family hadn't been camping in a while, we were a little rusty. Here are a few tips inspired by lessons we re-learned (the hard way):

Test your equipment before you go, particularly your light and cooking sources. When we arrived at our campground, we discovered our matches wouldn't strike and one of our lanterns didn't work. Take extra matches in case some get wet. Better yet, take a lighter.
If you wear earplugs (because someone in your tent snores), make sure you only use one. This way, you have one ear free to hear the child that throws up in the middle of the night from eating too many s'mores.
Remove everything from the pockets inside your tent before you break it down and pack it up. After ours was put away, we realized our car keys were still in there!

Camping has changed a lot since our last adventure. Words I never expected to hear while enjoying the great outdoors:

"I'm going to cruise around the campground on my Segway."
"Check out star maps on my iPhone!"
"Let's watch the Lakers game!"
"Honey, can you get my jacket out of the closet?"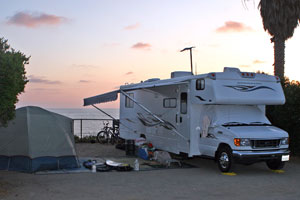 The one phrase that trumped them all came from my 7-year old daughter, Naomi, "I wish we lived here because we get to eat all our meals outside and I can go to the beach everyday."

That was all I needed to hear. "Roughing it" in our tent was worth every effort!

Tidbits of Camping Wisdom
1. We learned a simple (but brilliant) tip from our friends Thad and Jennifer: if you want people to join your campfire, pack extra chairs! Our family of four had three chairs. Their family of four had 10. Guess whose campsite had visitors all the time?

2. An air mattress makes all the difference in the world. Either buy one or borrow one from a friend. Don't forget the pump and batteries!

3. Citronella candles on your table will help keep the bugs away.

4. If your campsite doesn't have a water faucet (many don't), you may want to bring a collapsible water jug. You can fill it and reduce the number of trips to the faucet when it comes time to wash dishes.

5. To prevent animals from making a mess of your campsite, put all food away at night and when you're away from your site. As long as you're not in bear country, the food should be fine in your car.

6. If you've never camped before, consider pitching a tent in your backyard and sleeping there first. This is particularly advisable if you have small children.

For a comprehensive camping checklist, visit: www.lovetheoutdoors.com/camping/Checklists.htm. It may not be necessary to pack everything on the list, but it will help you figure out exactly what you do need.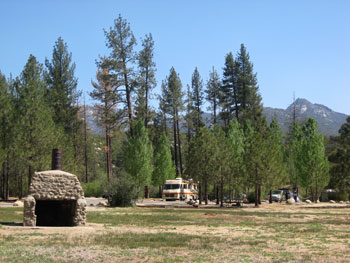 Hurkey Creek Park
This beautiful campground boasts tall pines and a huge grass field. There are some all-grass campsites available. Reservations: 800-234-7275 or www.riversidecountyparks.org. To contact the campground directly, call 951-659-2050.

South Carlsbad State Beach Campground
Reservations at South Carlsbad State Beach can be made up to seven months in advance. Planning ahead certainly pays off – it's a fabulous campground! If you're not able to plan that far in advance, there are three options:
Call Reserve America and ask if there are cancellations.
Drive to the campground and wait at the front gate to see if someone cancels that day. The kiosk at the gate opens at 9:00 am, but people have been known to get in line at 7:00 am. There is risk involved here, of course, because you have to arrive with your gear, but you may not get in.
If you're lucky enough to know someone with a reservation who can't go at the last minute, take her spot.

To make reservations, call Reserve America at 800-444-7275 or visit www.parks.ca.gov. For other questions, call the campground directly at 760-483-3143.


Lisa Gipson, who usually prefers the Hilton, looks forward to practicing new tenting skills with her two Girl Scout troops. Until then, you'll find her working at San Diego Family Magazine.