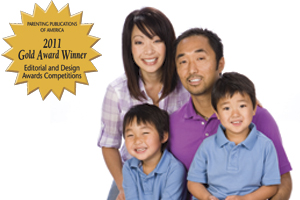 "Hardly a day passes that I don't have to explain why my two sons are only 7 months apart in age," says Lee Ann Kim, executive director of the San Diego Asian Film Festival and a former news anchor at KGTV Channel 10. "Strangers usually mistake them for twins and then are genuinely baffled when I tell them Weston is nearly 5 and Sam turned 4 in February."
They ask, "How in the world is that physically possible?"
Kim, 39, smiles and answers: "Samuel's adopted. Weston is biological." She jokes about turning her canned response into a button or t-shirt to save her from repeating the explanation.
Next comes the follow-up comment: "I had a friend who tried to have a baby for years, then gave up. But as soon as she signed up for adoption, she got pregnant, and ended up with two babies, just like you."
Nothing about that scenario matches up with Kim's path to motherhood. Weston was delivered from his mother's tummy and four months later, Samuel was delivered by airplane. Fertility was not an issue. In fact, Kim and her husband, Louis Song, timed the adoption process so that their biological son and their adopted son would be very close in age.

Conceiving a Family Here and Across the Globe
"Louis and I grew up with Korean adoptee friends raised by Caucasian families," Kim says. "While I admire the hearts of their adoptive parents, I always felt a sense of regret for my friends who experienced little to no interaction with the Korean culture or community."
Kim recalls that in many of these homes, other than the souvenir handbook and a picture book of Korea, nothing showed that a Korean child lived there. "No big jar of kimchi [pickled vegetables], no rice cooker," Kim says, "and everyone wore their shoes in the house." Those memories stayed with Kim and Song. When they decided to start a family, they knew it would include an orphaned child from Korea.
Just as they anticipated, Kim got pregnant during the adoption waiting period. She gave birth to Weston in July 2005. "It was such a miracle to experience how this precious boy grew inside me. From the ultrasounds, first flutters, kicks and even hiccups, each movement bonded me stronger with my son." She smiles. "I was in love with Weston long before his birth, and could never imagine carrying a child for nine months only to let him go."
Four-month-old Samuel became a part of the Song family in June 2006. "I'll never forget that first moment when I held him in my arms," Kim says. "He stared straight into my teary eyes and actually smiled at me as if he knew I was his mother. I was smitten."
But raising almost-twins isn't easy. "The first few weeks with Samuel were difficult, emotional and exhausting," Kim recalls. "At times, he cried incessantly because nothing was familiar to him. I'm sure he missed the smell and touch of his foster mother, who sang Korean songs and slept on the floor with him every night."
"The biggest joy for us has been watching Weston and Samuel grow up as brothers," Kim says. "Every morning, Samuel goes to Weston's bedroom to get him up so they can play with their trains. They have no recollection of life without each other."
Through her family's experience, Kim hopes more Korean- and Asian-Americans will consider adoption as a viable way to start a family, rather than as a last resort. "The fact that most adoptees from Asia are not adopted into Asian families makes a clear statement about how Asians negatively view these children and their mothers. We can be the first generation to change that," she says.
"My other hope is that Samuel's birth mother can live without shame and in peace. I thank her for bringing Samuel into our lives. I have no doubt that just as Weston grew in my belly for nine months, Samuel was born to be our son."
Meet Lee Ann Kim
Born in: Seoul, South Korea
Grew up in: Chicago
Lives in: Sorrento Valley
Oldest, youngest, middle child: Oldest of four girls
First job: Telemarketing (I lasted two days)
What you spent your first paycheck on: A speeding ticket I got on my way home from my first job.
What did you want to be when you grew up: A thespian
Dream job: If I could do it all again, I'd go into dance
Hobby/pastime: Kung fu, watching films
Reading now: Anything with Thomas the Tank Engine or Curious George
Favorite book: "Still Life With Rice" by Helie Lee
Favorite movie: "Goonies," "The Breakfast Club," "When Harry Met Sally," and "My Sassy Girl"
Chocolate or vanilla: Chocolate! The darker, the better.
Life motto: Carpe diem
Guilty pleasure: Shopping at H&M, getting massages and eating dark chocolate
One thing you're most proud of: My husband and my two sons
---
Intercountry Adoptions
Interested in adopting a child from another country? You're not alone. Each year, thousands of Americans adopt a child from overseas. The process, however, can be challenging.
"The regulations and requirements for adopting may seem confusing and sometimes frustrating," says Michele Thoren Bond, deputy assistant secretary, Overseas Citizens Services.
To make the process a bit easier to navigate, the U.S. Department of State, Office of Children's Issues offers a booklet "Intercountry Adoptions: From A to Z." Download the PDF by visiting www.adoption.state.gov.
-------------------------
Claire Yezbak Fadden, an award-winning freelance writer and columnist, lives in Chula Vista.