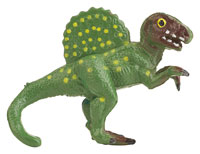 If your child is nuts about dinosaurs, you might want to consider throwing a dinosaur theme birthday party this year. The dino theme party is a perfect for boys although you may find girls want in on the birthday fun theme, too.
Planning a caveman and dinosaur birthday party can be easier than you think. It just takes a little ingenuity and some homemade effort to blast back to prehistoric days. Here are some tips to get you started!

Dino-rific Invitation
To kick off your dinosaur fun, make some invitations. Homemade birthday party invitations are easy and let the kids get involved. You can make your own invitations by using blank cards and adding clip art, stickers or your own drawings to the front. Hand write the information inside the card or type it up on the computer and print it out. Then simply cut and paste to the inside of the card. Another fun idea is to trace a simple dinosaur template and make dinosaur shaped invitation.

Setting the Caveman Scene
A fun way to decorate for your dino birthday party is to create a large mural. Go to your local newspaper office and ask for a roll of newsprint ends. Many times they give these away for free; at the most, it will cost a couple of dollars. Tape a long piece of newsprint along one wall. Draw huge dinosaurs, trees, boulders and anything else you think should be included in your mural. A fun activity for the party would be to set up a background mural and allow the children to create their own dinosaurs, color them, cut them out and the paste to the mural. This also provides a nice keepsake for the birthday boy or girl. Hang fake animal fur on the wall and add some paper maché clubs and boulders.

Dinosaur Party Table Decorations
Purchase animal print material or felt at your local fabric store for a few dollars. This is perfect for tablecloths and making simple napkins. Brown or gray disposable tablecloths and napkins will work just as well. Use wicker baskets or wooden containers to hold spoons, forks and napkin. Scatter green leaves and toy dinosaurs down the middle of the table. Make a large centerpiece of a palm tree and several large plastic or stuffed dinosaurs.

Dino-rific Activities
No party is complete without some fun activities. Consider going on a dinosaur hunt. Similar to a scavenger or treasure hunt, the children will be looking for small toy dinosaurs hidden throughout the house or yard. Supply them with a map or list of clues and get busy hunting dinosaurs! Another fun activity is to have children create their own dinosaur stencil t-shirt. Purchase plain tee shirts, dinosaur stencils, fabric paints and paintbrushes. Set up a table or the children can design and paint their own t-shirt. Other fun activities might include making papier maché dinosaurs or building a volcano. Visit http://crafts.kaboose.com/erupting-volcano.html for a quick make-it-yourself volcano.

Dinosaur Party Food
The best part of any party is the food, and dinosaur parties are no exception. Simple foods can become fun party food when you simply rename them or give them a different twist. Green Kool-Aid makes great caveman punch. You can make dinosaur pebble salad by mixing miniature marshmallows, butterscotch chips, walnuts and whip cream. Look in the freezer section of your local supermarket for dinosaur shaped chicken nuggets. Rocky road ice cream or any other ice cream with nuts, chocolate, cherries or candy pieces is perfect for a dinosaur birthday party. You can have the local bakery make a dinosaur shaped cake or make one yourself. Cupcakes are great option, especially for birthday parties for younger children. Decorate cupcakes with tiny plastic dinosaurs or use decorator icing to draw dinosaur footprints on the cupcakes.

Ending the Party
After the party is over, be sure to send the kids home with goody bags made from animal print fabric and decorated with their name. Include rock candy, small plastic dinosaurs, dinosaur bone candy and other fun treats. Later in the week, have your child mail dinosaur thank you cards.

Belinda J. Mooney is a freelance writer.