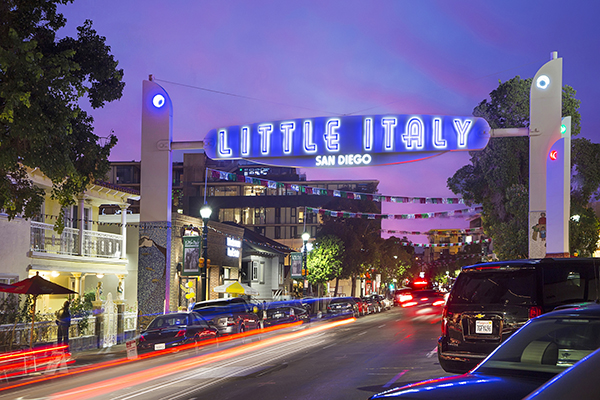 San Diego's Little Italy is a lively area filled with rich culture, authentic Italian eateries, festive markets and piazzas, public art displays and galleries, and family-friendly events.
This district, founded in the 1920s, has evolved from an immigrant community developed around the tuna fishing industry, into today's thriving urban neighborhood. In Little Italy families can enjoy gelato, play around European-style fountains, discover Waterfront Park and participate in seasonal events, such as the Annual Tree Lighting and Christmas Village in December.
Here are fun family-friendly things to do and places to eat when visiting Little Italy.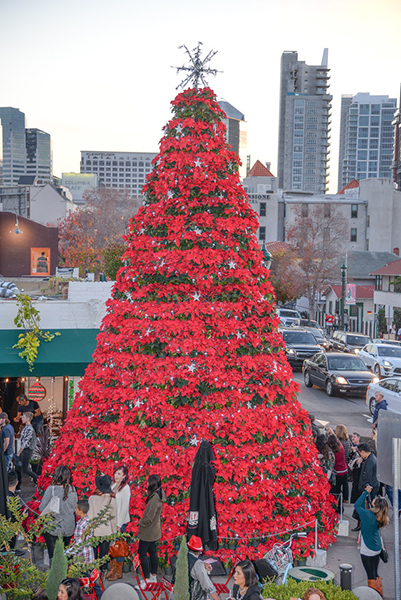 Annual Tree Lighting & Christmas Village
Every December
Deck the halls with this magical, annual holiday event! Buone Feste!
www.littleitalysd.com/events/little-italy-tree-lighting


DISCOVER

Firehouse Museum
The former home of San Diego Fire Station No. 6 now displays a wealth of firefighting memorabilia, dating back to the late 1800s. Exhibits include La Jolla's first fire engine, a horse drawn steamer and a piece of the World Trade Center. Closed Mon-Wed.
1572 Columbia St.
www.sandiegofirehousemuseum.com

History of Little Italy Tour
To learn about the neighborhood's rich history, download the free Little Italy San Diego App to take a kid-friendly, video-guided tour. Kids will follow Danny Boy, an animated mascot, and enjoy videos, photos, augmented reality, games and quizzes. Parents can opt for the adult tour version.
www.littleitalysd.com/about/little-italy-san-diego-mobile-app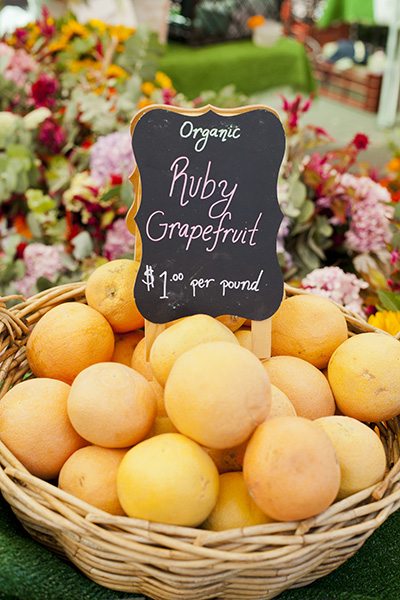 Little Italy Mercato Farmers' Market
Soak in the ambiance of this lively farmers' market as you stroll through a huge selection of fresh farm produce, meats and seafood, flowers and plants, live music, crafts and more. It's a kid-pleaser; corner musicians will even invite them over to dance! Held every Saturday, rain-or-shine, 8 a.m.-2 p.m.
W. Cedar St. from Kettner Blvd. to Front St.
www.littleitalysd.com/events/mercato

Piazza della Famiglia
Coming Spring 2017! A new, central community gathering space, destined to become the heart of Little Italy, is currently under development. The 10,000 sq.ft. European-style piazza will offer shops, restaurants, markets, concerts, community events and more!
W. Date St. between India and Columbia
www.littleitalysd.com/explore/piazza-della-famiglia


PLAY

Piazza Basilone
Enjoy fantastic views, hang around the fountain, and relax to simply watch the world around you. This urban plaza, located in the center of Little Italy, is dedicated to John Basilone, U.S. Marine Gunnery Sergeant and Medal of Honor recipient.
Corner of Fir St. and India St.
www.littleitalysd.com/explore/piazza-basilone

San Diego County Waterfront Park
Kids have a "splash" playing in the interactive fountains and climbing on modern play structures of this park, located just a couple blocks from Little Italy. With lots of green spaces and beautiful views, it's a great spot for families to take a picnic or spend a few hours.
1600 Pacific Highway
www.sdparks.org/content/sdparks/en/park-pages/Waterfront.html


EAT

Filippi's Pizza Grotto
This authentic, family-owned and operated Italian eatery has been around since the mid-century, with no shortage of old school charm. Serves pizzas, pastas, salads and traditional recipes. Buon appetito!
1747 India St.
www.realcheesepizza.com

Crack Shack
If gourmet free-range fried chicken is your thing, stop at this fun outdoor restaurant for a chicken sandwich or salad in a casual, family-friendly setting. Everyone will love the tasty menu, pleasant patio dining, bocce ball court and giant chicken sculpture.
2266 Kettner Blvd.
www.crack-shack.com


INDULGE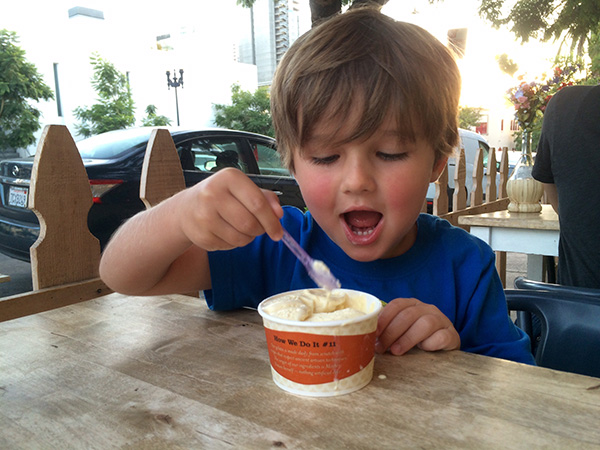 iDessert
Create a delicious, customized gelato treat at one of iDessert's iPad stations and it will be delivered in minutes! Don't miss this fun, kid-friendly outing. Dairy-free options available.
1608 India St.
www.idessert.com

Pappalecco
A local favorite for freshly made, hand crafted, artisan developed, traditional Tuscan gelato (and pastries!). Need we say more?
1602 State St.
www.pappalecco.com

---
Lisa Pawlak is an award-winning contributing writer and Encinitas resident.
Published December 2016