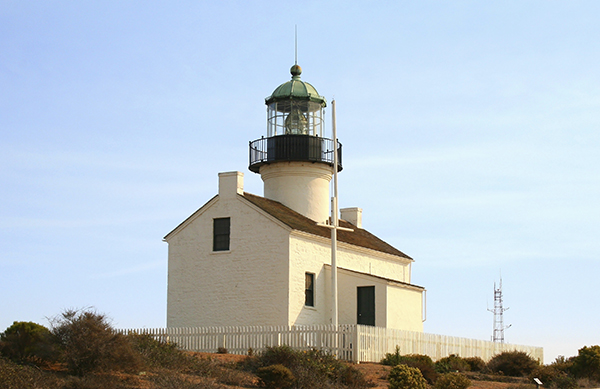 The picturesque, hilly peninsula borders San Diego Bay and the Pacific Ocean, offering modern explorers unparalleled seaside views, vivid military history, and a lively shopping, dining and events complex.

Cabrillo National Monument and Old Point Loma Lighthouse
1800 Cabrillo Memorial Dr. at Catalina Blvd.
www.nps.gov/cabr/index.htm
Enjoy panoramic ocean and bay views, explore the historic lighthouse, hike the Bayside Trail or discover some of San Diego's best tide pools Nov.–Feb. Look for migrating gray whales Dec.–April.

Plan to go tidepooling? Discover helpful tips to know before you go by following this link.

Corvette Diner
2965 Historic Decatur Rd.
www.cohnrestaurants.com/corvettediner
Find 1950's rock-and-roll, burgers, shakes and gaming entertainment at this family-favorite restaurant. Try dining in the Groovy Room where diners can use a flashlight app to draw glow-in-the-dark designs on its heat-sensitive tables. On Wednesdays, most games are half price and the live DJ on Fri./Sat. nights give fun shout-outs and take song requests.

Kid Ventures
2865 Sims Rd.
www.kidventuresplay.com/liberty-station
Founded by local parents, Kid Ventures offers opportunities to explore and imagine in their fun, indoor play centers. Great for all ages—even parents, who will love the café's delicious Venetian Mocha. Join the Point Loma location grand opening on Jan. 8. Also, mention this article to receive $10 off spring camp 2016.

Kobey's Swap Meet
3500 Sports Arena Blvd.
www.kobeyswap.com
Bargain hunters won't want to miss this swap meet's treasures on the way to Point Loma. Arrive early, bring cash and be ready to haggle for the best deals. Fri-Sun, 7 am–3 pm.

Liberty Station
Rosecrans St. between Lytton St. & Womble Rd.
www.libertystation.com
A former naval training center, this hub of activity is now filled with restaurants, shops, art studios, galleries, museums and fun community events. Check the website for schedule.

Liberty Public Market
2820 Historic Decatur Rd.
www.libertypublicmarket.com
Plan to do your specialty shopping at this gathering of artisans, which includes beer and wine bars, freshly baked bread and pastries, sustainable produce, local seafood, homemade pasta, organic meats and much more. Foodies will enjoy this new addition to Liberty Station! Relax in one of the comfortable outdoor living rooms.

NTC Park
2455 Cushing Rd.
www.ntclibertystation.com
Stroll along waterfront paths, smell the roses, watch planes take-off from the nearby airport and relax while kids climb on the playground's structures.

Pachis Art Studio
2820 Roosevelt Rd., Bldg. 201, Ste. 102
www.mypachis.com
No need to make a mess at home! Ongoing afterschool activities and themed break camps are available for your 5-12 year-old budding Picassos, along with morning toddler classes. Try holiday and seasonal workshops, new this year.

Sunset Cliffs Natural Park
1424 Sunset Cliffs Blvd.
www.sandiego.gov/park-and-recreation/parks/regional/shoreline/sunset.shtml
Breathe in the San Diego coastline at this magnificent spot that also features phenomenal sunsets. During high tide, waves crash onto the sandstone cliffs, and tide pools are exposed at low tide. Whenever you go, don't forget your camera! This is the perfect spot to bring out-of-town visitors.

The Hot Spot
2770 Historic Decatur Rd., Barracks 14
www.thehotspotstudio.com
Paint pottery for a fun, hands-on family experience. You can even B.Y.O.B. (Hint: grab a growler of beer from Stone Brewing Co. next door!) On Thursday evenings free appetizers are provided. Not feeling creative? Use the stencils, stamps and idea books for inspiration. Pottery is fired overnight and ready the next day.
---

Contributing writer Lisa Pawlak is a local resident and mother of two sons.
Published January 2016