Hey, foodie parents. Skip the dollar menu this weekend. These local restaurants feature real chefs, great food and play spaces for kids.
Officine Buona Forchetta
2816 Sims Rd., Liberty Station
www.buonaforchettasd.com
New to Liberty Station, this chef-driven spot for Neapolitan pizzas and pastas offers fresh, authentic flavors and family fun. Sip sangria on the back patio while kids play in a grassy park. They'll be busy with the teeter-totter, slide and swings while you enjoy your antipasti—but don't worry—everyone will come running when the pizza arrives. If you're feeling hungry, try the Pizza Al Metro, a two-foot long pie customizable for sharing. Whatever you do, don't skip dessert! Chef Francesca's Cremoso al Cioccolato e Nocciola will make all your chocolate dreams come true.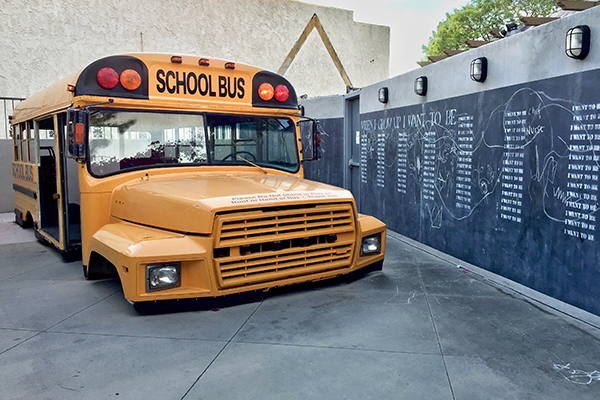 BO-Beau Kitchen + Garden
8384 La Mesa Blvd., La Mesa
www.cohnrestaurants.com/bobeaukitchengarden
Experience casual French fare in charming downtown La Mesa. Request a table in the idyllic covered courtyard, where a decommissioned school bus and chalkboards set the stage for imaginative play. While you await your entrée, indulge in Bo-Beau's legendary Brussels sprouts, prepared with pancetta and a balsamic reduction. Every selection is a good one on this small, thoughtful menu.
Station Tavern
2204 Fern St., South Park
www.stationtavern.com
Nothing sets the tone for a relaxing weekend like burgers and beer in the heart of South Park. Station Tavern boasts a spacious "backyard" with picnic tables and dirt floors. The restaurant is dog friendly and offers an enclosed play space for children. The area includes chalkboards and a half-scale wooden trolley. While the kids play conductor, enjoy a remarkably fresh, well-seasoned hamburger, or a marinated chicken sandwich with delightful house-made barbecue sauce. Don't forget a plate of the restaurant's famous tater tots—perfectly crisp with a generous dusting of spices.
Waypoint Public
794 30th St., North Park
www.waypointpublic.com
Come for the beer and stay for the food at this family-friendly hipster hangout in North Park. The play space is enclosed with a mini picket fence, and is often packed with new friends. Kids can lounge on beanbags while they sample an assortment of books, toys and movies. The weekend brunch menu offers a creative selection of benedicts, including the must-try Southern Belle, featuring perfectly poached eggs, a thick slice of bacon-scallion cornbread and a cheesy IPA sauce. Yum! And now there's a brand new location in Carmel Valley!
Waypoint Public
16480 Paseo Del Sur, Carmel Valley
www.waypointpublic.com
Fans of Waypoint in North Park can now visit a new north county location! The kid-friendly play space at this restaurant features a comfortable reading nook, beanbags, puzzles and toys to keep kids entertained.
The Rabbit Hole
3377 Adams Ave., Normal Heights
www.rabbitholesd.com
Check out the back patio at this high-energy sports bar in Normal Heights. You'll find an inviting patch of turf and family friendly games to intrigue your little ones. Challenge the kids to cornhole, or watch as they compete in a life-sized game of connect four. The whole team will be glad you came, especially if someone orders the otherworldly pork belly tacos.
Kid-Friendly Breweries
Want to grab a drink with the kids in tow? No problem! Just remember to pick a designated driver.
Alesmith Brewing Company
9990 AleSmith Ct., Miramar
www.alesmith.com
This brewery features a kids' area with toys and puzzles. Don't miss the onsite Tony Gwynn museum. Food trucks available on rotation.
Plan 9 Alehouse
155 E. Grand Ave., Escondido
www.plan9alehouse.com
If you like pub food with your beer, this brewery is your spot. A cozy corner is stocked with toys and a chalkboard to keep the little ones entertained.
Second Chance Beer Company
15378 Avenue of Science, Rancho Bernardo
www.secondchancebeer.com
Challenge your big kids to oversized Jenga and cornhole at this Rancho Bernardo brewery. Food trucks onsite in case you get hungry.
Anne Malinoski is a freelance writer and mother of two boys. Eating out is her favorite hobby.
Published May 2017