Beach and Pool Products! Headed to the beach, pool or waterpark this summer? Check out these cool new products to make your trip easy and fun.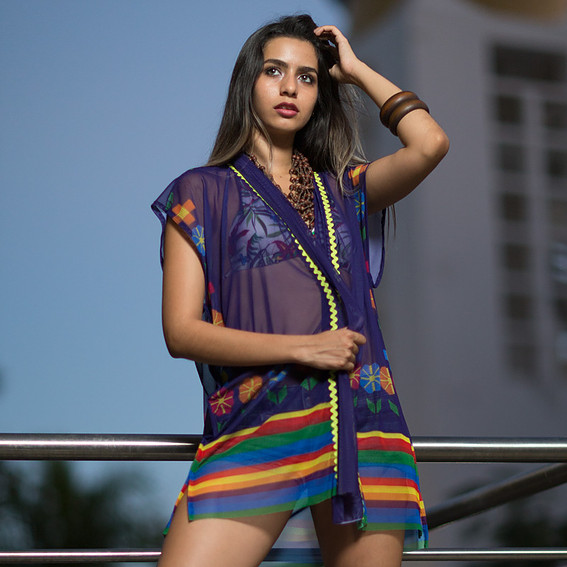 Ariche Axul
PalmeraBeachwear.com
Wherever your travels take you, stand out in Palmera Beachwear. Palmera celebrates color, culture and art in their one of a kind resort and beachwear. From swimsuits to cover-ups, Palmera combines traditional Mexican folklore and modern resort style bringing you a beautiful piece to lay in the sun in.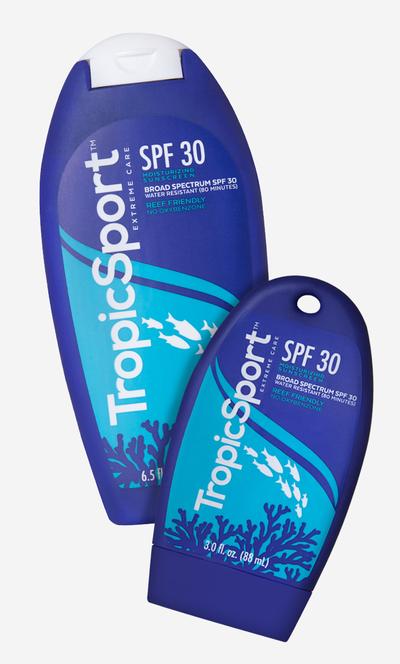 TropicSport
Reef-Friendly Sunscreen
TropicSport.com
TropicSport is a complete line of reef-friendly non-nano zinc oxide and titanium dioxide mineral sunscreens, as well as after-sun face and body cleansers and moisturizers in a complete skincare system that protects, cleanses and replenishes. Meets the U.S. FDA 80-minute and Australian 240-minute water resistance tests. This mineral sunscreen smoothes into a lotion without the stickiness.
beachBUB All-In-One Beach Umbrella System
$119.85; BeachBUB.com
Easy to set up and comes complete with an umbrella, beachBUB ultra base, oversized carry bag, sand scoop shovel, towel hook and sand gopher tool. It is easy to carry, weighs less than 10 pounds, has a sun rating of 50+ UPF and has been tested to perform in winds up to 35 MPH. Base colors include yellow, blue and green.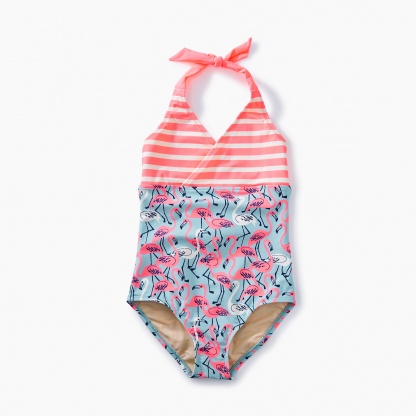 Halter One-Piece: Flamingos
$39.50; TeaCollection.com
Classic stripes paired with a fresh spring print make the perfect pattern match. Plus, this one-piece offers UPF 40+ protection.
Beach Bag
$39.95; Snapperrock.com
The only beach bag you'll need this summer. Finally a beach bag that you can throw all the kids towels and swimming gear into. Navy and white stripes with ratten trim and rope handles give this beach bag a cute nautical twist. Waterproof lining with zip pocket.
Sun Society Towel
$29.99-$39.99; Amazon.com
Made of premium 100% cotton. Absorbent, lightweight and quick drying. Versatile for beach, yoga, gym, boat, pool, camping, hiking and more. Wearable as a sarong, cover-up, and head wrap, scarf or shawl.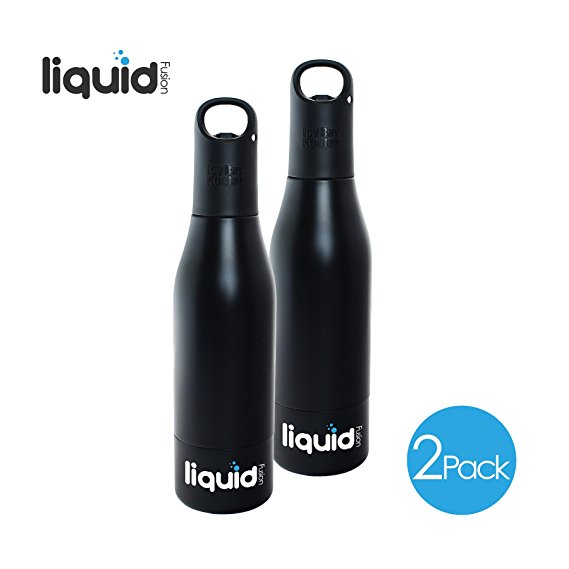 Icy Bev Koolers
$29.99 for two; Amazon.com
Whether you're at the pool, lake, beach or in the woods, you know the risk of broken beer and soda glass bottles when there are lightly shoed and bare feet around. The Icy Bev Kooler is more than just a metal sheath, its neoprene lining keeps drinks colder longer while the silicone stopper keeps them carbonated. It stores inside the cap, which also doubles as a bottle opener and features a loop that can be hooked onto carabiners.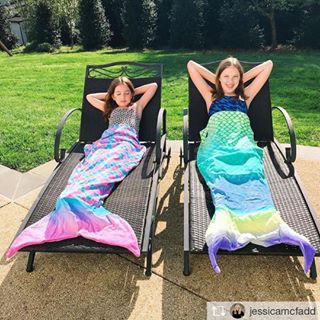 TowelTails
$24.99; TowelTails.com
Mermaid love at a whole new level. This 100% cotton, adorably designed beach and pool towels create a mermaid tail for girls. Got boys, then the shark and dragon designs will make him feel extra fierce at the beach. These Dad-invented towels come in several designs, from seashells to stars and oodles of fun colors. They're also super soft for falling asleep by the waves.
Rockin Aqua Foot
$29.99; RockinFootwear.com
These are perfect for use on land or in the water. Suitable for outdoor activities such as beach games, pool time or even summer camping. The lightweight, amphibious design provides breathability, comfortable wear and excellent traction on all surfaces.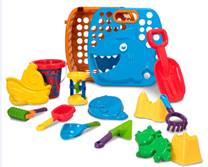 NextWave Jumbo Beach Basket
$14.99; Walmart.com
This bright and colorful activity set is packed with all the accessories kids need to spend hours at the beach. The detachable folding case makes clean up a breeze by shaking out water and sand when it's time to go. The cover detaches from the basket to double as a super-sized animal sand form. The 15-piece set comes complete with assorted sea creatures and nautical forms, bucket with handle, castle molds, rake, roller, sand spinner, sifter and shovels in a variety of sizes. Available in three styles: flamingo (pink), whale (purple) and shark (teal).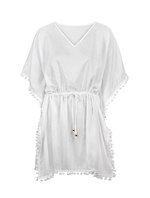 Womens Solid White Batwing Kaftan
$85; Snapperrock.com
Float from beach to pool in this elegant and classic white Batwing Kaftan with a flattering V neck and an adjustable tie waist for the perfect silhouette. The pom pom trim adds extra fun to this essential cover up for the beach and also after-sun wear after a hot summer's day. Blocks 98% of all harmful UVA and UVB rays. Quick drying, lightweight and breathable. 100% rayon for soft hand feel and easy washing.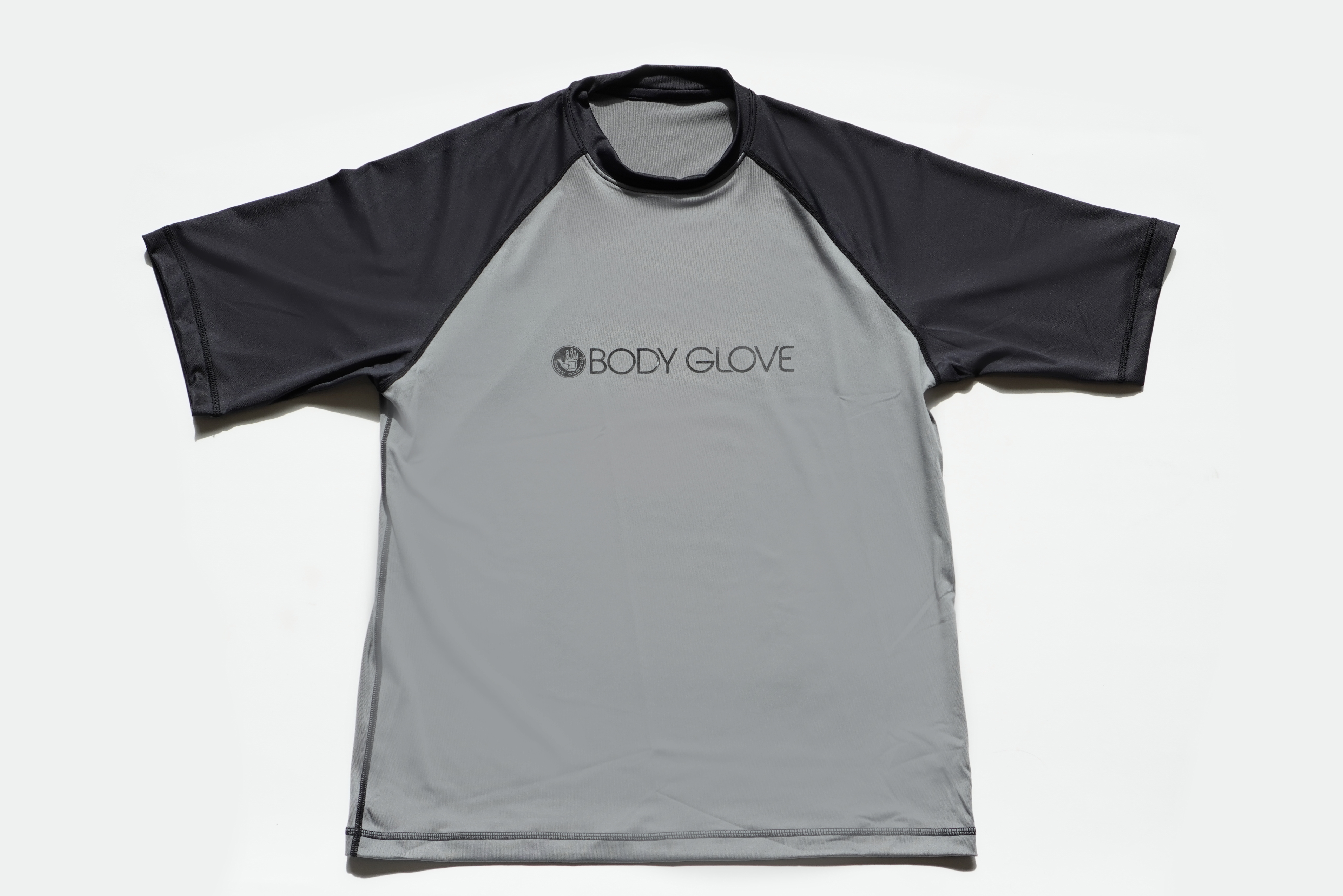 Basic Mens Short Arm Lycra Rashguard
$24.99; BodyGlove.com
Polyester/spandex, short sleeve, non chafe flatlock stitching, UV protection.
Noblo Umbrella Buddy
$20; Amazon.com
Compact and lightweight, easy to pack and carry to the beach. Eco-friendly reusable bag that uses sand to create anchor weight. Simple to use, set up in three easy steps. Gives peace of mind knowing your beach umbrella will not blow away. Available in blue and red. Made from nylon with Velcro closure.
Hoa Kai Towels
$48.95; HoaKaiSurf.com
Hoa Kai turkish towels are quick drying, light weight, multifunctional, and long-lasting. Not only will you love these for quick showers after your gym session, but they're perfect to take with you to the beach, park or pool after. The traditional towels are handwoven with 50% Turkish Cotton and 50% Linen making these towels ultra soft. These towels are much more absorbent, quick drying, light weight, sand resistant, multifunctional, and long-lasting then an ordinary terry cloth towel. Perfect for the beach, home decor, picnics, scarves, tablecloths, etc.
Men's Ombre Stripe Boardie
$95; Snapperrock.com
Ombre blue stripes of blue and white make these boardies a classic style that men will want to wear over and over again. A classic fit that can be worn all day whatever the activity. Elastic waist with workable drawstring means our boardies stay up strong. Side and back pockets. Mix and match with our short and long sleeve rash tops for the best sun protection. The same print extends into both boys, girls and womens styles - there really is something for the whole family.
Updated: October 2018