San Diego's Best Map of Christmas Lights
Map of Christmas Lights 2015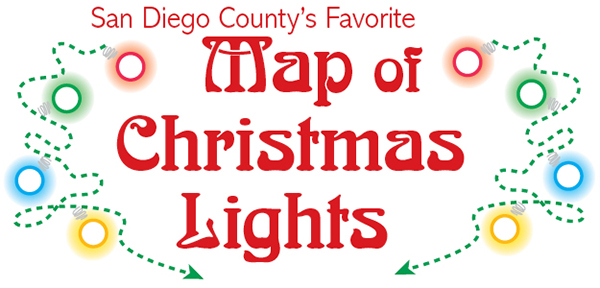 San Diego Family's awesome 2015 Neighborhood Map of Christmas Lights is here! We found displays all over San Diego County, from decorated, private homes to entire neighborhoods.


Download San Diego Family's Map of Christmas light displays and take it with you.
North County Inland
CARMEL MOUNTAIN RANCH, 92128
Fairway Village, east and west sides of Stoney Gate Pl. 80 homes decorated in "Holiday Magic". Dec. 12-Jan.1, 5:30-10:30 pm.
ESCONDIDO, 92027
2609 Meadowlark Ln. An inflatable world for Christmas with over 20 inflatables and lights. Candy canes and treats for kids on Fri. & Sat., 6-9 pm. Dec. 1-31, 5-10 pm. Dec. 24-25, 8am-10pm.
POWAY, 92064
12631 Stoutwood St. Off Twin Peaks Rd. & Deerwood St. Nicknamed "The Griswolds." Dec. 1-Jan. 1, 5:30-10 pm weekdays, 11 pm weekends.
Hickory Ct./Hickory St., 12659 Butterwood Ct. and Rockrose Ct. All off Twin Peaks Rd. & Silverset St. named "Candy Cane Courts." Entire cul-de-sacs are lit up. Dec. 11-24, 6-9 pm.
13635 Melissa Lane. House decorated in Star Wars theme. Dec. 1-31, 6-10 pm.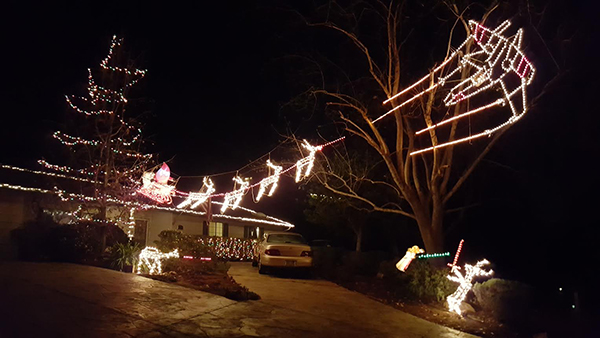 RAMONA, 92065
23542 Bassett Way. "Happy Lights Ramona" with 35,000+ lights animated to music broadcast to 106.9 FM using 1020 computer channels. Nov. 26-Jan. 1; Sun-Th, 5:30-10 pm; and Fri & Sat, 5:30-11 pm.
RANCHO PEÑASQUITOS, 92129
Oviedo St. Off Black Mountain Rd. "Christmas Card Lane." Also enter off Twin Trails Dr. & Carmel Mountain Rd. Dec. 10-31, dusk-10 pm.
SAN MARCOS, 92069, 92078
1639 Knob Hill. Off Nordahl Rd. Between Tam O' Shanter Dr. & Augusta Dr.; 28th year of decorating. 100,000+ lights plus themed displays. Nov. 26-Dec. 30, 5-9 pm. See Santa Dec. 13-23, 6:30-8 pm. www.ChristmasOnKnobHill.com
1145 Barham Dr. Santa & Mrs. Claus pass out candy canes in front of a festively decorated house with an electric train. Nov. 26-Dec. 24, Sun-Th, 5:30-9:30 pm, Fri & Sat, 5:30-10 pm.

North County Coastal
CARLSBAD, 92009, 92011
7607 Romeria St. The "Carlsbad Christmas House" where it snows! Walk around to see the animated window display, swimming penguins, Santa surfing, jumping dolphins, Land of Misfit Toys and dance with Santa. Food drive donations accepted. Dec. 6-31, 5-11 pm.
6646 Elegant Tern Pl. Over 25,000 lights, plus inflatables, a life-sized nativity and a full-sized Santa's mailbox. Santa will write back personalized letters to everyone. Nov. 27-Jan. 2, 5-9 pm.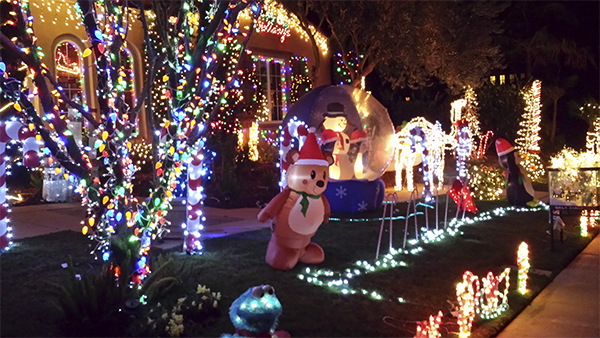 OCEANSIDE, 92056, 92057
3648 Esplanade St. Choreographed lights dance to 99.5 FM. Stop by for a candy cane! Nov. 26-Jan. 1; Sun-Th, 5-10 pm; and Fri & Sat, 5-11 pm.
1615 Quiet Hills Dr. Lights synchronized to over 10 songs on 87.9 FM. Dec. 1-31, 5-9 pm. http://ChristmasOnQuietHills.com
2329 Snead Dr. Lots of lights, Santa, nativity scene, animated elves and a Santa's workshop. Walk up to see a Christmas scene in the garage. Dec. 6-31, 5:30-9 pm.
1562 Peacock Blvd. Rudolph the red nose reindeer with other deers, Christmas trees and cascading lights. Dec 10-Jan 5, 5:30-10:00 pm.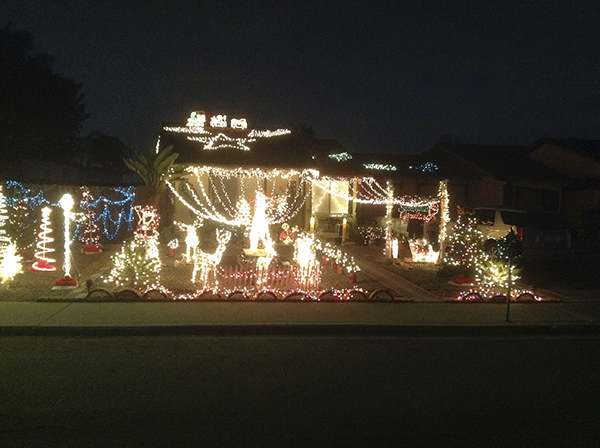 408 Alyssum Way. Lights synchronized to 89.9 FM. Dec. 1-31. Sun-Th, 5-9 pm; Fri & Sat, 5-10 pm. www.ChristmasAtIveyGlenn.com

LEGOLAND Holiday Snow Days & Winter Nights. LEGOLAND California Resort's coolest holiday celebration features more real snow, more snow-play areas and holiday entertainment and treats. Festivities also include lighting of the world's largest LEGO Christmas tree on Nov. 30, plus nightly fireworks Dec. 26-31. Nov. 21–Jan 3. 760-918-LEGO. www.LEGOLAND.com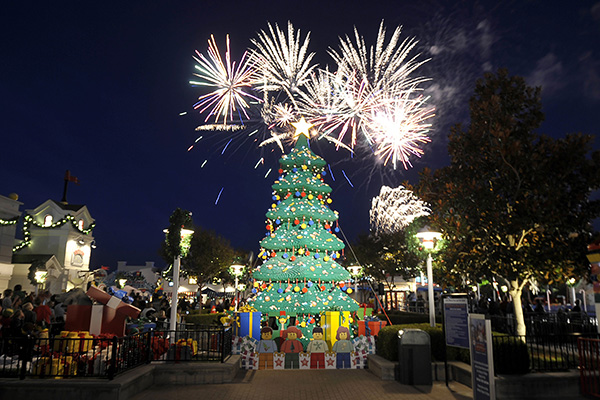 Oceanside Harbor Parade of Lights. Boats decorated in holiday lights circle Oceanside Harbor. Dec. 12, 7 pm. 760-722-5751. www.oceansideyc.net
San Diego Botanic Garden "Garden of Lights". 125,000+ lights illuminating the Garden. Horse-drawn wagon rides, live music, holiday crafts, visits with Santa and marshmallow roasting. Dec. 5-23 and 26-30, 5-9 pm. Adults, $15, children 3-12, $5. 230 Quail Gardens Dr., Encinitas. 760-436-3036. www.SDBGarden.org
South Bay
CHULA VISTA, 91910, 91911, 91914, 91915
Whitney St./Mankato. Circle between First and Second Ave. off H St. & 1st Ave. "Christmas Circle." 55+ homes decorated. Dec. 12-26, 5-10 pm.
PARADISE HILLS, 92139
2160 Reo Dr. 12th year of decorating. Nov. 26-Jan. 1, 6:30-midnight. On Dec. 19, free cookies and cocoa, 6:30-9:30 pm.
Hotel del Coronado. The Del is "Making Seasides Bright" this year with its newest holiday tradition, DELights, a spectacular multi-media light show nightly in the Garden Patio from Nov. 26-Jan. 3. Add the dazzling 20-foot Lobby tree, Skating by the Sea and 100,000 twinkling white lights illuminating the resort making The Del a true winter wonderland. 1500 Orange Ave. 619-522-8490. www.hoteldel.com

Downtown San Diego
Holiday Wonderland at Petco Park. Lighting displays, ride a Polar Express train, explore Candyland, feed live reindeer, discover Santa's workshop and meet his elves, visit with Santa, and more. Dec. 4-6, 11-13, 18-23; 4:30-9:30 pm. Adults $15; children $10; under 3 free. Petco Park, downtown San Diego. www.padres.com/holiday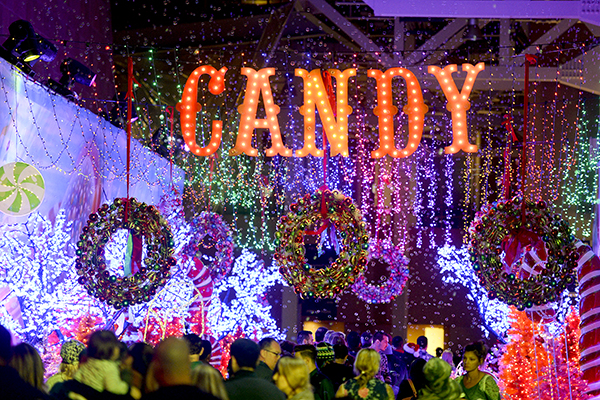 Luminaria. Trees, lamp posts, roofs and courtyards all decorated with lights. Custom-made lighted tree sculpture on Grape and Fern. Along 30th St. and Fern St. from Juniper to Grape to Beech. Mid-Nov.-Jan. 1. www.SouthParkScene.com

The Forward House in Bankers Hill. Come see this historic mansion, built in 1905 for Mayor John Forward Sr., adorned with thousands of lights every season since 1998. Thanksgiving through New Year's Eve, 5-10 pm. 108 Ivy St., at 1st & Ivy, 5 blocks west of Balboa Park. 619-533-7900.
San Diego Central
BALBOA PARK
Jungle Bells at the San Diego Zoo. Familiar holiday traditions take on a wild twist at the Zoo's seasonal celebration. The Zoo is alight with holiday cheer and decorated with activities to keep the whole family jolly. Dec. 12-Jan. 3 (except Dec. 24), 9 am-8 pm. 619-231-1515. www.sandiegozoo.org
CLAIREMONT, 92117
Lana Dr. & Jamar. Off Mt. Abernathy Ave. Circular street. "Clairemont Christmas Park". 40+ homes decorated. Dec. 5-27.
5404 Mt. Burnham Dr. Features a 96-channel animated light display to 98.5 FM. North Pole village display, train and animated figures display in garage. Dec. 12-27, 6-10 pm.
EL CERRITO, 92115
4210 E Overlook Dr. Nicely decorated home includes 4-ft snowmen with fiberoptic and LED lights, a red English phone booth and animated life-sized nutcrackers and deer. Dec. 1-Jan. 1, dusk to 11pm.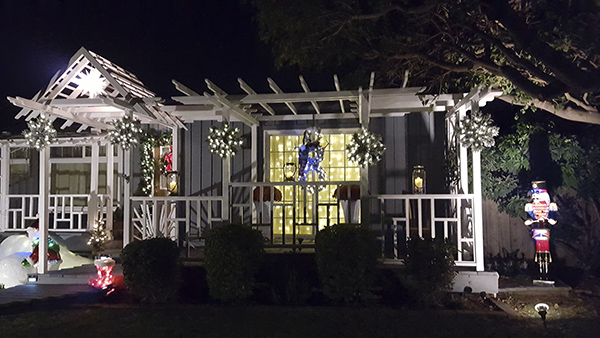 SCRIPPS RANCH, 92131
Sonebridge Parkway and Merritage Ct. Nicknamed "Merry-tage Court", entire street lit up with themes including Star Wars, Minions and Chargers. Dec. 1 –Dec. 31, 5:30-9:30 pm.
TIERRASANTA, 92124
5306 Belardo Dr. Off Via Valarta at Via Playa De Cortes. 100,000 lights and homemade decorations all sequenced and animated to music at 106.1 FM. Nov. 28-Dec. 27, 6-10 pm. www.belardolights.com
11626 Papagallo Ct. Off Colina Dorado or Calle De Vida. Nicely decorated home with a Minion theme. Dec. 7-Dec. 27, 5:30-10 pm.
10927 Baroque Lane. Winter Wonderland featuring a 16-ft star, cascade snowfall light display, miniature Christmas village and a dozen handcrafted characters. Dec. 5-28, 6-9:30 pm.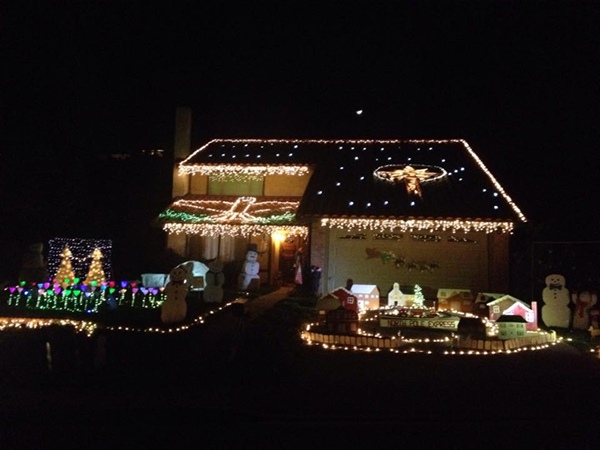 San Diego Coastal
POINT LOMA, 92106
Garrison St. & Chatsworth. Off Rosecrans. "Garrison Street Lights". Nov. 27-Dec. 31. 5-10 pm.
Mission Bay Christmas Boat Parade of Lights. Over 100 vessels. Begins on Quivira Basin. Dec. 12, starts at 7 pm. 858-488-0501. www.mbyc.org
San Diego Bay Parade of Lights. 44th Anniversary, "Christmas Around the World" theme. Dec. 13 & 20, 5:30 pm. Starts off Shelter Island, goes through the harbor and ends at the Ferry Landing, Coronado. www.sdparadeoflights.org
SeaWorld's Christmas Tree of Lights. SeaWorld's 320-foot Skytower sparkles nightly. The entire park is aglow with more than a million holiday lights. Enjoy special Christmas shows, visit Santa and see live reindeer up close. Help Mrs. Claus and the elves light a 40-foot animated tree. Nov. 21-Jan. 3. www.seaworldsandiego.com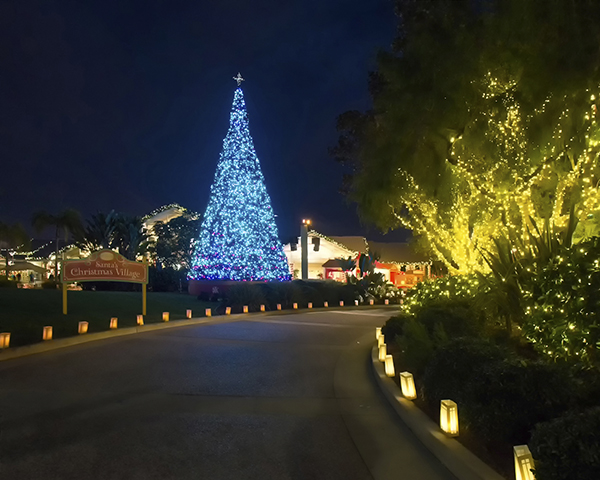 Sights and Sounds of Christmas. Walk the Temple grounds and enjoy more than 130,000 lights and nativity scenes. Free. Dec. 1-Jan. 1, 5-11 pm. San Diego Temple, 7474 Charmant Dr., UTC.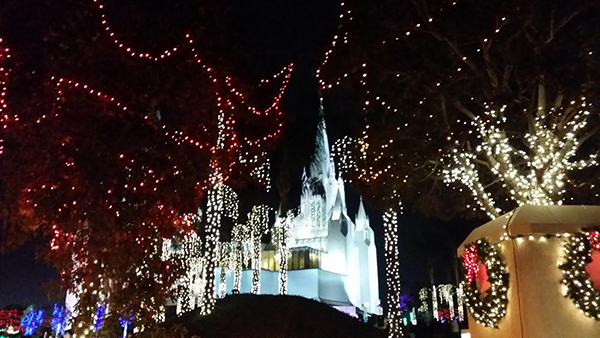 East County
EL CAJON, 92020, 92021
Jingle Bell Hill (also known as Pepper Dr. Lights). Solomon Ave./Pegeen Pl. and surrounding area. Off 67 & Bradley. Dec. 7-26, Mon-Th, 6-9 pm, Fri-Sun, 6-10 pm.
4037 N. Bonita St. Lots of lights, music, penguins, Snoopy, Mickey, Minnie and Santa in the window. Dec. 15-Jan. 5, dusk-11 pm.
11456 Pegeen Pl. "Nightmare Before Christmas" theme, complete with Jack, Sally, Zero, the Mayor & Oogie Boogie. Dec. 5-Jan. 1, Mon-Th, 6-9 pm and Fri-Sun, 6-10 pm.
1838 El Pico Dr. Off Hacienda Dr. 52nd year decorating the 20-ft. star that's 100 ft. up. Nov. 29-Dec. 31. Also see a 55-ft. train. Dec. 11-31, dusk-10 pm.
9777 Valley Ranch Rd. Cul-de-sac of lights programmed to 89.1 FM/87.9 FM. Giant dazzling trees, twinkling stars and a Winter Wonderland of computerized light and music shows. Nov. 26-Dec. 31, 5-10:30 pm.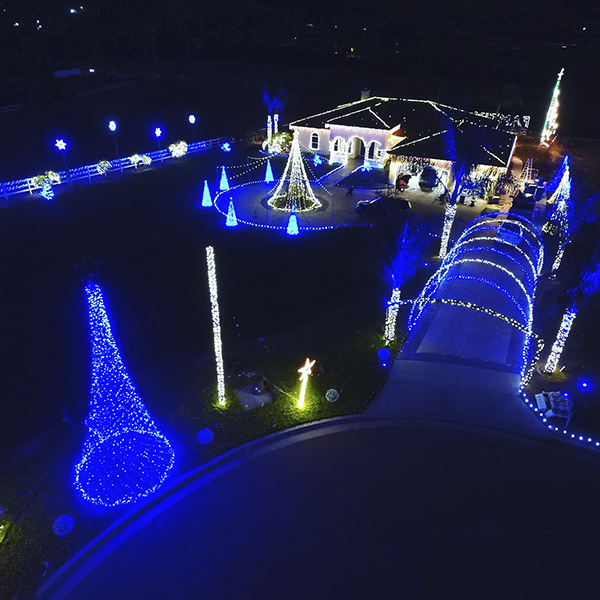 1552 Cajon Greens Pl. Light-o-rama with a 20 ft. tree, thousands of lights, leaping arches over the driveway, yard decorations, entire roof slopes of lights and video projector with Santa. Nov. 27-Jan. 2, Sun-Th, dusk-10 pm and Fri-Sat, dusk-midnight.



LAKESIDE, 92040
10248 Paseo Palmas Dr. 20+ houses nicknamed "Tinsel Town." Dec. 5-25, 5:30-9 pm.
13518 Appaloosa Dr. 48 channels of lights dancing to 88.1 FM. Dec. 1-Jan. 1, 5-10 pm.
LA MESA, 91941, 91942
6266 De Camp Dr. 22-ft tree of light, penguins and more. Turn your radio to the posted station to watch lights dance to Christmas songs. Nov. 26-Dec. 25, 5-9 pm.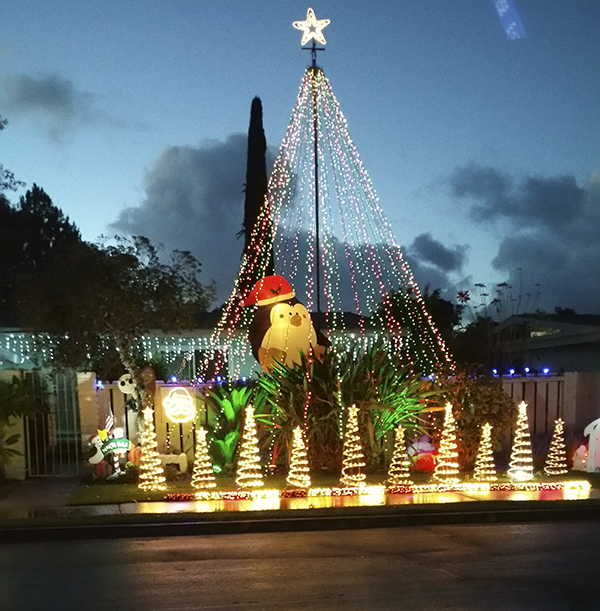 9367 Urban Dr. Decorated with lots of lights and inflatables. Dec. 1-31, dusk-10 pm.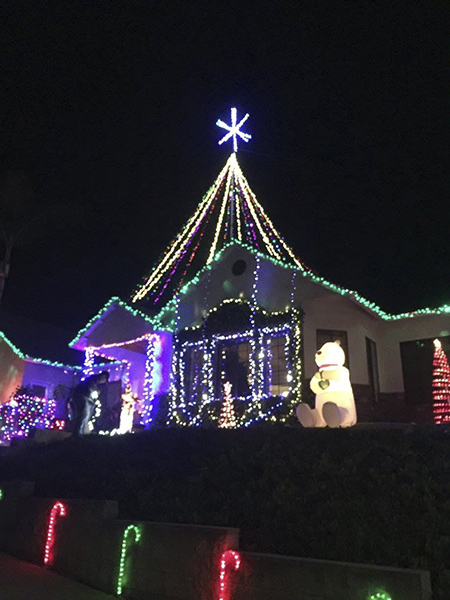 7817 Quince St. Santa hands out candy canes Dec. 5. House lit up Dec. 4-Jan. 1, dusk-10 pm.
8045 Stadler St. Inflatables matched with traditional illuminations. Dec. 1-31, sundown-10 pm.
LEMON GROVE/LOMITA, 91945
689 Meadowbrook Dr. Off Jamacha Rd. South of Lemon Grove. Dec. 8-Jan. 1, dusk-10 pm.
2618 Sheri Lane. Cul-de-sac turns into Santa Claus Lane each December. Light show starts at 6:30 pm and plays every 30 minutes on 89.9 FM. Dec. 1-Jan. 1, 5:30-9:30 pm.
SANTEE, 92071
Starlight Circle/Sunburst Santee. Tomel Court, off Magnolia. Many homes lit up. Dec. 4-26, 6-10 pm.
9325 Pebble Beach Dr. Displays on house and yard set to music. Dec. 1-31, dusk-10 pm.
9773 Roe Dr. 27,000 Christmas lights dance to ten songs over 128 computer channels. Food Bank and American Cancer Society donations accepted. Nov. 28-Dec. 31. Sun-Th, 6-10 pm and Fri & Sat, 6-11 pm. www.DBChristmas.com
DB Lights 2014 Little Drummer Boy ~ Pentatonix from Michael Balazs on Vimeo.
9435 Saint Andrews Dr. Santa's gingerbread house with over 10,000 LED lights. Nov. 28-Jan. 1, dusk-10 pm.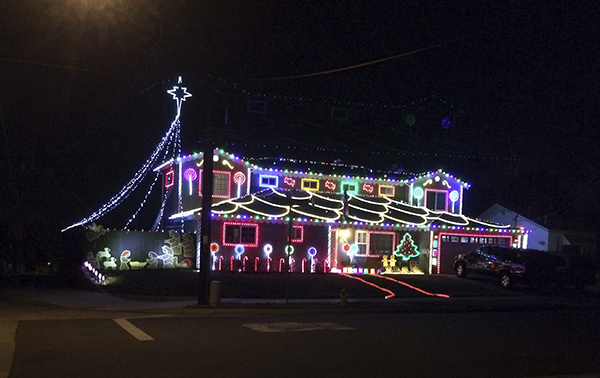 -----------
If you know of any beautiful Christmas light displays in San Diego County that aren't listed, contact us to be included next year: 619-685-6970; family@sandiegofamily.com
Updated: November 2015