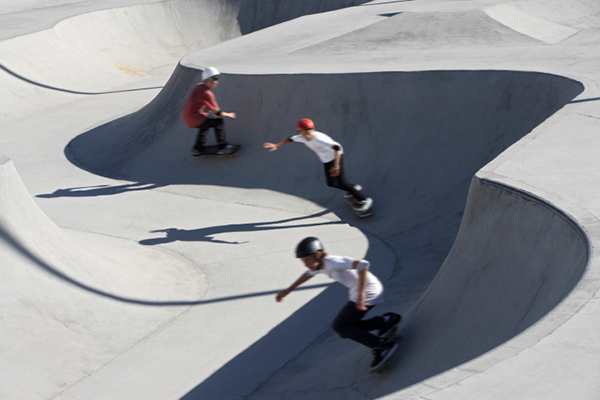 Looking for a skateboard park in San Diego? Here's a great list of skate parks throughout San Diego County.
Rancho Peñasquitos Skate Park
10111 Carmel Mountain Rd., Rancho Peñasquitos
858-538-8131
This recently renovated skate park is a local favorite. With 22,000 sq. ft. of street and ramp style features, both kids and adventurous adults will enjoy the ride.
Kit Carson Park
3333 Bear Valley Pkwy., Escondido
760-839-4691
There is plenty to explore with this park's trails, playground, arboretum, ponds, athletic fields and courts, sculpture garden, disc golf course, skate park and more.
Alga Norte Community Park & Aquatic Center
6565 Alicante Rd., Carlsbad
760-268-4777
This gem of a park includes a state-of-the-art aquatics center, San Diego's largest skate park, ball fields/courts and a playground.
Carlsbad Skate Park
2560 Orion Way, Carlsbad
760-602-4680
A good skate park for beginners, safety equipment is required in this 10,500-sq.-ft. environment. Features include beginners' area, curved and flat ramps, bowls, pyramids, stairways, pipe grinding ledges and more.
Carmel Valley Skate Park
12600 El Camino Real, Carmel Valley
858-552-1616
This 13,500-sq.-ft. facility offers a challenge course and a cast in place concrete bowl. There is shade for daytime sun and lighting at night. Full safety equipment required.
John Landes Skate Park
4215 Lewis St., Oceanside
760-435-5041
Skaters must wear protective gear at all times in this unstaffed, daytime-only skate park.  Skateboards only!
Robb Field Skate Park
2525 Bacon St. in Robb Athletic Field, Ocean Beach
619-531-1563
Features a "street course" design and something for everyone within this 40,000 sq.-ft. of concrete. Open daily, 10 a.m. to dusk.
Kennedy Park and Skatepark
1675 E. Madison Ave., El Cajon

619-441-1676
An older skate park, it's perfect for beginners and intermediates with smooth shallow walls with dedicated times for skateboards, scooters and BMX bikes daily. Available to rent for parties or special events.
Lakeside Skatepark
12660 Lindo Ln., Lakeside
Part of Lindo Lake County Park, this skate park now allows non-motorized scooters, bicycles, in-line skates, roller skates and non-motorized wheelchairs in addition to bikes, scooters and skateboards.
"Skate Spot" at Firefighter's Park
3062 School Ln., Lemon Grove

619-825-3800
Named for its location across the street from a fire station, skateboard enthusiasts will love the smooth ramps and well-maintained concrete pathways.
Woodglen Vista Park
10250 Woodglen Vista Dr., Santee

619-258-4100
A skate and BMX park complements this scenic 10-acre park along with a basketball court, tennis courts, multipurpose sports field, pavilion, playgrounds and a fenced off-leash dog area.

Heritage Park 
1381 E. Palomar St., Chula Vista

619-397-6197
A picturesque 10-acre park featuring an amphitheater, large duck pond, basketball, soccer field, skateboard park, shaded picnic area and walking trails.
Len Moore Skate Park
1301 Oleander Ave. (at the Boys and Girls Club), Chula Vista
619-421-4011 x12
Designed for skaters age 6 and up, this 4-area skate park includes wood and concrete structures with vert extensions, rails, ramps pyramid, split edge and more.  

Montevalle Park and Recreation Center 
840 Duncan Ranch Rd., Chula Vista

619-691-5269
More than 29 acres to explore with ball fields, basketball and tennis courts, skate area, off-leash dog area, walking trail and a gymnasium for group gatherings, workshops and camps.
Coronado Skate Park and Tidelands Park        
2000 Mullinex Dr., Coronado

619-522-7342
This 22-acre waterfront park offers a small sand beach, recreational fields, a bike path and playground while the skate park is an artistic sculpture geared to all skill levels with concrete bowls, ramps, grinds and jumps.
Imperial Beach Skate Park
425 Imperial Beach Blvd. (behind Sports Park), Imperial Beach

This skate park has a variety of obstacles to skate on from ramps to stairs and is located next to a multipurpose grass field.
Kimball Park
148 12th St. and D Ave., National City

619-336-4290 (recreation service)

A playground, picnic space and adjacent skate park fill this recreational area which also hosts the annual Mabuhay Festival in June to celebrate Filipino culture.

More Skate Parks Around San Diego

Martin Luther King Jr. Skate Park
4300 Mesa Dr., Oceanside


Melba Bishop Skate Park
5306 North River Rd., Oceanside


Pala Skatepark at Jim Banks Sports Complex
12196 Pala Mission Rd., Pala

760- 891-3503 

Poway Skate Park
13094 Civic Center Dr., Poway

Bill and Maxine Wilson Skate Park
702 South 30th St., San Diego

619-235-1125

Charles L. Lewis III Memorial Skate Park
6610 Potomac St., San Diego

619-527-3419


Also check with your local YMCA to see if they have a skate park.
Read our interview with Tony Hawk by clicking here!
Get a behind the scenes look at the June 2009 cover shoot with Tony Hawk by clicking here!

Check Out Tony Hawk's backyard skate park! http://www.youtube.com/watch?v=WqFiEIJMo5I
---
Updated May 2016