Tired of the same old holiday decorations you see in the same old stores year after year? Are you wishing you could stay out of the shopping rush and snuggle at home with the kids instead? Save money and reduce stress by spending quality time making heartfelt homemade gifts and decorations. Put a spin on things and make stuff you can eat! From ornaments to table toppers and everything in between, the possibilities for these cool crafts are endless, especially considering you can change up materials once you get the hang of each project.

---
Get into the holiday spirit by making toys you can eat. Edible Dreidels are quick and easy to assemble.

Large marshmallows
Thin pretzel sticks
Simple powdered sugar and water frosting
Chocolate sprinkles
Hershey's kisses

Insert the thin pretzel stick half way into the top of a marshmallow. Brush frosting around the outside of the marshmallow and roll in chocolate sprinkles. Dab a little frosting on the bottom to serve as "glue" for the Hershey's Kiss.

---
Stained Glass Ornaments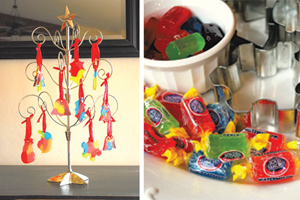 Colors seem to dance when light shines through these beautiful ornaments. Baking these is a job for parents, but kids can unwrap the candies.

Metal holiday cookie cutters
Hard candies (such as Jolly Ranchers)
Baking sprinkles
Pieces of 10-inch length ribbon

Use a metal cookie cutter for a mold. Set it on a baking sheet and coat with cooking spray. Fill each cookie cutter with a single layer of candies and top with a single layer of baking sprinkles. Bake in a 350-degree oven for 10 minutes, or until melted. Cool for two minutes, then use a chopstick or skewer to poke a hole near the top for hanging. Once cool, remove from the mold and hang with a ribbon.
---
Crunchy Snowmen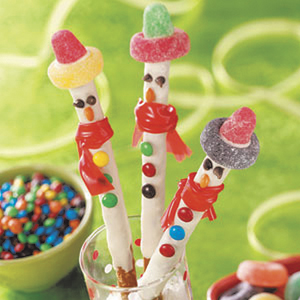 Dressed in colorful candy scarves and top hats, these stylish snowmen are sure to liven up any holiday gathering.

Bag of 8-inch pretzel rods
1 cup white chocolate chips
Mini chocolate chips
Orange decorator's gel
Fruit leather (various colors)
Gummy rings
Gumdrops

Melt 1 cup of white chocolate chips in the top of a double boiler. One at a time, dip one end of an 8-inch pretzel rod in the melted chocolate and use a plastic spoon or knife to spread the chocolate two thirds of the way down the rod. Set the pretzels on a sheet of waxed paper and press on mini chocolate chips for eyes and buttons. Use orange decorators' gel to add a carrot nose. When the chocolate has hardened, stand the pretzels in a mug or glass and tie on strips of fruit leather for scarves. For each hat, stretch a gummy ring over a gumdrop and secure it on the pretzel rod with a dab of melted chocolate.

---
Sweet Little Angels
Prop these angels in the branches of your holiday tree or use them for table decorations at a party and delight in their splendor with every bite.

Sugar ice-cream cones
Three-ring pretzels
Royal icing (blend 1 egg white with 1 1/2 cups confectioners' sugar)
Colored sugar
Tootsie Pops, Life Savers and red candy hearts

Using scissors, cut off ½ inch from the cone's point. Frost the cone and pretzel, then roll them in colored sugar. For the head, insert the lollipop's stick into the cone. Using the icing, affix the Life Saver "halo" to the head and the pretzel "wings" to the back of the cone. Add icing features and a candy heart.

---
Sparkling Snowflake Sugar Cookie Wreath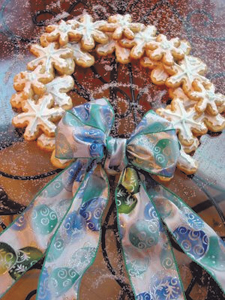 Turn any room into a winter wonderland with this cookie wreath.

Tube of sugar cookie dough
Snowflake cookie cutters
Simple powdered sugar and water frosting
Blue and green food coloring
Shimmering edible glitter or sparkling sugar
Holiday ribbon
This gorgeous cookie wreath can be made by rolling out dough and cookie cutting various sized snowflakes. Follow baking directions on back of dough wrapper. Use the food coloring to make hues of blue icing to decorate your cookies. Attach them in layers to a cake board or a sturdy surface using more icing. Sprinkle shimmering edible glitter and/or sparkling sugar over the entire wreath. Hang with a festive bow and this masterpiece is sure to please!

---
Old Fashioned Garland
Deck the halls with this twist on a traditional garland.
Colored miniature marshmallows
Cranberries, fresh
Popcorn (air-popped is best, or microwave popcorn that is natural and not salted or buttered.)
Heavy duty sewing thread or waxed dental floss
Sewing needle (If you don't want the kids to use a needle, try a toothpick. Securing the thread to the toothpick is trickier but can be done.)

Tie a knot at one end and thread the other end through the needle. Each child can work on one length of garland and they all can be tied together when they are finished. Just leave a couple of inches extra thread at the top when you tie off. Push the needle through the cranberry and then slide it down the length of the thread to the knotted end. Next do the same with a piece of popcorn and then a colored marshmallow. Continue alternating cranberries, popcorn, colored marshmallow until you have finished the garland length. Tie them all together and hang the garland on the mantle or tree.

---
Yule Log
Celebrate one of the oldest holiday traditions with this adorable Yule Log that warms everyone's heart.

Cans of chocolate frosting
Plastic knives
Mint leaves and red hots
Small round plates
Powdered sugar
Hostess Twinkies

Use the chocolate frosting to cover a Twinkie entirely. Drag the serrated edge of the plastic knife across the frosting to make it look like the rough bark of a log. Sprinkle a small amount of powdered sugar on the "log" and on the plate so that it looks as if a dusting of snow has accumulated. For the final touch, add three small red hots and two mint leaves to the log to represent the traditional holly.