Part Two: Exploring the Challenges Facing Charter Schools in the First Five Years of Operation

Want more information on starting a charter school? Make sure to read Part 1 of this story where we looked at the process of writing a charter, bringing together a board of trustees and hiring an administrator for a charter school.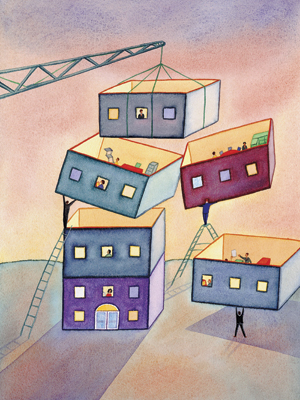 Writing a charter and getting it approved is one thing. Developing a facility and opening the doors is quite another.
Like public schools, charter schools receive money per student attending the school, but that money isn't available before the school opens. Funding is critical to find a physical space for a school.

While some grants are available, many schools are competing for them, and their usefulness is limited. Most grant funding requires charter schools to think well ahead of their needs, too, as applications can be due as much as a year before funding becomes available.

"The biggest possible funding comes from the state," says Bill Wellhouse, principal of Arroyo Paseo Charter High School. "The state has federal funds that they administer for charter schools. There are also start-up grants."

Start-up grants can help a school buy equipment such as computers and books, but they often don't pay for facilities.

Location is Everything
Christine Kuglen, founder and director of Innovations Academy Charter School in Grantville, has faced that challenge three times.

"In my opinion finding a facility is absolutely the most difficult part of creating and running a charter school, especially if you are housing children in the lower grades," Kuglen says. "Within the boundaries of San Diego there are not very many zones that permit K-12 education. Within the few zones that permit schools, there simply aren't adequate facilities with built out classrooms and play space. If a school chooses to locate in any other zone they need a Conditional Use Permit, which is very costly and time consuming. In addition, commercial leases are expensive and eat up money that could be used directly for children."

Charters use a good portion of their student dollars to rent space in office buildings, industrial spaces and religious institutions—anywhere that can be zoned for a school.

"It used to be you could start a charter school anywhere," Wellhouse says. "But now it has to have a special E1 zoning rating to be approved for a school. Some churches already have a school program, Sunday school, so that works. Many charter schools look for a building that already has an E1 rating."

The E1 rating includes safety issues such as fire escapes, wide hallways and alarms.

Mark Hinkley, founder of Xara Garden Charter School, faced great facilities challenges before his school opened.

"We found a place with a school and they were going to rent it to us, and then they changed their minds … so that left us scrambling," Hinkley says. "We looked at a converted fire station, but it had no parking, and it was important to us that families could come in regularly and do an open house before and after school."

A school's charter has important things to say about what kind of a facility will work for any particular school. A school with a focus on science, for example, must have rooms that can be used as science labs. In the case of Xara, a commitment to outdoor education was an essential part of the charter.

"We'd find places without so much as a window," Hinkley says, which didn't work for the way the school wanted to teach.

Hinkley and his school director, Megan Kennel, had to get creative to find a site that worked. They first rejected their current site because it didn't have a playground or gardens.

"But the more we looked," Hinkley says, "We realized at least it had some space we could make into a playground."
They blocked off sections of the parking lot with hay bales, built raised-bed gardens and planter boxes and created a playground where none had been before.

Developing Schools
Some schools are part of larger charter development organizations that take care of administrative issues. These groups often build their own facilities. The High Tech Village schools and Green Dot charters are examples of large charter organizations that develop school sites.

"When you have a big charter management group like High Tech High, you can find the financing," Wellhouse says. "Generally a small charter school doesn't have the ability to do that. So, they find a place that already has an E1 rating, or they go through the process and get E1 zoning, or they use school facilities under Proposition 39, though they might be sharing a facility with an existing school."

Getting Access to Public School Space
A lot of charter schools have been helped by Proposition 39, which requires that school districts offer unused facilities to charter schools at cost. But the space available for use is often not the prime sites schools might hope for.

"If you have a certain number of district kids, the district must make room for you in one of its facilities," Wellhouse says. "But it could be anywhere."

Schools have used trailers in the campuses of larger public schools, and shared facilities and administrative spaces. Some of the luckiest charter schools, such as the San Diego Cooperative Charter School and Albert Einstein Academy, have found homes in unused neighborhood schools.

Looking for school sites for charter schools has encouraged some school planners to think creatively about the politics involved in zoning and education.

"The City of San Diego would do well by its children if the planning office worked to remedy this issue with charter schools," Kuglen says. "Areas could be rezoned or exceptions made for schools, considering that the number of charter schools in San Diego grows every year. The city, state and/or federal governments could offer incentives to landlords of commercial properties who house charter schools."

In the end, Kuglen believes the issue is one of fairness. "Charter school parents pay the same taxes as district parents," she says, and their children need "access to space that is rightfully theirs."
--------------------
Cynthia Jenson-Elliott, M.A. is a freelance writer and educator in San Diego.