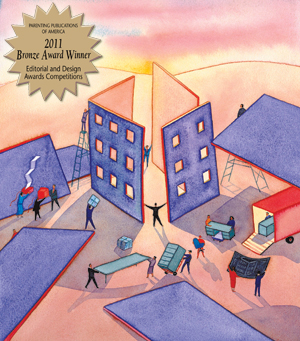 Xara Garden Charter School is a friendly, peaceful place. In the offices and classrooms of a small church in the Grantville neighborhood of San Diego, the one-year-old charter school has made its new home a friendly place. Brightly painted children's artwork decorates the walls, and the bulletin boards document the children's academic work and discoveries in photos and words. Classrooms exude a sense of serenity, as students explore math, writing, nature studies, puppetry and art in small groups.

But the peaceful school day belies the years-long process founder Mark Hinkley went through to start the school. Even before a charter school opens, most charter school founders have put in at least two years of hard work that doesn't bear fruit until the students enter the school for the first time.

"It's a little like parenthood," Hinkley says. "No matter what you think you're prepared for, it's going to be infinitely more beautiful and rewarding and hard and frightening than you ever imagined."

In this first of two articles on charter schools, we'll look at the process involved in starting a charter school in California.

Starting with a Vision and Writing a Charter
Charter schools are tuition-free, publicly funded schools that are given great latitude in direction, focus and methodology in exchange for an agreement to maintain high standards and financial stability. The purpose of charter schools is to increase educational alternatives and promote educational innovation.

Enacted in 1992, the laws governing charter schools in California propose that anyone with a good educational idea and perseverance can potentially start a charter school. But the process is not for the faint of heart. According to nonprofit organization U.S. Charter Schools, charter school operators must be equal parts entrepreneurs and educators, able to handle the intricacies of facilities management and development, curriculum design and supervision. They must have a good understanding of child development and education. It helps if they have a strong vision and the ability to communicate their dream.

"You have to be kind of a Barnum and Bailey kind of person to sell the concept before there's even dirt," says Ann Marie Wellhouse, founder of two charter schools. Selling the concept to a group of people who share the vision is the first step.

"The first thing we did was get together a development team of about five people, all of them educators," says Bill Wellhouse, who founded Arroyo Paseo Charter High School with Ann Marie. The development team decided on a vision for the school, an educational focus and the population they hoped to serve.

Having a single person committed to doing the legwork to enact the vision is essential, says Bill. "Two years before we opened the school, Ann Marie was doing the research."

The next step in the process is writing the charter, the document describing what the school will include.

"The charter has [to have] about 16 specific elements or chapters," Bill says, including educational program, assessment, governance, teachers, discipline, suspension/expulsion policy, finances, facilities, special education and more.

Many charter school founders get help with managing the stages of the process that are troublesome.

"You have to be a jack of all trades, or else get lots of help," says Bill. "When we started working on the charter, one thing we did was get some help from the California Charter School Association. They had a program called Charter Launch, in which they'd lend expertise in different areas—special education, finances and budgeting."

Another area that the charter school association can help with is getting the charter accepted by a sponsoring local school board.

"You get to know the politics and the Board of Trustees in the district you're hoping to get chartered in," Bill says. "If you're going to open up the next fall, you must get your charter in ten months ahead of time, the previous fall. Then the school board discusses it, and you're there and they ask you questions and they vote. If you're voted in, you get a charter for five years."

Jack of All Trades
At many charter schools, the visionary who starts a school is not the administrator who runs it, or the board of trustees that ultimately governs it. But getting the board and administrator involved in the process early on can make the development process easier.

"A lot of times visionaries and founders are not experienced educators," says Bill. "They're business people or parents who are not experts in education. That's something that anyone who is going to start a charter school needs to consider. At what point are they going to step back and let someone else run the thing." A school director must be able to do a variety of jobs, says Ann Marie. "Regular schools have a system of delegation. The charter school director has to be willing to wear all hats, from cleaning bathrooms to dealing with bullying to dealing with parents, and directing the educational program."

Every charter school is also required to have a board of trustees that holds the overall vision and continuity of the school in mind and carries that into the future.

"The board of trustees is the group that carries the school on," Bill says. "It's not the principal or founder that 'owns' the school, so to speak. You want a mix of skills: a lawyer, someone with ideas about finance, people in science/technology or higher education in the sciences. We made sure our new board is all community people who are not employees. It's important to not have any conflict of interest."

Between a founder with a vision, a board of trustees that believe in the dream and an administrator who can handle day-to-day operations, charter schools have a good chance of surviving the critical first five years of operation. But getting the ball rolling is not easy. Next month we'll take a look at some of the challenges facing charter schools in those first five years.

--------------------
Cynthia Jenson-Elliott, M.A. is a freelance writer and educator in San Diego.
Want more information on starting a charter school? Make sure to read Part 2 of this story - Looking at the challenges facing charter schools in their first five years of operation.