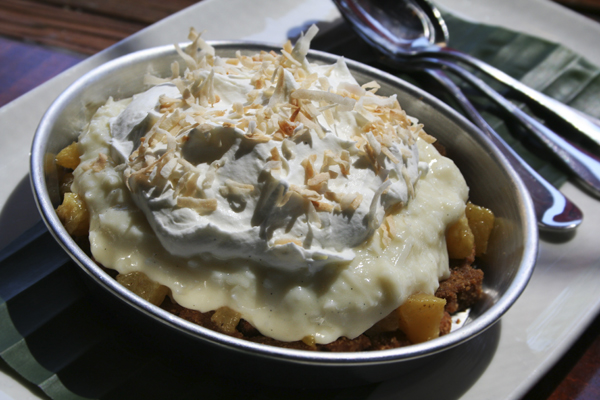 Lazy Dog Restaurant & Bar
1202 Camino Del Rio N., San Diego
(619) 481-6191
www.lazydogrestaurants.com


Perks
Fast service
Kid's menu
Lots of food for the money
Online ordering for take-out and delivery
"Small plate" servings available

Lazy Dog is a fun, casual dining experience for families. Located in Mission Valley, the San Diego branch of this California chain offers American fare, brick oven pizza, pasta and Asian-inspired wok-fired dishes. There's a spacious dining area, bar with big-screen TVs showing sporting events and a patio.
My son and I dined there recently with my aunt, a visiting sister, niece and nephew. The speedy and super-friendly service was great, especially with a crew of hungry kids at our table—our food was on the table just 10 minutes after ordering.
We started with fruity, refreshing Jamaican lemonade, rumless citrus mojitos and a plate of tasty Scrappy Snacks (mini chili dogs). Consistent with the dog theme, the kid's menu offers licorice and Froot Loop "dog collars" on request. Two different menus for children ages 8 and under and 12 and under list healthy, inexpensive snacks like steamed edamame, carrot sticks and ranch dressing, plain tofu and apple slices. The boys, 13, and 9, ordered a pepperoni pizza and a child's cheese pizza (includes a drink and one side), which they declared "better than delicious."
My sister and her daughter, 10, ordered the ahi fish tacos (served with a choice of white or brown rice) and pronounced the ahi "very fresh and delicious."
My aunt treated herself to fish and chips, and said the coleslaw was "very good." I chose the amazing poblano chicken for myself. I loved the crispy tamale cakes, and the delicious sauce was just the right combination of spicy and creamy; it was definitely the best thing I've had in a long while! I requested a to-go container of sundried tomato pesto pasta with grilled chicken for my college-age daughter to enjoy after work. She later told me how tasty it was and the heaping serving was more than enough for a couple of meals.
We finished our meal with the triple chocolate chip brownie á la mode and banana coconut pudding, which were both too sweet and rich for me, although the kids gobbled up the brownie.
The only drawback was the volume inside the restaurant. The warehouse-style building with high ceilings and open seating is very loud. We felt we were shouting in order to have a conversation, which was a frustration for my elderly aunt. Next time, we'll request a quieter spot on the patio, but we'll definitely visit again!

--------------
Kristin Powell is a freelance writer who lives with her family in South Park.

Published: September 2013