Devine Pastabilities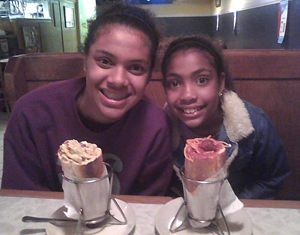 www.torpasta.com
619-523-5441

3545 Midway Dr., Ste. E
Point Loma


If I said, "you have to try this place near the Sports Arena that specializes in spaghetti sandwiches!" would you think I was crazy? What if I told you it was voted "Best Sandwich Shop in San Diego" on the 10 News "A-List" four years in a row? That is the case with Devine Pastabilities, home of the delicious Torpasta (a hollow garlic roll stuffed with pasta).
This small eatery is tucked away in a strip mall on Midway Drive. Honestly, it doesn't look like much from the outside, but the décor was upbeat and entertaining: neon lights, signs with "random" sayings and sports playing on three flat-screen TVs. My husband, Kim, and daughters Macy (14) and Naomi (9) stopped in for dinner after an afternoon of jet-skiing on the bay. We were greeted by friendly staff wearing "I (heart) Carbs" t-shirts.
The menu is a mix of pasta, salads and pizza. Intrigued by the pasta-stuffed torpedo concept, Kim and the girls decided to give them a try. Torpasta is the inspiration of restaurant owner Damien Devine, who loved spaghetti sandwiches when he was in fourth grade and came up with a "no fuss" way to eat them. The hot, toasty pasta-stuffed garlic rolls are served upright in a vertical stand—a fork is optional.
No big surprise, my fourth grader thought putting spaghetti in a sandwich was brilliant, so she ordered the 6" Spaghetti & Meatball Torpasta ($6.29) and was happy to discover four generous meatballs hiding in the swirls of hot pasta.
Kim ordered the 6" Sausage & Penne Torpasta ($7.29), filled with sausage, onion, bell pepper and marinara sauce. He loved the filling sandwich and suggested we bring Macy's basketball team here the next time they have a tournament in Point Loma. The coach likes the players to load up on carbs the night before a game!
Macy chose the 6" Divino Torpasta ($6.29): bow-tie pasta in alfredo sauce with sundried tomatoes, basil and feta. She opted to add chicken ($1.29). Delicious!
All Torpastas are also available in a 12" size for about $3 more. Alternately, you can order any of the more than 12 pastas on a plate with garlic bread on the side.
I had the 6" BBQ Chicken Torsalad ($6.99)—yes, you guessed it, a salad-stuffed garlic roll—which included romaine lettuce, tomatoes, red onions, cheddar cheese and pepperoncinis with ranch dressing and BBQ sauce. The rolls are also toasted for the Torsalads, but are served room temperature so as not to sabotage the cold, crisp greens. Mine was fresh and flavorful, but I should have used my fork—it got a little messy!

We saved room for a dessert that grabbed our attention earlier. The Tortuga is a gourmet ice cream sandwich: a large scoop of vanilla between two warm chocolate chip cookies, drizzled with chocolate and powdered sugar. Yummy!

Devine Pastabilities is a fun casual hangout and a great takeout option, particularly if you're on your way to the bay or beach. You can also find Devine Pastabilities at the Ocean Beach Farmers Market every Wednesday evening.
------------------
Lisa Gipson is a contributing writer for San Diego Family Magazine. She enjoys new dining adventures with her family.