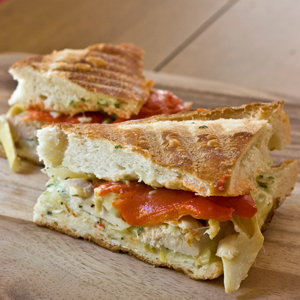 Garlic Chicken Panini
From San Diego's own "Panini Mom," Kathy Strahs
Learn how to make her famous Strawberry, Banana and Nutella Panini, as featured in our June 2012 issue.
When I was growing up in the Silicon Valley, my family always managed to inadvertently choose the weekend of the annual big garlic festival to drive south through the city of Gilroy, the "Garlic Capital of the World." The not-so-subtle signals would reach our nostrils miles before we reached the city limits. These days garlic and I have a much friendlier relationship. I cook with it nearly every day as one of my favorite big-flavor ingredients. Rest assured that the garlic flavor in these panini, which resides mainly in the basil garlic mayonnaise, isn't at all overwhelming. You can still kiss your loved ones after eating these sandwiches, which is a good thing because someone will definitely want to kiss you if you make one for them.
Prep Time: 1 hour 20 minutes (including brining time)
Cook Time: 10 minutes
Total Time: 1 hour 30 minutes
Yield: 4 panini

Chicken Brine
1 quart water
1/4 cup kosher salt
2 tablespoons honey
1 bay leaf
1 crushed garlic clove
6 whole black peppercorns
A dash of dried thyme
A dash of dried parsley
Juice of 1/2 lemon
1 lb. boneless, skinless chicken breast cutlets (thin-sliced)

Basil Garlic Mayonnaise
1 cup coarsely chopped fresh basil
1 garlic clove, smashed
1/4 teaspoon salt
1/8 teaspoon cayenne
3/4 cup mayonnaise

Panini
1 baguette, cut into 4 pieces, halved lengthwise
1/2 cup marinated artichoke hearts, sliced about 1/4-inch thick
1/2 cup roasted red peppers
4 slices Swiss cheese
••••••••••••••••••••••••••••••••••••••••••••••••••••••••••••
For the chicken:
In a large bowl, combine the water, salt, honey, bay leaf, garlic, peppercorns, thyme, parsley and lemon juice. Add the chicken, cover the bowl and let the chicken soak in the brine for 30 to 40 minutes.

For the basil garlic mayonnaise:
Mix the basil, garlic, salt, and cayenne in a food processor until it's finely chopped. Add mayonnaise and continue to blend until it's smooth.
Transfer the mayonnaise to a small bowl and refrigerate it, covered, for an hour to allow the flavors to meld together.

For the panini:
Preheat the panini grill to medium-high heat.
Transfer the chicken breast cutlets to the grill, discarding the remaining brine. Grill the chicken until it's cooked through to an internal temperature of 165°F, about 3 to 4 minutes. Set the chicken aside on a clean cutting board or plate. Turn off the grill, carefully wipe it clean and preheat it again to medium-high heat.
For each sandwich: Slice the domed top off of the baguette to create a flat grilling surface. Spread about a tablespoon of Basil Garlic Mayonnaise inside each half of the baguette. Place a chicken breast cutlet on the bottom baguette half. Arrange layers of artichoke hearts and roasted red peppers on top of the chicken. Add a slice of cheese and close the sandwich with the top baguette half.
Grill the panini until the cheese is melted and the bread is toasted, 4 to 5 minutes.


For more Panini recipes check out www.paninihappy.com or Kathy's other blog www.cookingontheside.com. Make sure to read our article about Kathy in our June issue.