Welcome Home Mia! An International Adoption Story, Part 2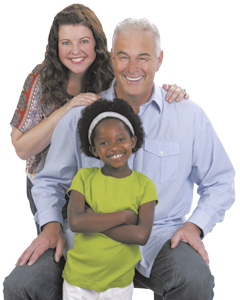 Welcome Home, Mia! Part two of our interview, plus adoption resources
If you listen to KyXy's "Jeff & Jer Showgram" (mornings on FM 96.5), then you already know that long-time radio personality Jeff Detrow and his wife Kristen recently adopted a little girl from Ethiopia. Read the Part One of this great story from San Diego Family Magazine.

Prior to deciding to adopt, Jeff and Kristen had fostered a little boy for one year while the child's mom was in prison. Their fostering experience went really well.

Jeff says, "Our whole family worked together as a team during that time."

After extensive research, the Detrows chose Christian World Adoption as their adoption agency and Adoption Options to check out their home and handle follow-up.

"You have to do a home study by a California licensed agency," Kristen says.

"You have to do three follow-up reports for Ethiopia during the first year," Jeff adds. "They track how the children are doing, which also lays groundwork for good relations for future adoptions."

Part of the adoption process includes deciphering the child's approximate birth date and issuing a birth certificate, which many children from small villages do not have. Jeff and Kristen have learned that this process can be complex. Having first determined that Mia was five years old, they had a 6th birthday party in April and made plans to enroll her in kindergarten in the fall. They recently received bone scan X-ray results that put her at 7 years old. The Detrows met with the school principal and now Mia's slated to enter first grade in the fall.

Jeff says, "We did another birthday party for her at dinner and she's excited. It's all about how you roll with it in life!"

The Detrow kids (Katy, 33; Cabot, 31; Mark, 16; Laura, 15 and Liz, 9) have fully embraced their new little sister, Mia, 7.


Keeping the Cultural Roots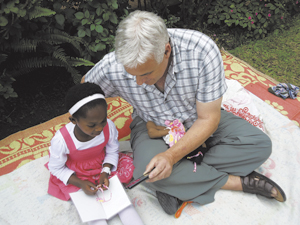 It's important to stay in touch with an adopted child's culture and that can be done in different ways. Some families celebrate their "Gotcha Day" annually (the day a child is adopted and taken home) with traditional food and clothing from their native country. Mia's Gotcha Day is October 23. Some families attend international culture summer camps where they are steeped in the adopted child's culture. Culture Camp is something the Detrows plan to do in the years to come when Mia starts seeking her cultural roots. A counselor advised the Detrows not to force anything and to let Mia steer the way. They plan to be supportive and let her know that they celebrate where she's from.

"Mia knows we're going back to Ethiopia some day but she's in charge of [deciding when]," Jeff says. "When that time comes, the whole family is going to go."

In the meantime, the Detrows have a documentary they purchased from the adoption agency. It includes footage of Mia's village, the house she grew up in and her extended family so when Mia has questions in the coming years, they have an extensive video they can watch together.

The Detrows are an inspirational, big, happy family. Jeff & Kristen agree that the other kids "have been amazing" through this whole experience. When asked if they would adopt any more kids, Jeff says, "I think we will foster again. That was a cool experience. It was a lot of work—but it's worth it."



Read the full story from the June issue of San Diego Family.



Tips from Jeff & Kristen (if You're Thinking of Adoption)
• Read every book you can get your hands on.
• Spend plenty of time picking the right adoption agency for your family - even before going to webinars or presentations.
• Join a Yahoo Group for support and information.
• When it's time to pick up your child, take an iPod on the plane! This provided hours of entertainment for Mia on the trip home.
• Stay ahead of the game with counseling. If you see development delays or emotional things that concern you, go to a counselor as opposed to trying to figure it out on your own.


A Few of Mia's Favorite Things
Chili, the "Frog Princess" (Tiana), her sock monkey slippers, the color blue, CYT (Christian Youth Theater), riding her tricycle and getting her hair done.

---
RESOURCES

Bethany Christian Services
www.Bethany.org
Hope for Orphans
www.hopefororphans.com
Reece's Rainbow
International Down Syndrome Orphan Ministry & Special Needs Advocacy Group
www.ReecesRainbow.org

Agencies Used by the Detrows
Christian World Adoption
www.cwa.org
Adoption Options
www.adoption-options.org

Summer Culture Camps
www.heritagecamps.org
www.africancradle.org

Recommended Reading:
Parenting Your Internationally Adopted Child, by Patty Cogen
Beyond Consequences, Logic, and Control, by Heather T. Forbes
I'm Chocolate, You're Vanilla, by Marguerite A. Wright

Watch the video Jeff made of Mia's story
Dim lights Embed Embed this video on your site

--------------
Lisa Gipson is a contributing writer for San Diego Family Magazine. She lives in Rancho Peñasquitos with her husband and three daughters, ages 21, 13 and 9.

---
Watch behind-the-scenes footage of Jeff, Kristen and Mia's cover shoot:
Dim lights Embed Embed this video on your site