National LIbrary Week: April 10-16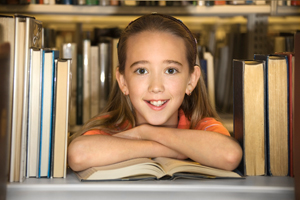 Now, more than ever, families are looking for ways to save money. Kids (and parents) definitely enjoy having new books to read and new DVDs to watch. It's also nice to be able to take the kids somewhere fun without breaking the bank. National Library Week (April 10-16), which began in 1958, is a great time to recognize how important libraries and librarians are to families. Below are seven reasons why now is the perfect time to check out your local library:

Like grandchildren, library items can be borrowed and loved and then sent back when you're done. This really helps cut down on the clutter in your home! Take your own canvas bags to tote your finds.

Internet access and a cure for boredom. Those who don't have Internet access at home rely on the library to keep in touch, keep informed and play games, among other things. Your local library also provides a safe place to hang out with your kids and is a great way to get out of the house on weekends or during school breaks.

Buy it or try it first? I say try it! Why buy brand new when you can check out so many titles for free? It's helpful to be able to preview CDs and books on tape and to read books on a trial basis. If you fall in love with it, then you can buy it from a book or music store. If your library doesn't stock something you'd like to read, you can either order it or use the Inter-Library Loan system. Ask your librarian.

Read magazines and newspapers at the library (yet another way to keep clutter under control in your home) to keep current while your kids play, do homework or check out their own items. Many libraries even let you check out magazines. Some libraries have meeting rooms where you can escape alone or with friends to scrapbook or hold a book club meeting.

Activities. Libraries are well known for educational activities for adults and children alike. Storytime, art, puppets and music are popular themes for kid activities, while adults can drop in for seminars and classes on topics like finances and keeping kids safe on the Internet. Many libraries also have writing and art contests and activities to correspond with holidays.

Really convenient. If you have Internet access at home or work, it's easy to put library items on hold, discover new items and renew items you already have but aren't quite done with. If you don't have access to the Internet, you can usually call to renew items or put a few items on hold at a time.

You get to keep them for anywhere from a few days (DVDs) to a few weeks, and you can often renew (unless someone else has put a hold on your checked-out items).

To see some fun events your local library may be planning, check San Diego Family Magazine monthly calendar of events and kid's classes, log on to the American Library Association's Website at www.ala.org or visit your local library.v

------------------
Kerrie McLoughlin is the mother of four young children.