Take Charge of your Memories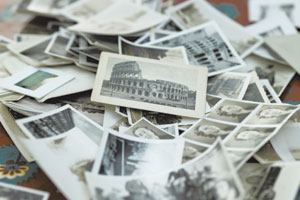 Organize, Scan and Save: Family photo storage solutions
It's well worth the trouble to organize your memories. Imagine having treasured family photos just a click away. Or making a picture book by simply selecting images from different years from your photo library! And best of all, you can fit that long-awaited treadmill in the space vacated by your cartons of photos. But don't just dream, act now and before you know it, your entire collection of pictures and films can be neatly compacted onto an external hard drive, flash drive, DVDs or online. Here's how to begin.

Take an inventory
This is the most crucial step. It reveals your requirements in terms of supplies and time needed to complete this endeavor. How many negatives, videos, slides and prints do you have? Which images need to be restored (because of age, damage, or poor storage)?

Prioritize
Start by creating a photo library on your computer or online. This will be the heart of your storage. It can be an online photo storage site (like Flickr), a simple folder system on your computer or a photo organization application like Picasa or iPhoto.

Working with negatives or slides
1 Begin with negatives and slides. Consider shelf-life—everything degrades in quality over time. Select the oldest negatives to work with first, progressing towards the most current. Sort the negatives chronologically, keeping each roll separate and dating them if undated.

2 Clean if necessary.

3 File them into negative sleeves.

4 Convert them into digital files.

Begin by sorting and dating all the negatives. Hold them by the edges; be careful not to touch them in the center. If your negatives have been largely untouched and in their original pockets, they should be clean. If not, canned air or a non-abrasive brush (photo shops sell them) will remove dust and debris from the surface. If any further cleaning is required, then gently apply isopropyl alcohol (98 percent or higher) with cotton or a soft non-abrasive cloth and let dry completely before storing. This may not be ideal for microfilms or pre-1950 nitrate films, so double-check with a photo shop before you clean.

Depending on the number of negatives you have, you can order sleeves online or from a photographic store. Carefully insert each strip into the sleeves by holding the frame to avoid fingerprints. Three-holed sleeves work wonderfully, as you can file them into PVC-free and acid-free binders. Record the date/place on the sleeves with acid-free ink. You can arrange them in chronological order for better organization.

The easiest way to backup negatives is to convert them into digital prints. Several photo shops offer this service. Some companies take negatives and convert them into digital files on CD. Always upload pictures from the CDs into your computer photo library, using your external hard drive as a second backup. Store the original CDs safely in jewel cases. It's a smart idea to store backups in your safety deposit box or give them to another family member who doesn't live in San Diego.

You can also scan prints and negatives at home. A good scanner can cost a lot of money, so if you have a high volume of scanning that needs to be done, you can invest in a mid-priced scanner. However, the quality will be not be the highest. Drum scanners, which professionals use, are far superior to flat-bed scanners, but cost thousands of dollars. Your best bet is to use a photo-lab for top quality and minimal effort.

Storing prints
This is the most tedious process of all. Plowing through hundreds of photographs can be time-consuming. To minimize the amount of storage space needed, ruthlessly discard prints, especially duplicates, bad prints and unknown pictures (yes, we all have those!) after checking that you have the original negatives or digital versions. They can be re-printed anytime. You will amaze yourself with the space immediately created!

You can store the remaining pictures in acid-free photo boxes, and those that need to be converted or have no corresponding negative can be scanned and stored as digital images.

Converting videos
Many places convert old videos and films (VHS, Beta, Super 8, 8 and 16 mm, or reel-to-reel) into digital files or DVDs for as low as 10 cents per foot of film. If you have extremely old films that need to be restored, the cost can rise as care needs to be taken while working with the film. Upload the digital files into your storage archives.

Restoring old memories
Damaged or very old negatives, prints, slides or film may require professional restoration. This service is expensive, but is a priceless investment in those golden memories!

-----------------
Geeta Shreedar is a freelancer. She recently re-organized the family photos and films into a convenient digital format, allowing for more space in an over-crowded garage!