Free Childcare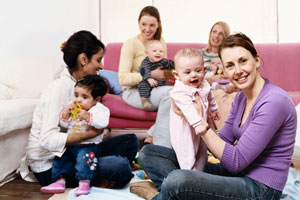 Join or start a babysitting co-op.
Seemingly everyone is trying to save money in today's economy, and while it may be easy to cut back on movie rentals, eating out and cable TV, sometimes you just can't cut back on your babysitting budget.

But some moms have found a way to eliminate the expense of babysitting by joining babysitting co-ops. What was once a job done by teenagers for pay has now become a formal barter system among parents, with no out-of-pocket expense.

What Is a Babysitting Co-op?
A babysitting co-op is an organized group of parents who provide babysitting services for one another free, in exchange for babysitting for their children in the future. The financial savings is a plus for some moms, but the comfort of being part of a co-op and knowing that you'll have a dependable babysitter is also important.

"You have peace of mind knowing that another mom is watching your children," says Susan Shields, a babysitting co-op coordinator.

The concept of sharing babysitting responsibilities with other moms has been around for a long time, and with the current economic crisis, these co-ops have blossomed as parents work hard to stretch a dime. Some groups have noticed an increase of members in the past few years. "I think the economy is one of the main reasons for this increase in membership," she says. "I know that it has saved my family hundreds of dollars over the years," says Shields.

How the System Operates
Organized babysitting co-ops usually consist of a group of moms who use a system of hours, points, tokens or tickets that are redeemable for baby-sitting services. The members of each co-op decide which medium of exchange works best for them; usually no cash is involved.

Some groups are designed so members start with a certain number of hours, points, tokens or tickets, while others have to earn their "currency" by first babysitting for another member of the co-op. When a member needs a sitter, either she or the co-op's secretary contacts other members of the group to see if they are available. The babysitting can then take place either at the babysitter's home or the requester's residence.

In the case of the Westfield Park Babysitting Co-op, each of the 10 members of the group starts with 30 free tickets to use towards babysitting. There is no membership fee, but each time a mom requests a sitter, she must use her tickets for the service. The mom who does the babysitting keeps the tickets for her future use. The "charge" for babysitting varies from co-op to co-op; the Westfield Park group requires one ticket per child per hour of babysitting. So two hours of care for two children would cost four tickets.

"If you run out of tickets, then you know its time to take care of some kids!" says Amy French, co-founder of the Westfield Park group.

Another co-op uses the point system. Though the group charges no fee to join, moms must be members in good standing. One way to earn extra points is to serve as secretary. Members are expected to take turns assuming this role for a month, but when their term comes to a close, they earn two points from each of the 26 members. Though the secretary's responsibilities include keeping track of everyone's points and scheduling, "The secretarial role is actually a sought-after position," Shields says.

Start Your Own Co-op
Creating your own babysitting co-op is not difficult. According to Gary Meyers, author of Smart Mom's Baby-sitting Co-Op Handbook, "The most important thing is to be comfortable with those who will be watching your children."

The best way to start is by talking to your friends or neighbors, people who you know have experience with kids and enjoy spending time with them, to rally anyone who's interested. Be sure, however, to consider proximity to one another. Members should live in the same general area.

Once you've established a few interested moms, hold a meeting to establish rules that all members can agree on. Consider the following:

What means of exchange will be used (hours, points, tickets, tokens, etc.)?
How many members can join?
Should overnight care be an option? How much more will it "cost"?
Will you enlist a secretary to coordinate scheduling and track hours, or will the moms be responsible for calling one another to check availability?
Will you offer additional services outside of babysitting (tutoring, car-pooling, house-sitting, etc.) for an increased "cost"?
For more information on how to start a baby-sitting co-op, visit BabysittingCoop.com for a free start-up kit.

Find an Existing Co-op
If you don't want to start your co-op from scratch, consider joining an existing one. BabysitterExchange.com is an online source that lists babysitting co-ops by community. Each listing includes information regarding the number of members in the co-op, the means of exchange it uses, and whether it offers any other services in addition to babysitting.

Or ask around at different community organizations. Churches and recreational organizations often offer a co-op-type group, or even certain nights a month where parents can receive free babysitting. If your organization doesn't already have a babysitting co-op program, suggest that the activities committee start one!


Sharon Cooper is a freelance writer.