Kids and Food
Kids and Food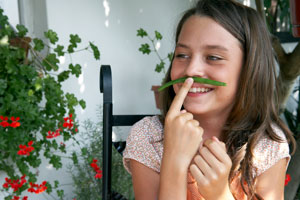 The kids are back in school and your schedule is in full swing, which means you're back to the dinner-time rush. Here are some ideas to help, including recipes, input from top chefs and a one-of-a-kind take-out option.



Try these easy weeknight dinner recipes! Each can be modified to fit your family's tastes:
Turkey & Hash Brown Bake
Cheesy Oven Burrito Bake



If you just don't have time to cook today, stop by Lady Lasagna in Scripps Ranch. This family-owned take-out restaurant takes "fast food" to another level. With 10 different types of lasagna to choose from (and even lasagna dessert!), you're sure to find something the family will like!

Would you like some expert advice? Find out what these Top San Diego Chefs are feeding their kids:
Christopher Gardner, Fleming's Prime Steakhouse and Wine Bar
Denise Pihas, Yanni's Bistro and Cellar
Steve Floyd, Brigantine Family of Restaurants
Leyla and Alex Javadov, Café 21 and check out Leyla's video below!


Dim lights Embed Embed this video on your site