Meet San Diego MET High School and Reality Changers Students
Education that Makes a Difference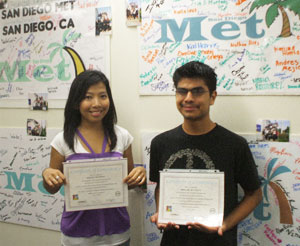 To learn more about these educational programs, read the article "Forging Pathways to College and Beyond" in the September 2010 issue of San Diego Family Magazine.

Edleen Montesa - San Diego MET High School, Class of 2010
Edleen Montesa, one of the San Diego Met High School Valedictorians of the Class of 2010, was born in 1991 in Olongapo City, Philippines. When she started seventh grade at Montgomery Middle School, she didn't speak a word of English but was immediately immersed in all English classes. She worked hard but was often picked on for her thick accent.

"They called me a nerd and an overachiever," she says. Montesa earned all As for two straight years and was named valedictorian of her eighth grade class.

In ninth grade she began her high school career at the San Diego MET. Due in large part to the school's supporting environment and high expectations, she began to believe in herself for the first time in her life. "I started to believe that it would be possible for me to go to college, that there were a lot of opportunities waiting for me, if I could attend college."

Over the past four years, Montesa has excelled in both her classes and at her internships. Her first internship was at an optometrist's office. She worked closely with Margie Sprague, optician, to learn selection and fit of eyeglasses for patients. She also worked with children a few times a month through a vision therapist associated with the office. She gained skills to apply to her career goal of becoming a pediatrician.

Her next internship was with the St. Vincent de Paul Family Health Center, working closely with doctors who treat homeless families. Her mentor was Roslyn Rawlins-Spinks.

"It was a scary, but ultimately a rewarding experience," says Montesa. "I learned more about the causes of homelessness, and I met a lot of volunteers who were passionate about what they were doing."

Her third and final MET High internship has been with Dewey Child Development Center, working with teacher Loida Aguilar-Cobb and 2-3 year old children. Aguilar-Cobb inspired Montesa to change her career focus to Child Psychology.

Edleen will be the first in her family to attend college. She was accepted to UCSC, UCR, CSU Channel Islands, SFSU, St. Mary's College, and San Diego State, which she will be attending in the fall of 2010.

"Never let yesterday's disappointments overshadow tomorrow's dreams," she says.

Bashir Wyatt - San Diego MET High School, Class of 2010
Bashir Wyatt is a San Diego native who came to the San Diego MET High School to discover the career he wants to pursue. His first internship during his freshman year was at Casa del Rey Moro African American Art Museum.

"I liked learning about my history and my mentor, Chuck Ambers opened my mind to a variety of career choices that those who came before me made available to me."

During Bashir's sophomore year, he interned at the San Diego Hall of Champions Sports Museum and the Linda Vista Teen Center. He thought he wanted to be a recording artist, but decided, after completing Physics and Chemistry that he was interested in the sciences. He started a new internship his junior year at the Fab Lab, a fabrication laboratory in City Heights affiliated with MIT's Bits and Atoms program. Bashir worked for a year and a half with mentor Katie Rast learning how science, engineering and computer skills are used in the "real world."

As the only Met High's Gates Millennium Scholar, Bashir was accepted into many colleges, including: UC Riverside, Santa Barbara and Berkeley, San Diego, San Francisco and Long Beach State, and his number choice U.S.C. where he will begin his freshman year as a Health & Humanities major.
Reality Changers Students College Essays
Miriam Garcia
I see myself as a trailblazer in a neighborhood that seemingly has no roads out. When I was ten years old, my neighbor stuck a silver shiny pistol in my face. She placed the gun against my head and my eyes grew as big as the barrel. When I was 15 years old, I received a phone call from the father who I had never met before. He told me that he needed my forgiveness as he lay dying from five bullet wounds. It seems, practically everyone in my world is gang related, has a history of drug abuse, or has dropped out of school—everyone, that is, except for me.

I am a trailblazer in three different parts of my life: at my school, my job, and my home. First, at school, I have kept all of my grades above a 2.75 throughout my whole seven years at the Preuss School UCSD; I even earned a 4.13 GPA in my junior year. This is significant because Preuss implements a stricter, more challenging curriculum compared to other high schools, which prepares us more academically to get into college. Being ranked as the eighth-best school in the nation, Preuss makes sure that students go far beyond the average and pushes us to accomplish more than what society expects of us.

Second, at my job, I began as the only female cashier at the swap meet. No other female had worked at 3 a.m. selling space tickets to vendors. No one in my family had ever before built up enough courage to get a job where there were no other women because they would never want to leave their comfort zones. However, in order to break boundaries and achieve my goals, I wanted to go and be the first female that worked in my department. Furthermore, I became the only person to work for the swap meet before sunrise and still work inside after sunset. At the same time, I went to school and had another part-time job, as well.

At 17, I was one of the few employees that had a driver's license and because I could drive a car, knew two languages and was very comfortable handling money, I gained the respect of the managers and the rest of my peers through my honesty, good communication skills, and fast problem-solving skills.

Third, at my home, I am like an extra authority figure in the house. I am my mother's friend, partner and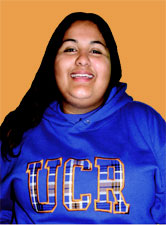 counselor. However, due to her recently-discovered head tumor, I take care of my little brothers as if they were my own little babies. I get off the bus, pick them up from school and then take them home to cook them dinner. Their teachers report to me whenever there is an issue, and even though my mother and stepfather are always there to help and support us, I have assumed a major role in my brothers' lives to the degree that I am no longer just their older sister but their third parent and friend. As for my stepfather, he considers me to be not only one of his own daughters but his business partner, as well. I help restock his deli, take care of the deli's advertisements and promotions, and regularly advise him on how to administer the family's expenses.

My world of academics, employment and family responsibilities have shaped my dreams and aspirations. Instead of my life being shaped by gangs, drugs or dropping out of school like the rest of my family, I want to become a trailblazing business woman who owns a national company that sells household items. In the three-pronged world that I have created for myself, I have learned how to provide a newfound stability for my family and I hope that my future business can create this stability for households all across America.
---
Jenny Morales
After putting on my leotard for ballet practice, my mom and I always walk towards our car together. Each time before opening the door, I run my fingers through the bullet holes that pepper a path along the side of my family's car. This reminds me of the night when I was awakened suddenly as I heard my dad scream with alarm, "¡No se levanten! ¡No se levanten!" (Don't stand up!) I heard the reverberating echoes of the gang members' gunshots and I knew in an instant that we had just survived another drive-by shooting.

I live in two contrasting worlds of dueling realities. I have been blessed with a caring family that tries to keep me involved in activities that will expand my knowledge in different areas such as ballet and jazz, but we also have lived next door to gang members for 11 years. Sometimes, the rival gang members of my neighbors miss their target, and on this particular occasion, four bullets had hit my family's car. Due to the constant presence of violent criminals in my neighborhood, I can never relax and must be alertly aware of my surroundings every time I step out of my house. I can still remember how each afternoon that I wore my white leotard as a little girl, I pretended that it was my very own bullet proof vest.

My passion for dancing has been the source of my escape since I was 7 years old as I quickly discovered how I could transform the negative feelings from my neighborhood into a striking performance. When I take the stage, I motivate myself to kick higher in a grand battement, kicking away an unhealthy lifestyle. I imagine jumping higher in a cabriole, reaching for the four-year college degree that I will attain. And as I pirouette across the stage, I get a 360-degree glimpse of the world that surrounds me without losing the focus point towards which I am moving. My audience has no idea about the environment surrounding my house, but my hope is that my resilience will show through in each of my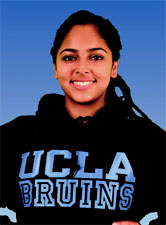 performances.

Looking back, those same bullet holes that remain on the side of my family's car still serve as a constant reminder that I cannot continue to live in this manner and that I must excel in academics to improve my family's economic situation. As I approach adulthood, I can no longer pretend to shield myself with a white leotard as I attempted to do as a child, but instead I will envelope myself with the protection provided by education's cloak of knowledge. I cannot wait for my mom and me to walk towards the entrance of the university that I will attend and to run my fingers through the textbooks that will fill my brain with newfound understanding during the following four years.

Better yet, I cannot wait for my college graduation where, instead of my father telling us to duck for cover, he will scream with pride, "Stand up! Stand up!" And when I hear the reverberating echoes of my family's applause at my commencement ceremony, I will know in that instant that I have just become a first generation college graduate.
---
Abel Salas
I was raised in a world where no one I knew had ever attended college. No one understood my aspirations, so I wanted to run away. Whenever I wondered if there was a place where there is no trouble, possibly "somewhere, over the rainbow… [Where] the dreams that you dare to dream really do come true," my gang-related relatives attempted to convince me that I am not allowed to have dreams and aspirations if I want to be part of the vicious streets. However, as a sophomore in high school, I was swept away from my black-and-white world of low expectations and introduced to a brand new Technicolor experience of hopes and dreams by being accepted to Reality Changers, a program that helps build first generation college students.

If getting my college diploma is like going down the Yellow Brick Road in The Wizard of Oz, my scarecrow, tin man, and lion would be my mother, my brother, and my father. Each of these three family members needs something that I can provide only if I earn a college education. First, my mother needs an operation that will improve her respiration because she suffers from an extreme condition of asthma called allergic rhinitis. Second, my younger brother needs a pacemaker to control his heartbeat because the atrioventricular node that coordinates his heart-rate is blocked. And third, my courageous father requires lumbar vertebrae surgery due to his permanent back disability that does not allow him to maintain steady employment. By getting a college degree, I will be able to allow my mother to breathe freely, give my brother a heart full of hope, and reinforce my father's back so that he can carry my family through all of our hardships.

However, I have experienced many obstacles along this Yellow Brick Road to college. The Wicked Witch of the West came into my life in the form of my older cousins continually pressuring me to drop out of school and threatening me to join their gangs. The poppy fields that temporarily slowed my progress were teachers who initially doubted my abilities in advanced levels of mathematics. And the Winged Monkeys represent all of the socioeconomic struggles that my family has confronted, such as when my father lost his job due to his disability and we could barely afford to buy our necessities.

As I neared the end of my time in high school and drew closer to the end of the Yellow Brick Road to college, I managed to overcome these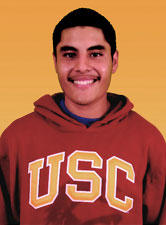 hardships in three different ways: I splashed the Wicked Witch with water by ending my relationships with my gang-affiliated cousins, I subdued the poppy fields by working my way up to college-level calculus, and I controlled the Winged Monkeys by seeking every scholarship available to ease the financial burdens of my family.

Now that the Wicked Witch is dead, the spell of the poppy fields has been broken, and the Winged Monkeys are under my power, I am finally liberated to pursue my dreams. When I receive my college diploma, it will be better than meeting the actual Wizard of Oz because that small piece of paper wields greater power than what the diminutive wizard ever exercised over the great Land of Oz. With this diploma, I will be assured of returning back to "Kansas" to ensure that my mother gets a fresh breath of life, my brother gets a renewed heart, and my father gets a rejuvenated spine to continue supporting our family.

Dorothy might have thought that there is no place like home, but as I pursue my educational dreams and aspirations, I believe that there is no place like the University of California.